MOL Signs Mou for Clean Hydrogen/Ammonia Value Chain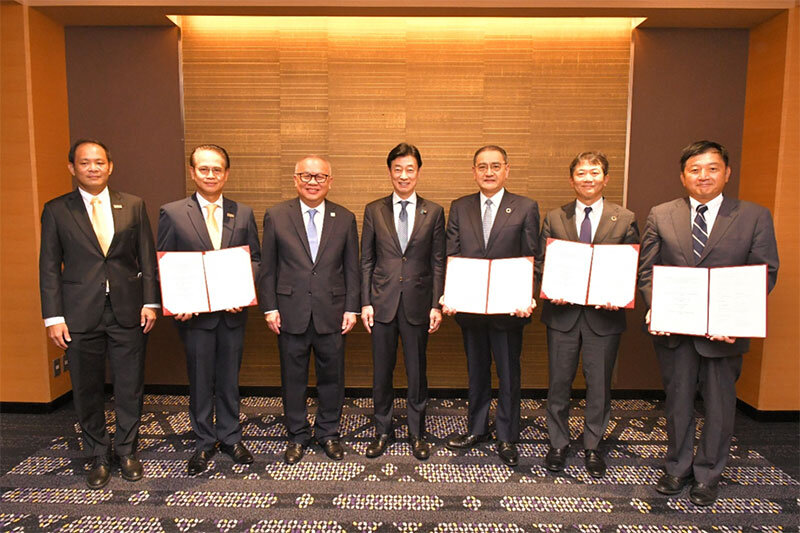 A memorandum of understanding (MoU) is now in the works according to TOKYO-Mitsui O.S.K. Lines Ltd. (MOL) President & CEO: Takeshi Hashimoto in a press release dated March 6.
This MoU is regarding the development of a clean hydrogen and ammonia value chain sourced from renewable energy sources in southern Thailand.
The Electricity Generating Authority of Thailand was the party to the agreement (EGAT; Chairman: Kulit Sombatsiri; Head Office: Bang Kruai District Thailand).
The MoU also includes The Mitsubishi Company (Thailand) Ltd. (Mitsubishi Thailand; Shoichi Ogiwara President; Address: Bangkok Thailand) and Chiyoda Corporation (Chiyoda; Masakazu Sakakida President & CEO; Head Office: Yokohama Kanagawa).
The signing ceremony occurred on March 4 2023 in Tokyo during the Ministerial Conference of the Asia Zero Emissions Community (AZEC).
According to the MoU MOL Mitsubishi Thailand and Chiyoda will collaborate with EGAT Thailand's top state-owned power production firm on decarbonization projects to meet the country's decarbonization goals.
The businesses will work together to research the best ways to set up supply chains for the production storage use and transportation of clean hydrogen and ammonia obtained from renewable energy sources in southern Thailand.
This research also includes their delivery to both domestic and foreign markets.
Thailand is positioned as a major nation in the AZEC concept of the Japanese government and the transition to carbon neutrality is anticipated to pick up speed in the coming years.
Via the MoU MOL and its partners will research effective and safe ways to move hydrogen and ammonia principally using MOL's vast experience and expertise in moving resources and energy.
By moving through with the study in collaboration with EGAT a major participant in Thailand's energy and power business MOL will also contribute to the development of the clean energy sector in that country and initiatives on carbon neutrality around the world.
The research will also benefit substantially from the knowledge and vast networks of Mitsubishi Thailand in Thailand and Chiyoda an integrated engineering company that has worked on projects all over the world.
The "MOL Group Environmental Vision 2.1" was established by the MOL Group to encourage the reduction of greenhouse gas (GHG) emissions from the group and society at large.
A supply chain for clean energy resources like ammonia and hydrogen will be established as a result of a determined group effort to realize this vision.
By 2035 MOL intends to deploy approximately 110 oceangoing ships with net zero emissions including Wind Hunter a hydrogen-producing ship with several stiff sails.