MSC Takes Delivery of Colossal Containership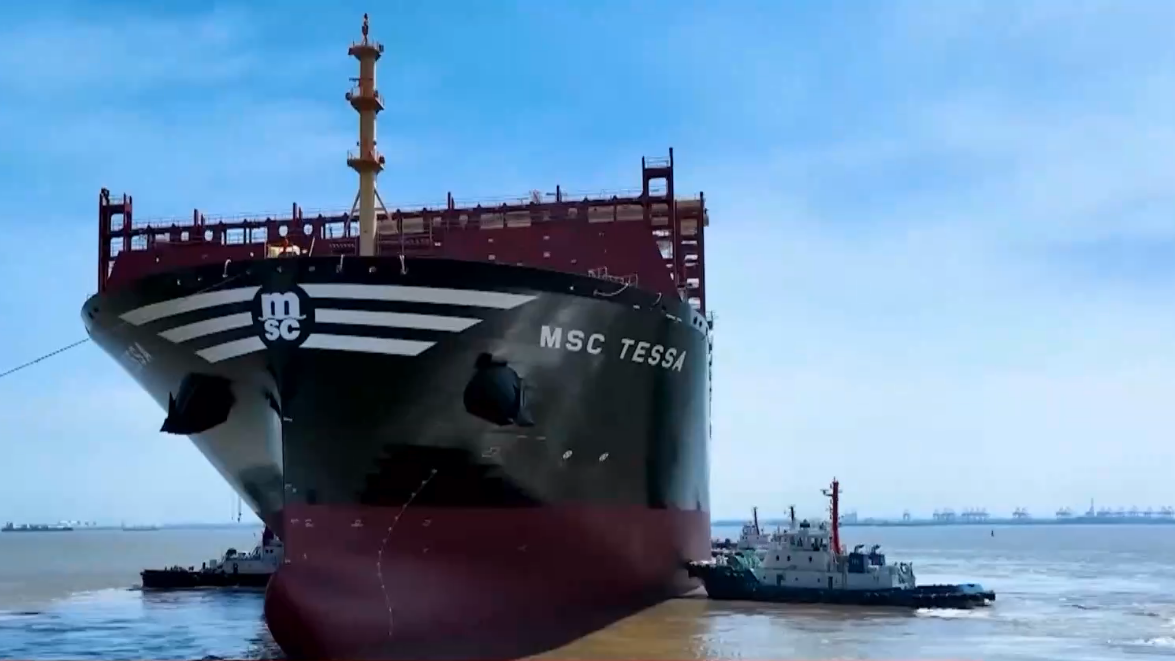 The massive 24116 TEU containership MSC Tessa built by Chinese shipyard Hudong-Zhonghua Shipbuilding has been delivered to its Mediterranean Shipping Company (MSC) owner.
Based on its capacity the gigantic ship independently designed by Hudong-Zhonghua is among the biggest containerships in the world.
According to the shipyard the vessel has surpassed Ever Alot which was delivered in June of last year as the largest vessel to date.
The massive box ship was part of a four-vessel order placed by China's Bank of Communications Financial Leasing (Bocomm Leasing) for MSC in 2020 totaling an estimated $600 million.
It has an energy-saving duct system a hybrid scrubber a tiny bulbous bow and big-diameter propellers.
The 400-meter-long ship employs air lubrication simultaneously which lowers overall energy use and associated carbon emissions by 3% to 4%.
The vessel has a deck area equal to four conventional football fields a molded depth of 33.2 meters and a maximum stacking depth of 25 levels or the equivalent of 22 stories. It can load 24116 standard containers at a time and transport more than 240000 tons of cargo.
The shipbuilder notes that the shaft generator is employed for the first time which may efficiently lower fuel consumption optimize EEDI energy efficiency indicators and lower greenhouse gas emissions.
According to Hudong-Zhonghua Shipbuilding the third and fourth containerships are also being built and the second ship from the series has finished sea testing. According to the shipbuilder all three ships should be delivered by the end of August.
With around 134 containerships on order including the most recent contract the Swiss-based container transport behemoth is the largest order book in the sector.
In particular MSC ordered ten LNG-fueled box ships from Zhoushan Changhong in January 2023. Zhoushan Changhong is a joint venture between the privately held Jiangsu Xin Chang Jiang Company and the state-owned China International Marine Containers Group (CIMC).
The ten 11500 TEU vessels were created by the CIMC Ocean Engineering Design and Research Institute a division of CIMC. The newbuilds will be delivered during 2025 and 2026.
The ships will use the most cutting-edge ammonia-ready architecture and dual-fuel propulsion enabling them to run on both LNG and conventional fuel.
According to Alphaliner MSC has 22 neo-Panamax ships and 14 mega max ships on order which are expected to be delivered in 2023. Major shipbuilders in China and South Korea split the orders.
The Geneva-based carrier will undoubtedly experience another significant capacity increase this year even if some deliveries will be postponed until 2024.