Apps Shipowners & Manning Agents Must Look Out For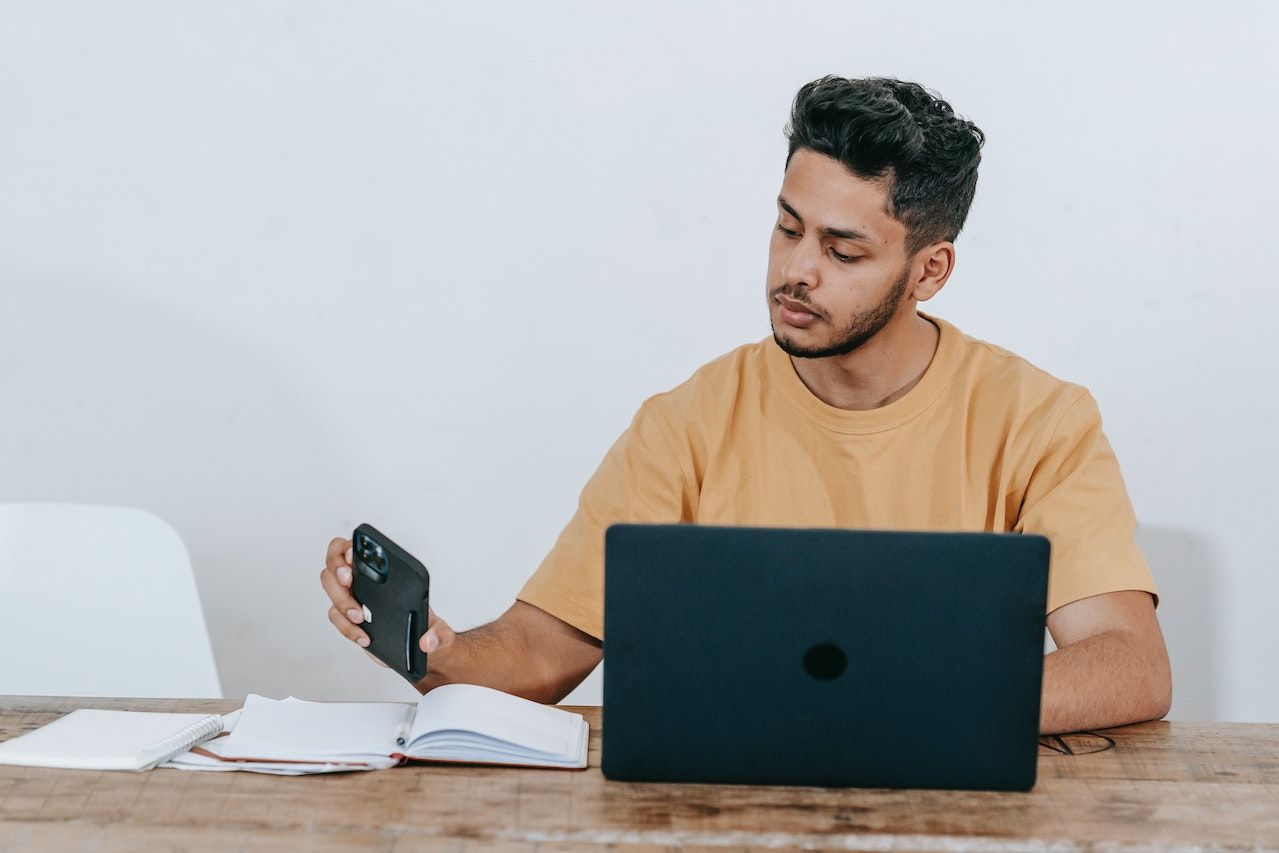 If you're a shipowner or a manning agent, there's a very high chance that you're already using technology to streamline or fast-track operations such as recruitment.
But the truth is, there is a need for a technology that's perfectly in sync with your life and schedule—fast-paced and always on the go.
Luckily for us, we live in an era where handheld devices are getting even smarter and more reliable than ever.
Today, more people utilize mobile devices than desktop computers, signaling the arrival (and stay!) of the mobile era.
Why go mobile?
In terms of technological innovation, the maritime industry is considerably behind other sectors. Most marine businesses do not utilize automation, data science, or artificial intelligence.
The industry will be shaped by smart shipping, big data analytics, robotics, and internet-enabled communications, according to the Global Maritime Technology Report 2030.
Businesses must overcome current obstacles and invest in more IT resources to keep up with innovators.
There is a constant need for new apps that can lower operating costs, provide greater customization, and boost operational efficiency, even if software solutions currently exist to optimize technical and commercial operations.
How are mobile apps transforming the maritime industry?
First, operational effectiveness is the most crucial factor for a ship fleet owner. As a result, you may use apps to increase productivity and take on more tasks than ever before.
Apps can be used to monitor company operations, streamline ineffective procedures, plus all these other benefits:
Apps enable real-time reporting
Trackers allow you to receive real-time reporting for your fleet ships from any location. In addition, custom enterprise apps that track the GPS positions of your fleet and provide you with information on the route or present site of your boat can be developed.
The most effective travel routes for your fleet can then be determined using the data, decreasing the time required for transportation.
You can assess your crew members' and ships' effectiveness and performance using real-time reporting. Therefore, it's crucial to have a top-notch application that can provide metrics and insights to guide your decision-making.
2. Significantly cut operational costs
Shipowners can minimize the margin for error by adopting automated data entry. However, the poor data collection and recording rate is one of the maritime sector's main issues.
Real-time reporting and data entry help you increase operational efficiency while reducing the possibility of human error.
Additionally, it frees up resources for your company that may be used for other operations, such as human and financial resources.
3. Improved monitoring
Business owners in the maritime sector can track tasks and timetables and easily exchange information with workers and clients thanks to the capacity to track all operations.
Customized apps make tracking and management more effortless. For example, shipowners may receive automatic notifications each time a ship arrives at a dock or a destination.
Important container tracking data is readily available, allowing for the timely preparation and submission of documentation for port clearances.
4. Enhanced safety
Apps can enforce operational procedures, navigation regulations, and staff safety policies.
With the ability to track ships using custom apps, any deviation or violation of operational guidelines can be found immediately. In addition, any safety violations or infractions of corporate policy are subject to management authority.
5. Gain actionable insights with dashboards
You can utilize apps to monitor employee and shipping performance. In addition, data can be used to pinpoint any ineffective procedures that might be enhanced.
The best navigation routes may be discovered, departments, where improvement is needed can be found, and company policies can be changed to boost performance.
6. Automation and AI
In the maritime sector, artificial intelligence is crucial. AI-enabled apps can propose the quickest delivery routes for your ships and help you lower delivery expenses by utilizing data.
Your fleet is one of many things that can be automated. In addition, you can automate some of your office's tasks, like gathering insightful data on worker performance and discovering customer problems.
Machine learning can also help alert you to future problems that you may have during your shipping operations. For example, shipping routes and operations may be impacted by environmental risks or changes in global politics.
Apps driven by machine learning can notify you of active threats and enable prompt response. Now that connected fleets are a reality, you can manage every ship in your fleet with a single app and custom apps.
Useful maritime apps
Here are a few of the most crucial maritime mobile apps that are absolute gems for you and your crew:
Martide
A crewing and recruiting software made especially for the maritime industry, Martide is built for the convenience of shipowners, ship managers, and manning agents.
Martide simplifies hiring thanks to its specialized pipelines that will assist you or your trusted manning agents in keeping track of your applicants throughout the hiring process.
You can also manage the minimum safe manning, pay, and spending plans through Martide. For manning agents, you can keep in touch with mariners and line them up frequently.
Connecting and conducting business with manning agents, work equipment suppliers, travel agents, and more are also possible with Martide.
Also, Martide has an app especially for seafarers.
Qualified and high-quality seafarers can enjoy a streamlined and straightforward application process as they browse through branded job ads using the app.
Because it caters to one industry only, you can bet that Martide understands the whole recruitment process—all the intricacies, requirements, and crazy scheduling.
And because it lives and breathes maritime, the mobile app is more than capable of helping you expand your business and recruit a diverse crew.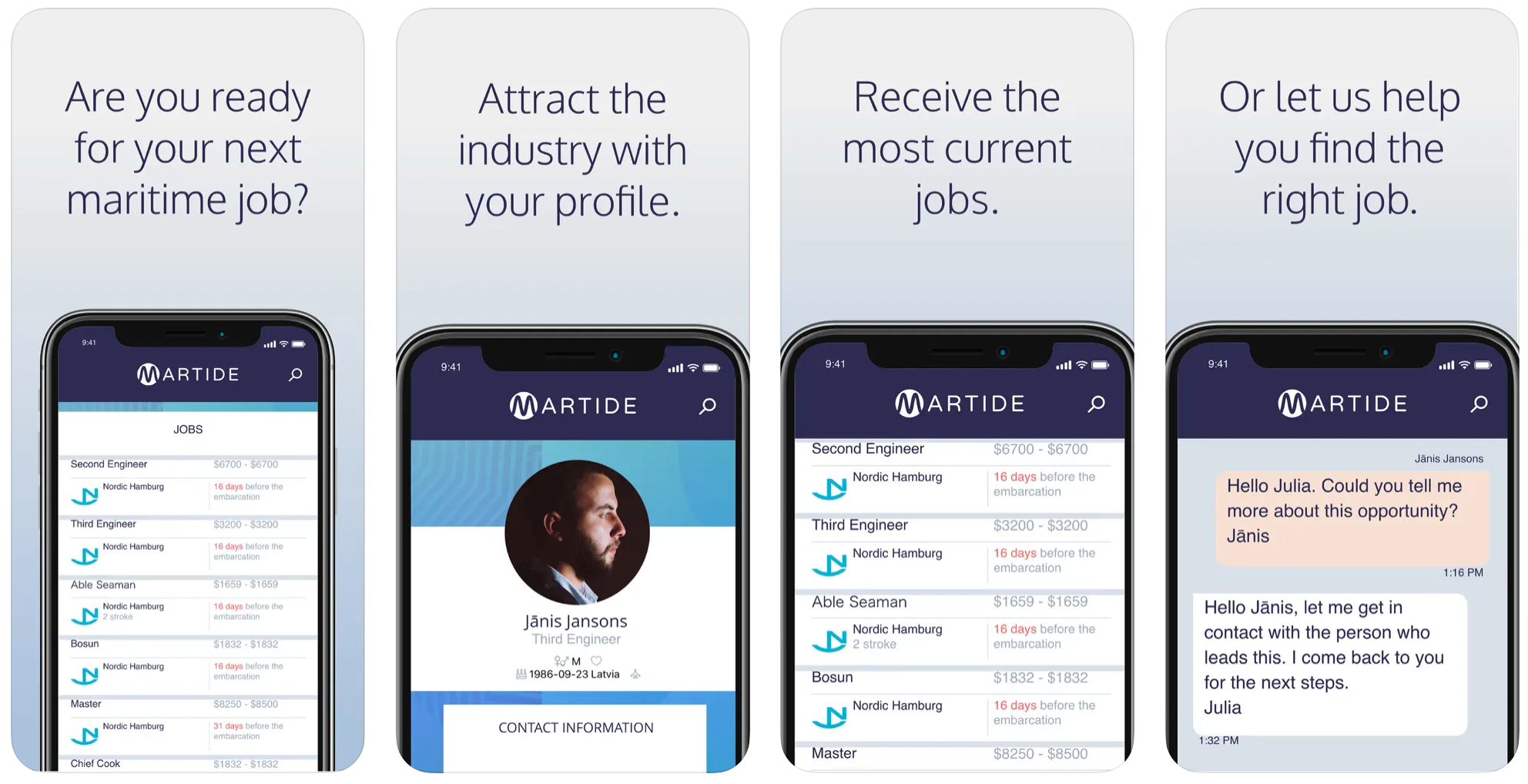 2. Green Ship
The IMO criteria for CO2, NOx, SOx, and ballast water for a specific ship are displayed in the DNV Green Ship - Environmental Calculator App.
Shipowners and seafarers must consider various crucial aspects, including the Energy Efficiency Design Index (EEDI), NOx, and SOx emissions, since the number of rules that shipping companies must follow grows yearly.
This app is beneficial for your assembled crew as it enables them to approximate their ships' environmental impact.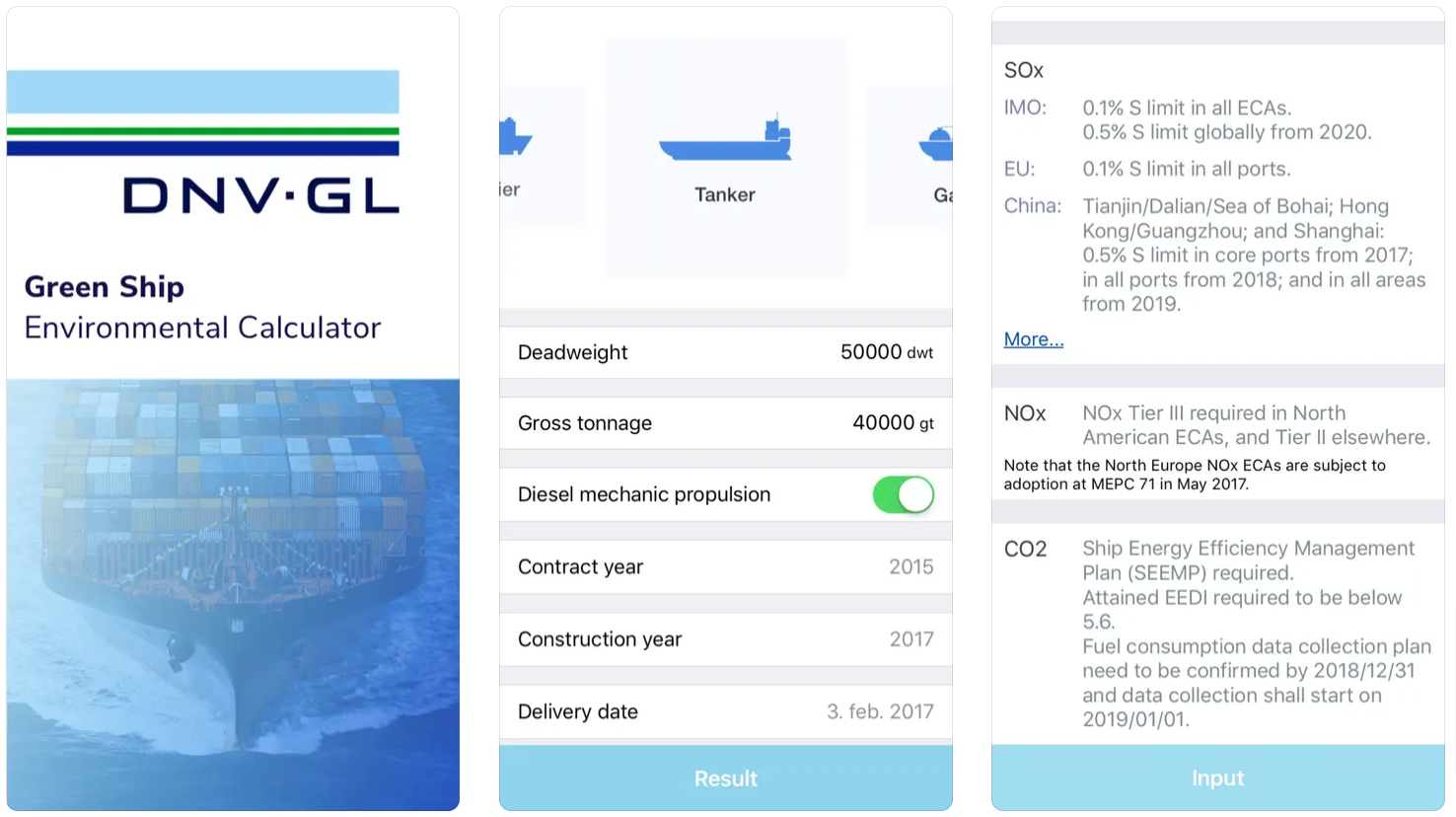 3. Equasis
Are you looking for details about a particular ship or shipping biz? Try Equasis.
All seagoing merchant ships exceeding 100GT (Gross Tonnage) and the organizations that manage and own them are included in the comprehensive database known as Equasis.
More than 45 data suppliers from the public sector and the maritime industry feed the Equasis database.
Equasis presently receives information from five PSC regimes: the Via del Mar Agreement, the Indian Ocean MoU, the Paris MoU (European continent plus Canada and part of Russia), and the Tokyo MoU (Pacific and Asia) (Latin America).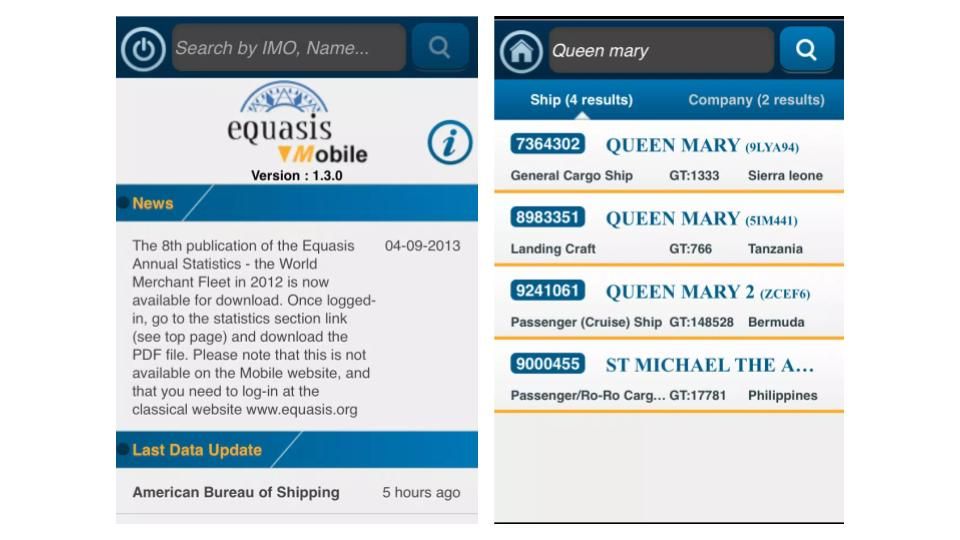 4. CargoHandbook
The most extensive database for cargo transportation in the maritime sector is called CargoHandbook.
The app, created by BMT Surveys, provides details for a thorough understanding of cargoes and their unique transportation needs to guarantee that the cargo reaches its destination unharmed.
Users of this app have easy access to several carriage regulations for more than 800 goods.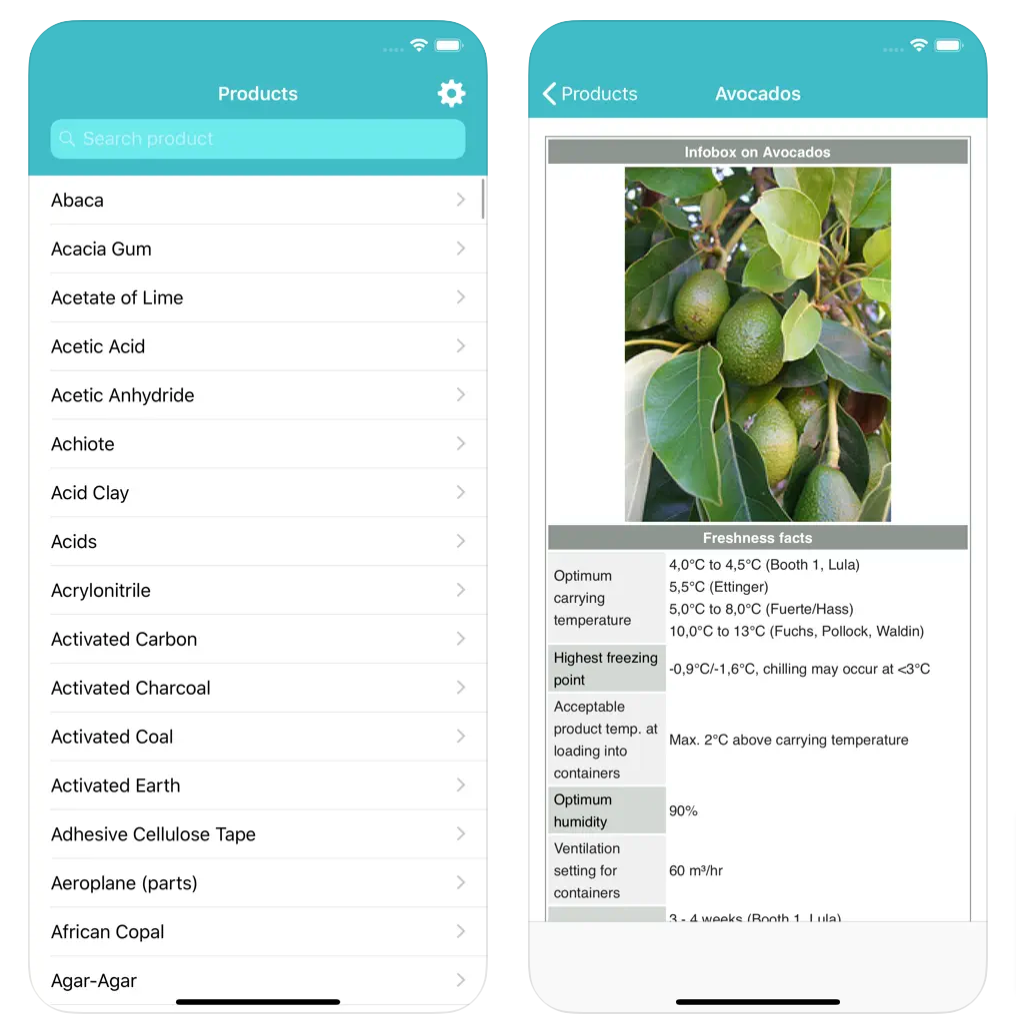 5. Maritime World Ports
The Maritime World Ports app provides an excellent database of ports worldwide.
Quick searching tool hints make it easy to find the desired port by selecting a country or port. Additionally, the app provides details about port websites, sea depths, and harbor characteristics according to size and type.

To summarize
Nearly all facets of our life now have a place for mobile apps.
In addition to being widely utilized for personal applications, they are also widely employed for business ones to give users the highest accessibility to vital data and information.
On the lookout for a solution to modernize your operations? In search of the best crew management and planning system and maritime recruitment software?
That's Martide for you. Visit our website to learn more about us today.