What is the Line Crossing Ceremony for Seafarers?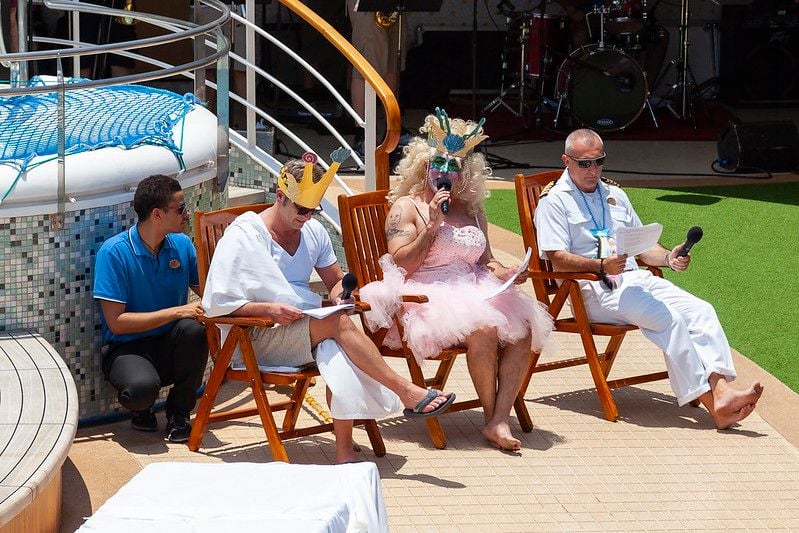 When we come of age, our families and cultures all have different superstitions and traditions to celebrate such a momentous milestone.
Start of the new year? Many usher in the year with a lot of noise to scare away evil and unwanted spirits. For the romantics, they share a sweet kiss when the ball drops to ensure they'll have a stronger year ahead.
Are you moving into a new home? Some say you should not move in on a Friday or Saturday because these days don't allow you to settle down completely.
Coins are tossed onto the floor of a newly purchased car for good luck.
The maritime industry isn't without its fair share of superstitions.
One such sailor superstition has stood the test of time—the "true" beginning of your seaman career is marked by an age-old ceremony, Crossing the Line.
What is the line crossing ceremony? How did this maritime superstition come to be?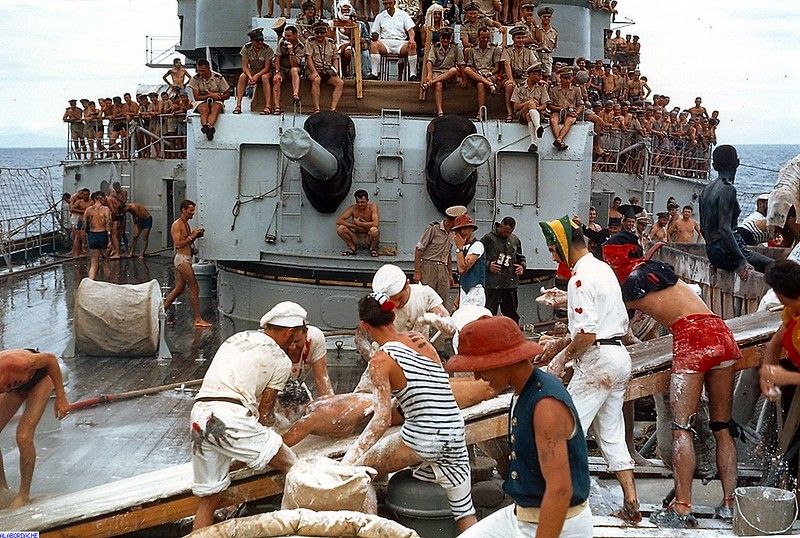 Image by tormentor455 via Flickr
Maritime superstitions: A seafarer's "baptism"
Ships explore areas that people on land could only imagine. However, it is a commonplace landscape for sailors all over the world.
While at sea, seafarers continue to practice their own customs, notably those related to initiations or rites of passage.
One of their most important rituals is the first time a sailor crosses the equator.
The ceremony for crossing the line and other such rites was first instituted to raise spirits.
Achieving this objective, which mariners regarded as "folly," indicated that novice sailors had shown they could handle extended or challenging sailing conditions.
If you're just a rookie seafarer, this is probably the time you'll feel like you're exactly where you belong. Sure, the ceremony (some even prepared days before) can get a little rowdy. But the whole crew celebrates you, from the Captain to the cook.
The occasion is a celebration of you as you fully immerse yourself in the life of seaman duties, perils, and adventures.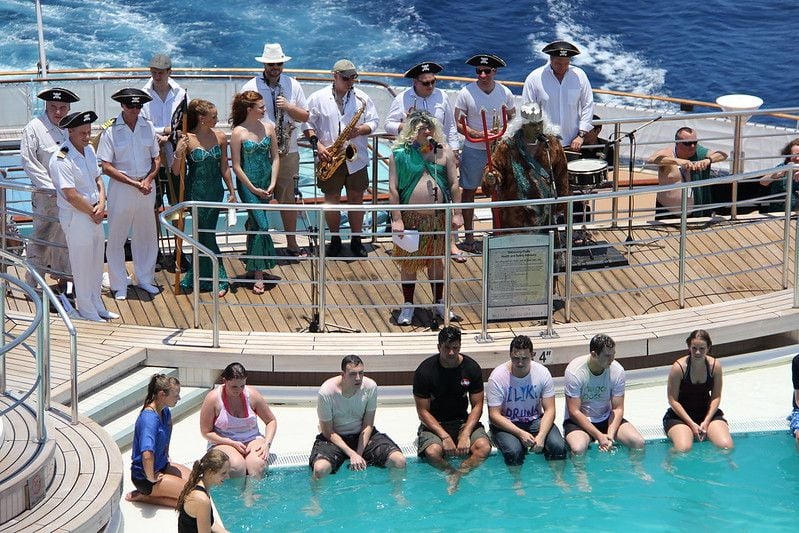 Image by Gary Bembridge via Flickr
The history behind a seafarer's crossing ceremony
The maritime superstition of holding "Crossing the Line" ceremonies for ships dates back to antiquity.
History shows that the Phoenicians of the Mediterranean would frequently participate in religious rituals to please the God of the Seas while on their journeys over the Straits of Gibraltar to trade with the Britons.
There were geographical connections between them and the Northern European Vikings.
The modern ceremony is said to have sprung from the beliefs of those times and spread over time to the English-speaking world.
The ritual soon lost its religious overtones and was primarily used to initiate young novices into the global mariners' fraternity.
What happens in this seafarers' tradition?
Will it be your first time aboard? Congratulations! Life at sea is never for the faint of heart, but you'll find yourself drawn in and loving the entire experience.
Speaking of experience, you should probably look forward to your Line Crossing Ceremony, as there will never be a more grand, chaotic, and funny event dedicated to you.
The entire ceremony is planned to appease Neptune, the king of the oceans, by giving him reverence.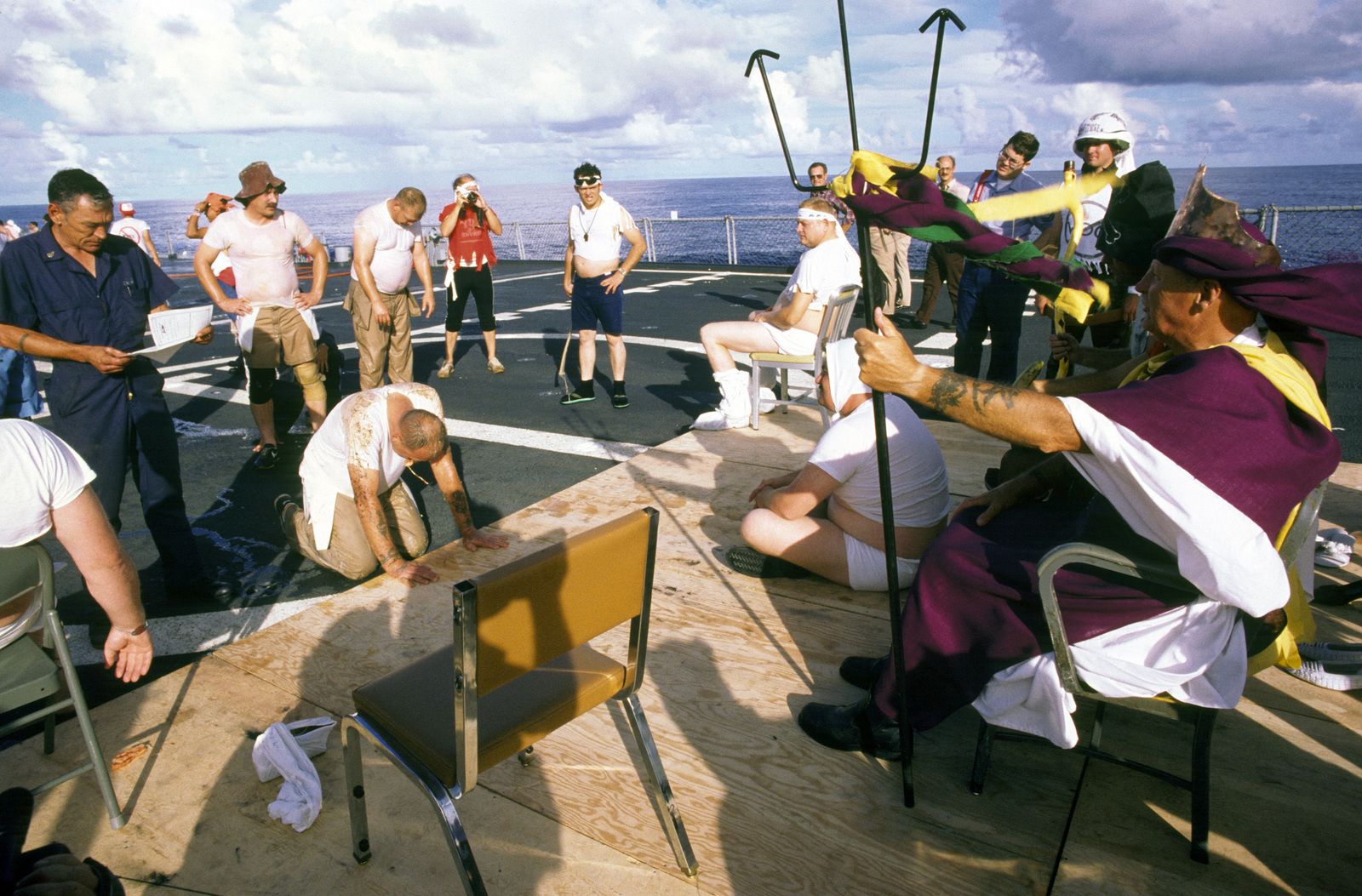 In the olden days, many believed that when Neptune was on your side, he would keep sailors away from the dangers of the sea and provide good luck and safe passage to everyone on board.
The rich tradition of the Crossing the Line ceremonies frequently included a wide range of activities for the pollywogs.
Pollywogs are your newbies, the seaman who have never crossed the equator.
They will be subjected to a series of initiation rites involving terrifying and frequently humiliating tasks, gags, barriers, physical rigors, and generally good-natured mischief.
The celebration is concluded by "court," where veteran sailors take on various imaginary roles and don costumes to judge whether newcomers have earned their rite of passage.
Usually, the most senior crew member will be dressed as King Neptune. Sailors take this ceremony seriously, so expect his godly presence to be all out (we're talking crown on his head and his infamous trident).
The court won't be complete without Neptune's queen, so you'll also find someone dressed as Amphitrite. You'll know who "she" is—your ship's Amphitrite will be seated next to Neptune.
Some even have their very own Davy Jones to act as King Neptune's sidekick. Other crew members will also be in an assortment of robes to simulate an entire royal proceeding.
Your ceremony will most likely conclude with your acceptance.
As a member of "Solemn Mysteries of the Ancient Order of the Deep," know that King Neptune now trusts you and has even named you one of his dependable shellbacks.
Image by the IMO via Flickr
Shellbacks get a certificate attesting to their new title. Some even have specific prestigious awards given to people who cross at a particular location, such as the Golden Shellback for those who do it at the 180th meridian.
The Emerald Shellback (US) or Royal Diamond Shellback (Commonwealth), which is awarded after crossing the equator at the prime meridian, close to the Null Island weather buoy, is the rarest status for a Shellback.
The ship's commander may decide to arrange a course over the Golden X when a boat must cross the equator quite close to one of these meridians so that the crew can be initiated as Golden, Emerald, or Royal Diamond Shellbacks.
To summarize
Now, that's just what usually happens in the line crossing ceremony. But a word to the wise, your crew will heavily get involved in the whole proceeding.
No two line crossing ceremonies are exactly the same. You'll get your own version of the truth serum and tribulations ala the seven labors of Hercules—the whole shebang.
One thing is for sure, though—the whole experience is designed to make you feel welcome.
It's every seafarer's rite of passage. You will, for sure, look back to your line crossing ceremony with fondness and great stories.
Are you excited to go on your very first voyage in your seaman career and experience the line crossing ceremony yourself? Then, we can help you get started.
Martide is an end-to-end crewing and recruitment software trusted by shipowners and industry leaders. And they're looking for you! So create your resume and browse our job listings today to kickstart your life at sea.
Tricia Tan
Former content writer at Martide.