Why Are Vessels Scrapped & What Happens to Them?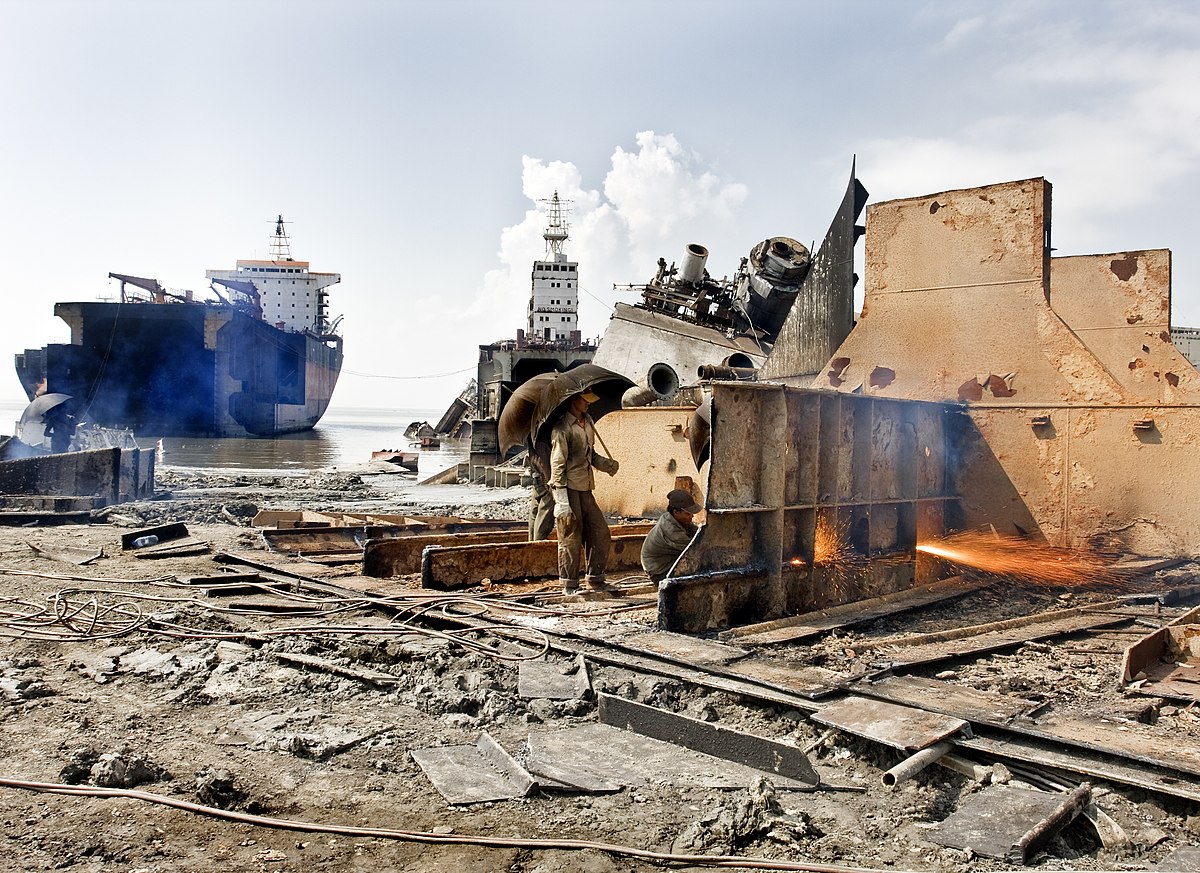 In the maritime industry, press conferences and champagne bottle smashings are used to mark the birth of new ships, but the fate of retired ships is rarely discussed.
What happens to them?
The truth is old vessels meet the same fate as cars which are no longer usable. Like cars, ships undergo a process so they are "laid to rest."
Do you want to know more about the what, how, and why of vessel scrapping? Then, read this blog post to learn more.
Why are ships scrapped?
The most efficient and economical method of getting rid of old ships is ship recycling, also known as ship demolition, ship dismantling, or ship breaking.
This is because it enables the materials from the ship, particularly steel, iron, aluminum, and plastics, to be recycled and turned into new products.
This, among other things, minimizes the need for iron ore that has been mined and uses less energy during the steelmaking process.
Meanwhile, after being removed from ships, all kinds of domestic goods, including furniture, washing machines, sanitary fittings, etc., are sold at a premium.
Although scrapping is a known way of breaking a ship, several other approaches exist to breaking apart an old vessel.
Beaching
A ship is beached when positioned on a mudflat during high tide. Breaking operations typically occur during low tide, when the sea does not submerge the vessel, and the ship is purposefully grounded during high tide.
The beaching approach is harshly criticized for the hazardous working conditions it creates and the environmental damage it does to nearby towns and delicate coastal ecosystems.
Sunk to become new marine habitat
Ships may be sunk to build artificial reefs after being cleared of hazardous chemicals as an alternative to recycling them to facilitate recreational diving or enhance marine life.
Passed on
As luxury cruise ships near the end of their useful lives, they are occasionally transferred to a less wealthy cruise line within the same corporation.
Ships have also been converted into floating hotels, meeting centers, restaurants, and other structures just to give her a new shot at life.
Abandoned
Wrecked ships frequently remain on the ground, serving as a tourist attraction.
Take the Titanic, for example. Its namesake movie is showing never before seen footage of the wreckage to commemorate the film's silver anniversary.
What happens in the ship-breaking process?
As a ship reaches the end of its useful life,ship dismantling, often known as "ship recycling," is used to destroy it.
But the process does not mean the end of a ship. Rather, it ushers in a new kind of hope, a brand new usage for an otherwise rotting vessel.
Ship dismantling, one of the methods for disposing of ships, entails stripping old ships of their machinery, except for any elements with added value that may legally be utilized in constructing new vessels or for other purposes.
After dismantling an old ship, the leftover steel pieces are liquefied and used to construct new ships. The melted steel is refurbished and finds application in various other industries.
Dismantling a ship is vital since maintaining a particular ship costs more and more money over time, making it more challenging to manage.
Hence, to focus on other regular expenses like port fees, fuel costs, and crew member pay, shipowners take the simple route and turn over the old vessel for efficient disposal.
The primary and most typical method of disassembling a ship is to separate it into various pieces, then further separate those pieces.
The process of dismantling begins with the vessel being beached on the coast in some of the largest ship-breaking yards in the world, such as Alang in India. Along the Gujarati coast near Alang are the offices and yards of numerous shipbreaking firms.
The ship must float calmly on its final voyage until it reaches the shipping yard's beach when it stumbles and comes to rest. The engine is turned off, and the anchor is lowered once the ship has reached the shore to stabilize it. Then, the shipbreakers get to work.
Using sturdy chains, cables, and equipment systems, the workers bring the ship into the sand at the location.
After the initial scrapping is complete, the actual dismantling of the ship starts. A decision regarding the next step will be made following a thorough inspection of the boat by authorized employees and the shipboard supervisor.
Technically, there aren't any fundamental rules for breaking a ship. The advisors' careful observation and extensive project experience are more important than any academic understanding.
Nonetheless, everyone involved in the ship disposal process must adhere to strict safety regulations.
As the deconstruction process begins, the ship-breaking workforce is equipped with various torches, the sheer force of will, and sledgehammers. Disassembling can take anywhere between two weeks and twelve months.
To summarize
A ship's construction materials will eventually be recycled in large part. Materials can be reused, including those the company or ship owner removes in the early days before a ship is retired and the last hull plates at the ship breaking yard.
Metals will be further purified and melted down to create new hull plates and other materials that may eventually be used to construct larger, more advanced ships.
In contrast, sentimental and commemorative things may continue, especially in cruise company offices. Salvaged items may be displayed aboard newer ships or as souvenirs in museums or private collections. Many other materials also find other industrial uses.
Depending on the ship's size and the scrapyard's work schedule, scrapping a vessel could take just a few weeks, several months, or even years until the last traces of the hull finally disappear.
During the route, many individuals are engaged, and for those with close ties to a vessel, it may be an emotional voyage.
But, the scrapped ship will ultimately continue to exist in the memories and hearts of the hundreds of millions of people who sailed on her, not just in the recycled or reused items or souvenirs.
Want more insights into the maritime industry? Or do you need a streamlined platform that'll kickstart your maritime career? Martide's got you covered.
Browse opportunities from many ship owners and industry leaders, and apply with just one click, all thanks to the free-to-download Martide app.
Apply for seafarer jobs now!