What Equipment Can You Find in a Ship's Engine Room?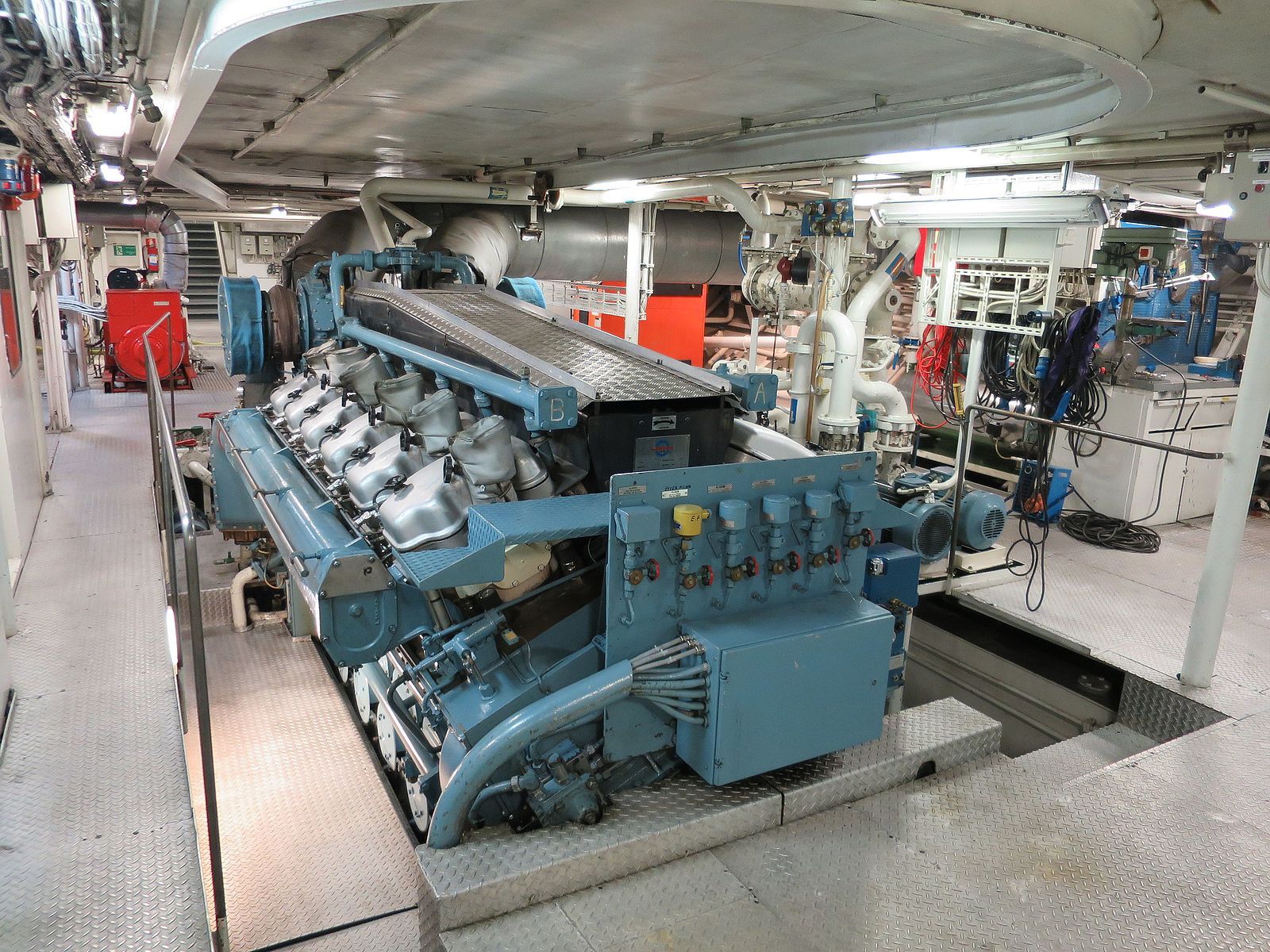 Life at sea means experiences and faces await you, literally.
Once your contract is up, there'll be crew change, and you'll have some time to relax and regroup ashore until you line up your next contract — and the cycle continues.
But no matter what company or vessel you'll find yourself working for or on, one of the constants within your ship is actually a room.
Arguably, the ship's engine room is the heart of the vessel.
Without the equipment and machinery installed in this area, it's unlikely that you'll enjoy a voyage that's relatively quicker, more efficient, and smooth sailing.
But what exactly are the machines and equipment that one can find in a ship's engine room?
Let's get to know them in this post.
Where is the engine room located?
The engine room is typically the largest physical compartment of all the mechanical spaces.
The vessel's primary propulsion system, often a heat engine, is housed there.
The engine room often has a few compartments and is towards the back or aft end of the ship, near the bottom.
With the prime mover placed close to the propeller, this design maximizes the ship's cargo-carrying capacity while reducing equipment costs and issues brought on by long shaft lines.
On some ships, the engine room may be located forward and even high, as on diesel-electric vessels or mid-ship, as on ships built between 1900 and the 1960s.
Getting to know the equipment
An engine room typically consists of three platforms—the top, middle, and bottom.
The upper platform includes spare components for the main engine, pumps, auxiliary machinery, vessel operation, and tons of tanks and other equipment.
Pumps like the primary engine booster pump and the fresh water condenser pump are located on the middle platform.
You can expect to find the following in the middle platform:
Main engine booster pump
Boiler feed pump
Freshwater condenser pump
Main engine fuel pumps
Coolers
Heaters
Auxiliary machinery such as air compressors, dehumidifiers, and purifiers may also be located on this platform.
Although there typically are no rules, the layout is very straightforward.
Take, for example, generators. This equipment is placed in the middle platform because the raised position helps protect generators from flooding (which most likely will start at the bottom).
The placement ensures that there would be minimal to no immediate shutdown or blackouts within the vessel.
So what's at the bottom?
The primary seawater, sludge, refrigerator, and other pumps are on the vessel's bottom platform.
There are many different types of tanks to be found on the bottom platform of a vessel because there are many other liquids that need to be stored.
Can anyone access the engine room?
We've mentioned how the engine room is the ship's heart, right?
It's very much like the heart of your very own body, as well.
As humans, we can only see what's "outside," meaning our physical attributes, the subjective beauty and aesthetic of our person.
We don't see what is inside our bodies, although all those nerves, veins, muscles, and tissues make us glorious and alive. And the heart, one of the essential organs in our body, is something we will never see.
Only specialists get to see it.
This "view" is very similar to that of seafarers.
By now, we already know that there's a rigid structure within the ship's crew.
Contrary to marine engineers, those who are not directly involved in a ship's technical and functional aspects may not have much knowledge of the engine's components and may have never seen an engine room.
The engine room's crew
A ship's engine room is equipped with various equipment systems, each of which calls for a particular method while doing maintenance and troubleshooting courtesy of the engine department.
There are two types of employees in this department: those who are licensed and those who are not.
The Chief Engineer manages the vessel's machinery and equipment and is the most seasoned licensed member of the engineering staff.
The Chief Engineer ensures that machinery and equipment are in working order.
Evaluating the requirement for gasoline, lubricant, oil, and other consumables, maintaining the supply inventories, compliance with laws and regulations, preparation of the engine room for the inspection, and engine crew management are all the Chief Engineer's tasks, too.
Then, there are your engineers.
Depending on their rank, engineers are also responsible for other duties like running and maintaining a ship's propulsion and auxiliary systems.
They also maintain main engines, boilers, fuel, steering mechanisms, feed systems, electrical, refrigeration systems, sewage treatment, and lube oil.
Engineers also watch the engine room, manage unlicensed crew, record engine performance, and report on it.
In Canada, positions range from fifth-class engineer to first-class engineer, and in the United States, from third assistant engineer to first assistant engineer, with duties growing with each rank.
Depending on ratings, the engine room has a wide range of positions, such as oiler, mechanical assistant (MA), junior engineer, fireman, deck engine mechanic, engineman, pumpman, electrician, machinist, conveyor man, and refrigerator engineer.
A person can become a certified engine room member by acquiring seamanship experience, finishing the required courses and endorsements, or completing a course certificate.
But no matter the rank, one thing is for sure: the equipment needs a lot of attention. The engine room keeps everyone's hands full, from the Chief Engineer to the electricians and motorman.
The department is expected to accomplish a myriad of tasks, including the following:
Mechanical system monitoring and maintenance
Each rank of engineer on board a ship is given unique machinery and systems for maintenance and monitoring purposes.
All engineers are responsible for maintaining their respective machinery systems, which are distributed among them. In addition, the maintenance of the equipment on deck is another responsibility for marine engineers.
2. Maintaining accurate records and planning maintenance
The engine room department collaborates to ensure that the scheduled maintenance system maintains all mechanical systems.
3. Bunkering of fuel oil
Marine engineers also move fuel oil from a bunker station or barge to the ship.
It is typically the responsibility of the fourth engineer, who is also responsible for regularly sounding the fuel oil tanks and reporting the results to the chief engineer for bunkering operation planning.
4. Emergency repairs
The most significant daily activity for marine engineers who operate on ships is resolving issues with the equipment in the engine room.
It is crucial to fix any issues quickly and efficiently while working in the engine room because delays may negatively affect the ship's entire schedule.
To summarize
The heart of every massive and impressive vessel is a collection of machinery and equipment run by engineers and specialists.
Without the engine room, ships won't be able to voyage. And without the people attending to the engines, the whole notion of a safe and efficient passage won't be possible at all.
Are you a marine engineer or engine crew searching for your next big opportunity? Are you in search of your first big break at sea? Then, you're in luck because we're looking for you!
Martide is a worldwide crewing and recruitment software trusted by shipowners and maritime industry leaders.
They are always on the lookout for top talents who will join their ranks—and Martide made it easier for you to reach out and apply.
Create your resume and browse our vacancies today.
On the go? Download the Martide Seafarer app for free via the App Store or Google Play and enjoy a streamlined application process.
Tricia Tan
Former content writer at Martide.