A Manning Agent's Guide to Submitting Candidates for Jobs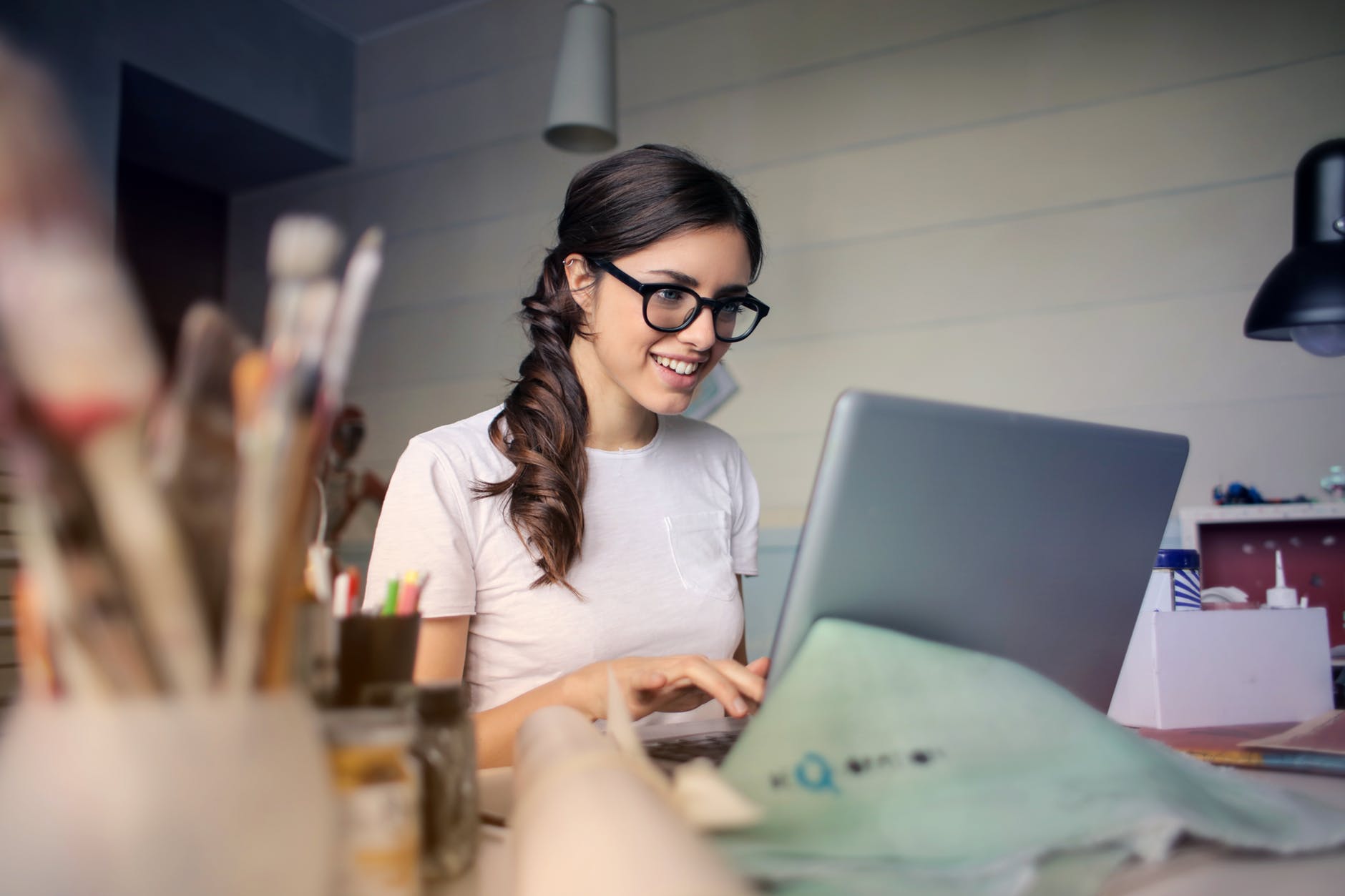 Our goal is to make Martide's online maritime recruitment solution and crew planning software as intuitive and as easy to use for manning agencies as possible. We want to make your life simpler when it comes to finding seafarers for your clients' vacant seafarer jobs.
With that in mind, we've written this blog post as a 'how to guide' to give you the lowdown on everything you need to know about submitting one of your candidates to a shipowner's job vacancy through the Martide platform.
Don't worry - it's a piece of cake and once you've done it once, you'll wish you'd used Martide sooner!
Read more: Why Manning Agents Need to Learn to love Tech
A manning agent's guide to submitting candidates for jobs in Martide
When a shipowner or ship manager (the employer) chooses your manning agency's services to help them fulfil a vacancy, our system will give you the opportunity to first review the position before you start checking out the seafarer profiles of potential candidates.
This is how to review a position.
First of all, log in to your Martide account. The first page you see when you are logged in is the Find Job page. This is where you will see all of the positions you have been selected to help find seafarers for.
(Just so you know, if you're elsewhere in our crewing system and you need to go back to the Find Jobs page you can quickly return to it by clicking on Find Job in the side menu:)

In our example below you can see our (fictional) manning agency, Waves Shipping, has been chosen by an employer to find candidates for an Able Seaman position for a yacht, and one for a chemical tanker: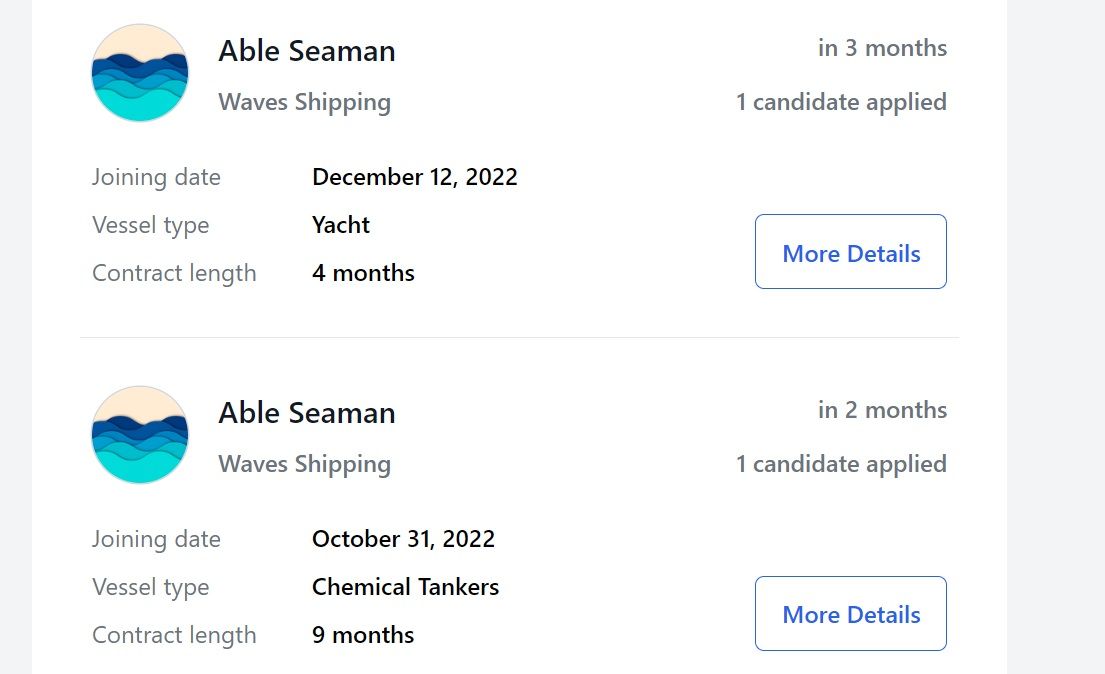 As well as the rank and the company's name and logo, you will also see the basics about the position: The joining date, the type of vessel, the length of the contract, how far ahead the join date is, and how many candidates have applied for the job.
Let's say that you've been asked to find lots of different seafarers - because your manning agency is known to be super efficient and professional! To make this easier, you can also search for jobs by rank, company and vessel type in the search bar at the top of the page.

When new jobs appear in your Find Jobs page, you will first want to review the details of the position before you start looking for the ideal candidate.
To do that click the More Details button and you will see additional info, including the salary, the engine type and the trading area.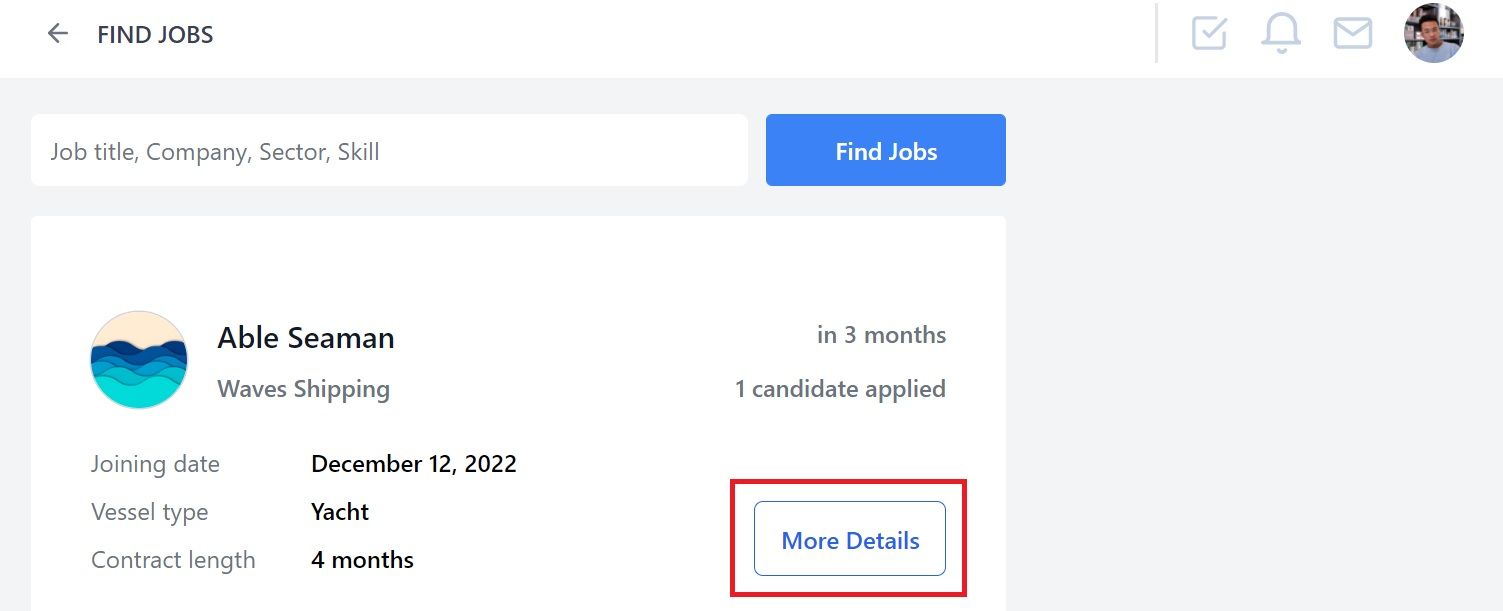 If there aren't any candidates yet, that page will look something like this: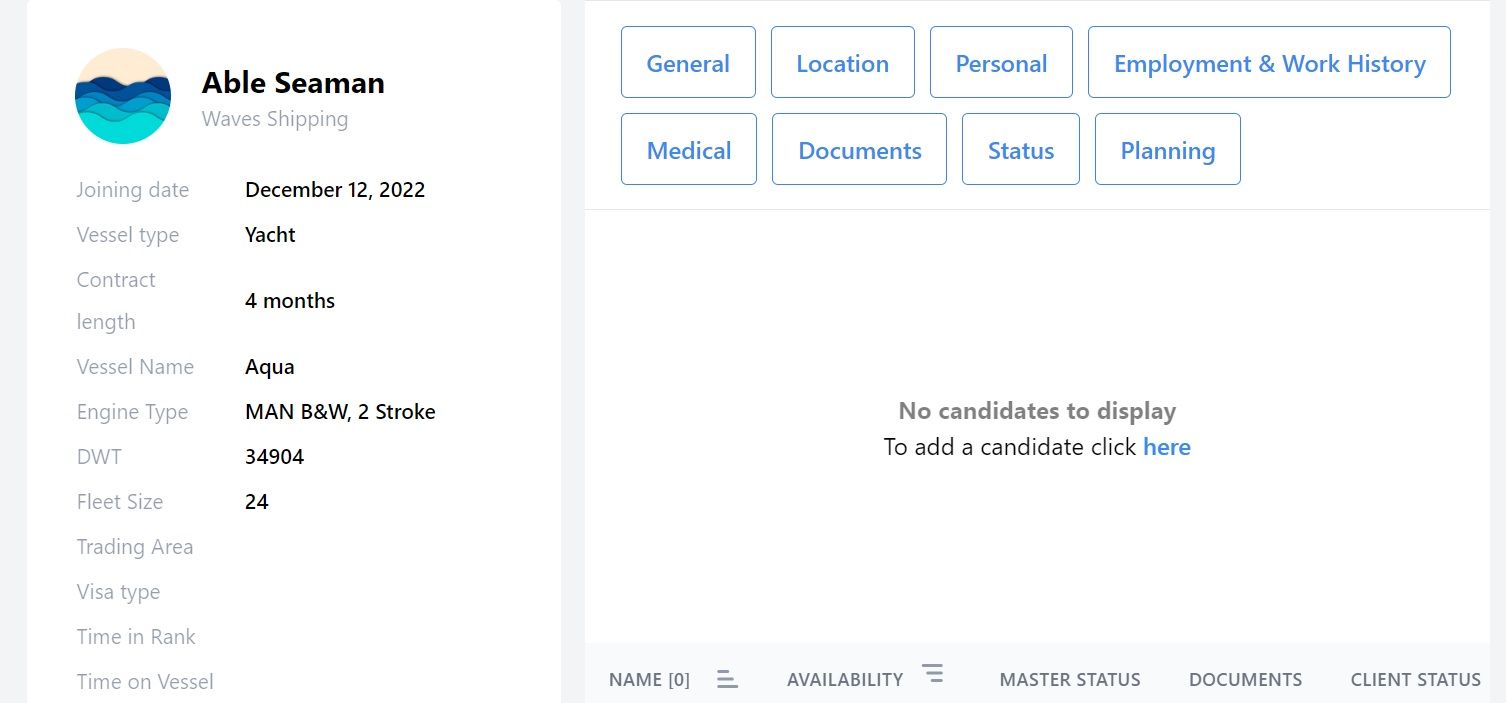 As you can see from the image above, on the left of the page are the job specs: Join date, vessel type, contract length, vessel name, engine type, DWT, fleet size, trading area, visa type, and required time in rank and time on vessel. The salary and job description are also included here at the bottom of the page.
On the right side of the page, if you have candidates, their names will appear there. You can filter the candidates by clicking on the boxes at the top: General, Location, Personal, Employment & Work History, Medical, Documents, Status and Planning.
We will cover how to add a candidate in a moment but if there are available candidates who may be suitable for that rank and vessel, the page will look like this: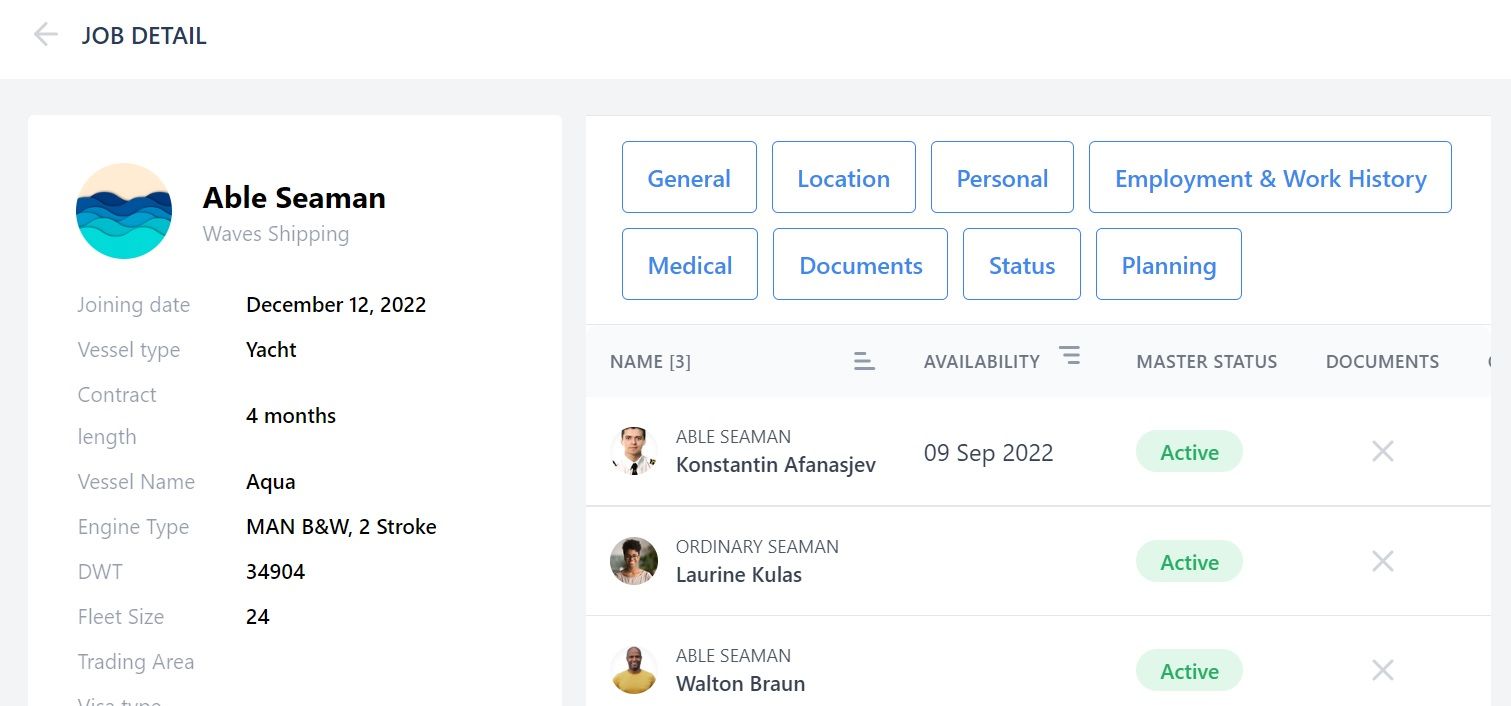 You will also be able to see the candidates name and rank, their availability date, their master status (active, unavailable, medical, left, not for rehire, retired) , if they have all the necessary documents, the client status and whether or not that candidate has already applied for the job.
You can sort candidates from A-Z or Z-A by clicking on the 3 lines next to Name, Availability, Master Status, Documents and Client Status.
If you click on a candidate's name it will take you to their seafarer profile where you can check everything from their education to their work history and their skills: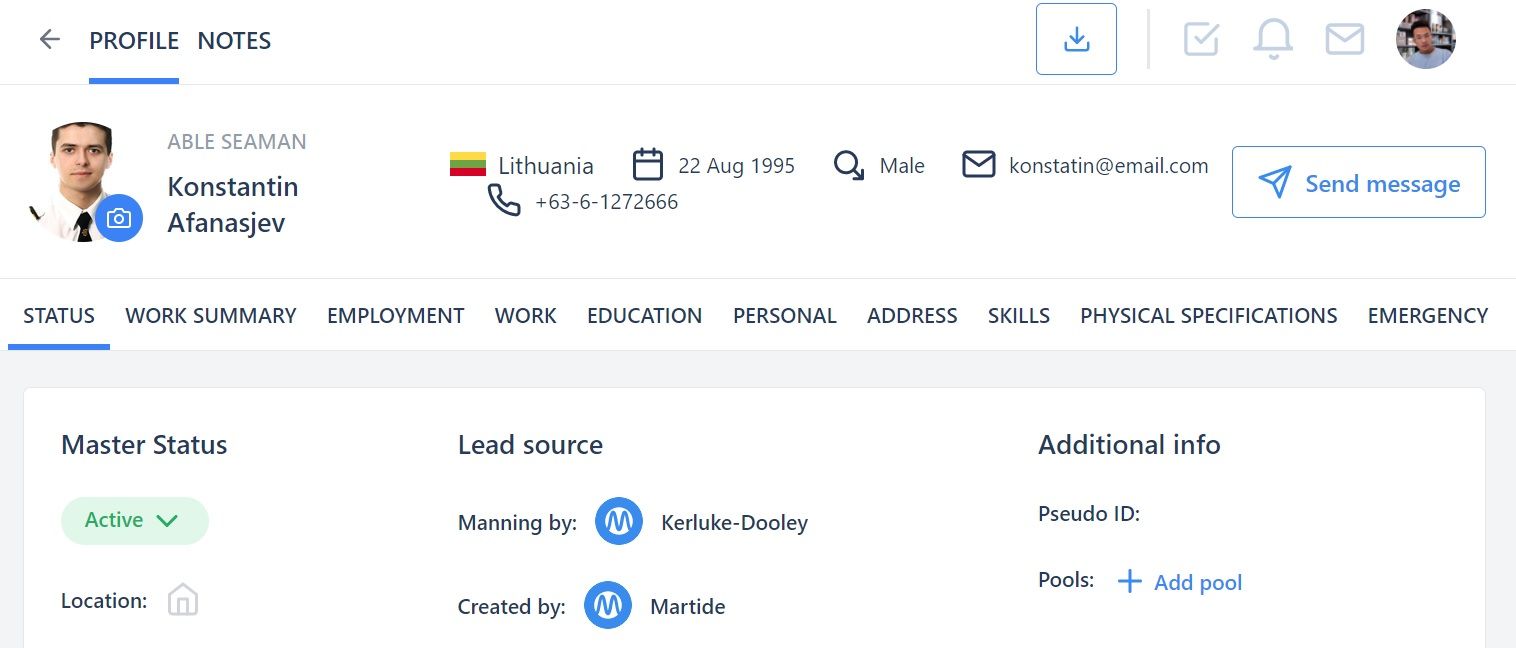 How to submit a candidate for a vacancy
If you want to submit any of the candidates in the list to the vacancy and advance them along the recruitment pipelines, simply click the Apply button that is to the far right of their name:

For example, we want to submit our (fictional) candidate Konstantin Afanasjev for the AB position. We click the Apply button and we will then see this page:

We know we have all of Konstantin's personal information in his profile, so we click Next. That will take us to the documents screen, which looks like this:

Konstantin's documents are all up to date in the system so we're ready to apply him to the vacancy. To do that, we click the Apply seafarer button. That will show us a pop-up box that looks like this: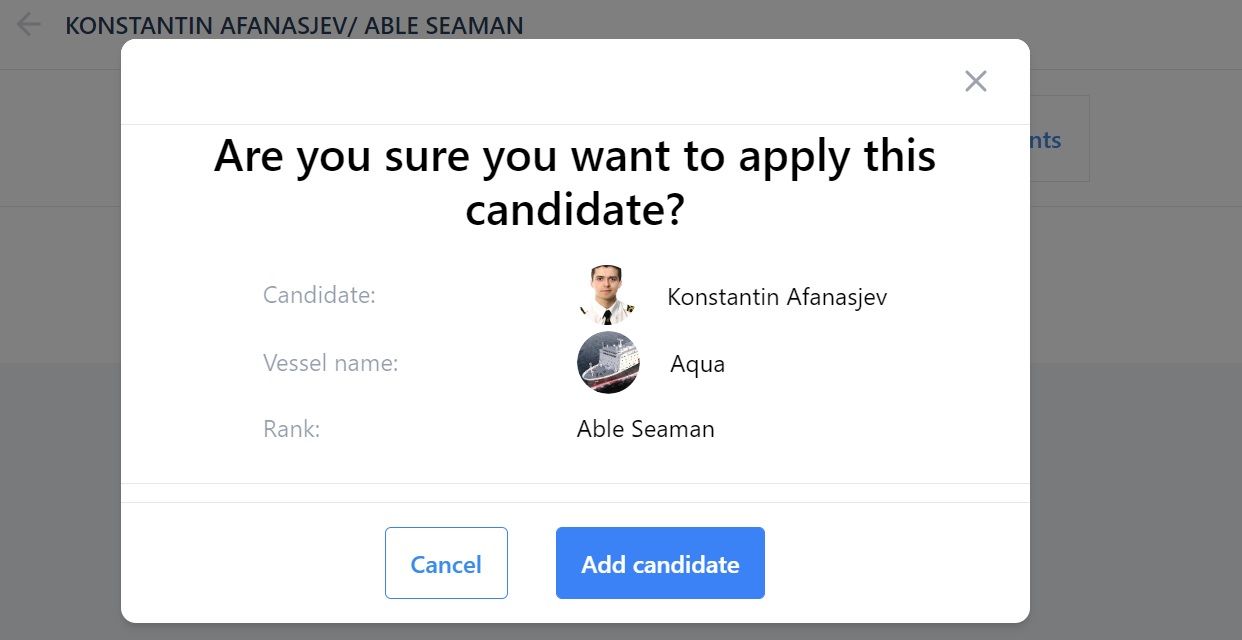 This is just an extra step to make sure you really do want to apply this candidate to this job vacancy for your client. We want to continue to apply Konstantin so we will click the Add candidate button.
You will return to the job detail page automatically where you can now see that Konstantin's status has changed to Applied:

How to add candidates to the list
If you have no candidates listed for that job vacancy you can add them by clicking the text that says 'to add a candidate click here':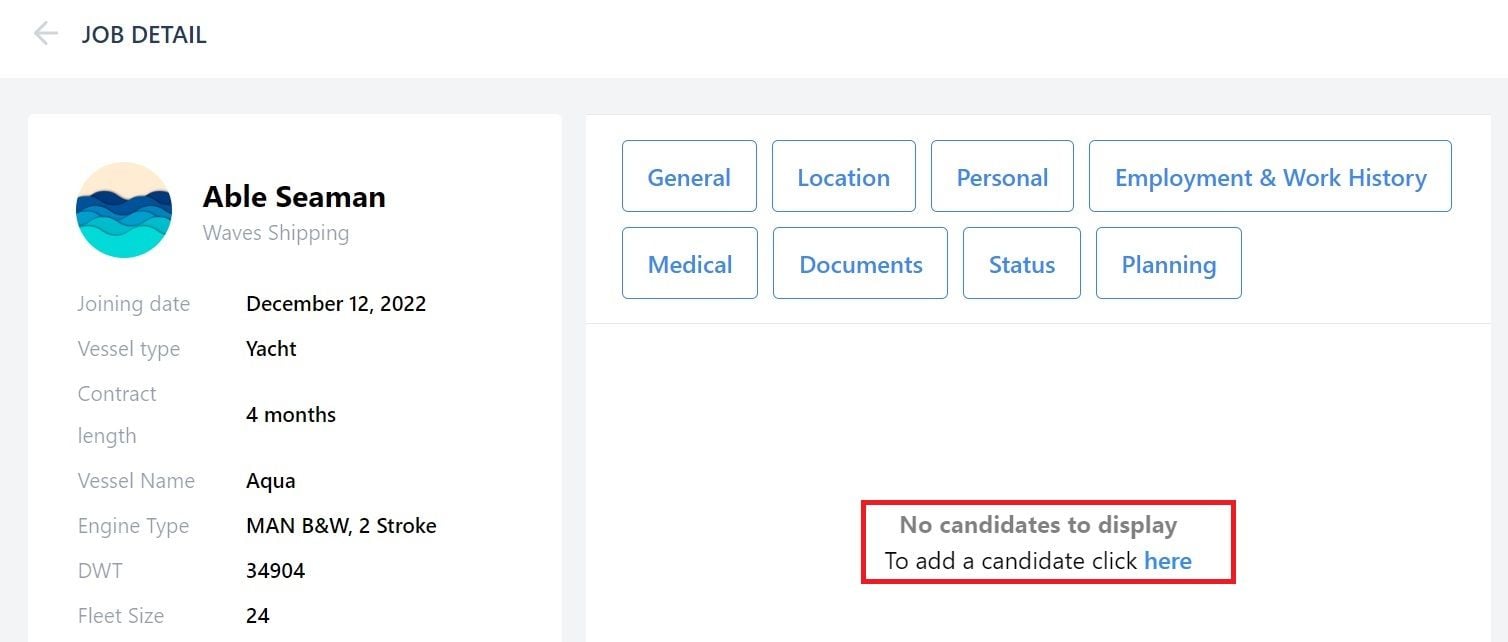 That will show you a pop-up box with a list of your seafarer candidates to choose from that looks like this: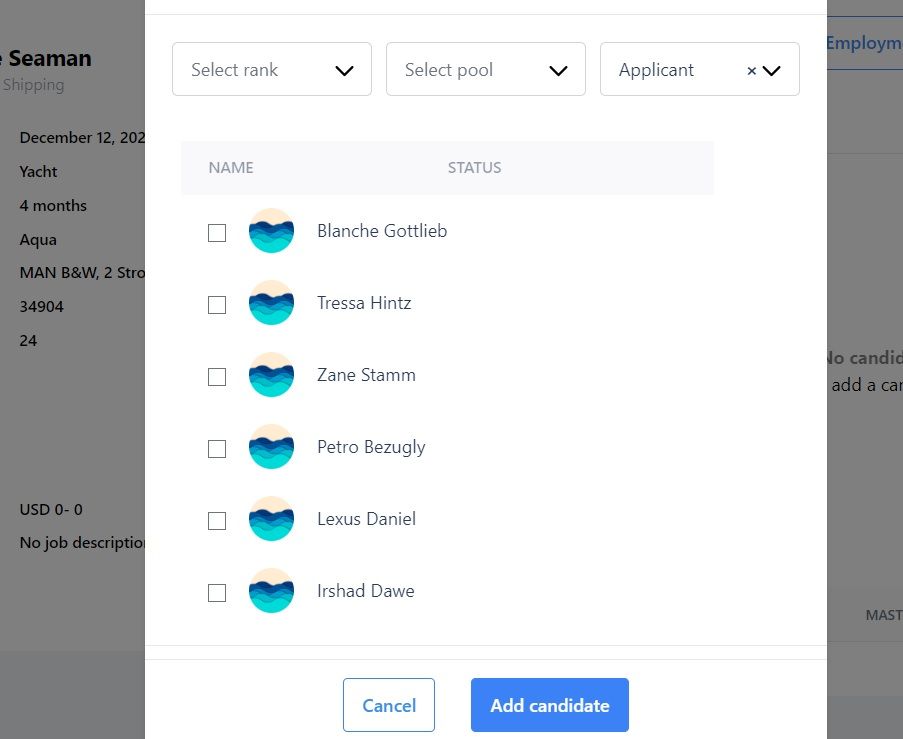 To make it easier to find who you're looking for, you can sort the candidates by rank, seafarer pool and applicant status (applicant or rejected.) Simply check the box next to the candidates that you want to apply.
How to add new candidates to the system
As one of your client's chosen crew manning agencies, you also have the ability to add new candidates to the system. This is simple to do: first click Candidates in the side menu bar (just under Find Job.) You will be taken to the Candidates page. It looks like this:

To add a candidate, click the Add Candidate button at the top of the page.
Adding a candidate is really easy: once you've clicked the Add Candidate button, you'll see a pop-up box that looks like this: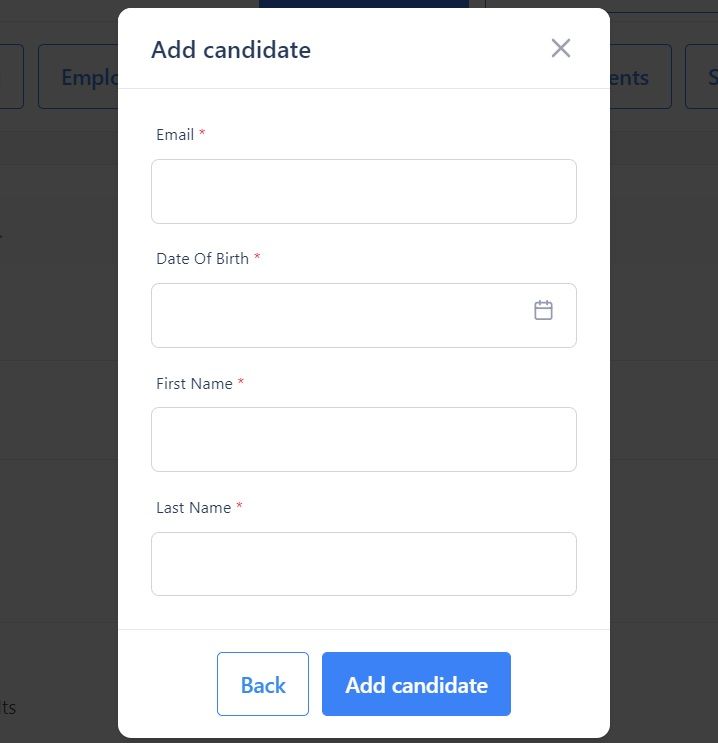 All you need do is enter the seafarer's email address, date of birth and first name and last name.
Once you've done that and clicked the Add candidate button at the bottom of the pop-up box and it will create a seafarer profile page for them. You can now fill in their information so that all of their details are complete in the system and they are ready to apply to vacancies. A new profile page looks like this: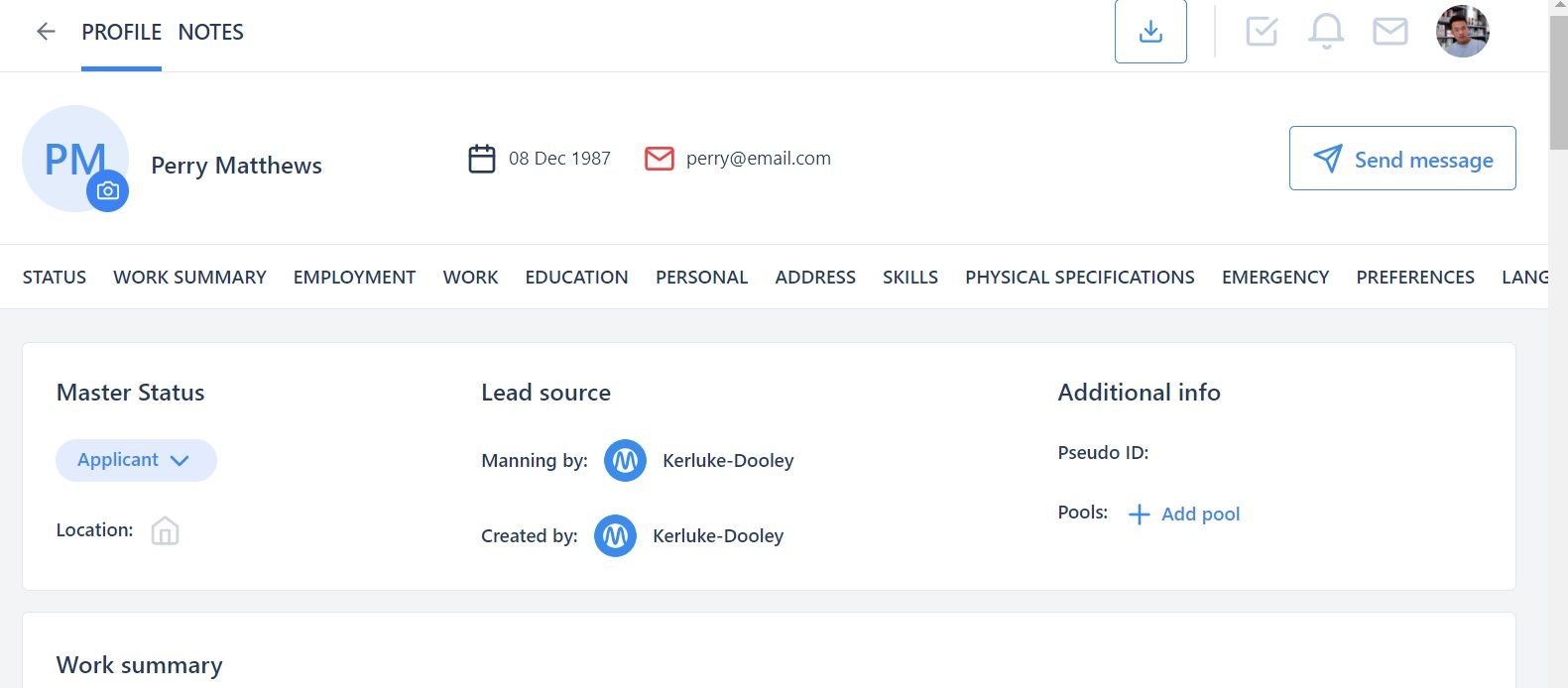 When you return to the Candidates page you will be able to see the seafarer in the list of candidates and their status will be Applicant: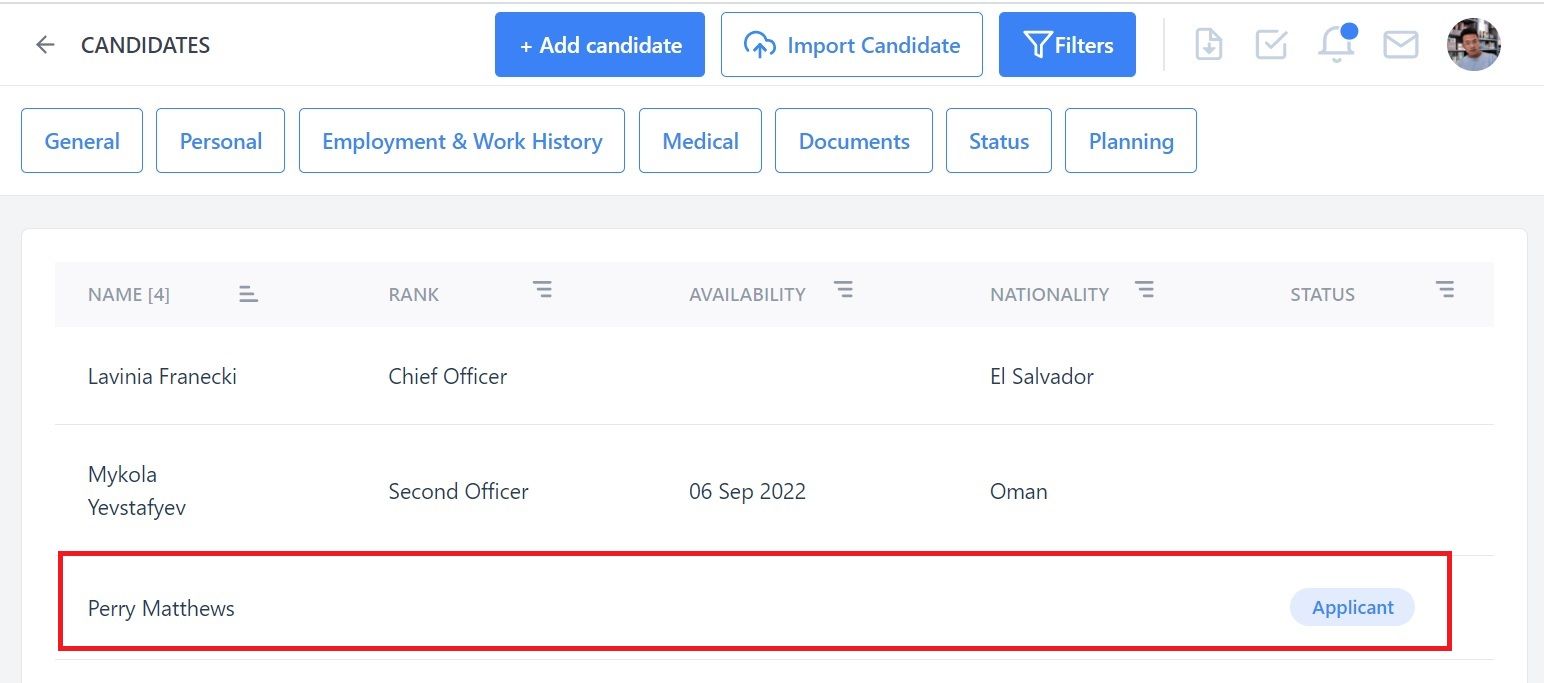 Handy tip: To save you valuable time you can also bulk import candidates using an Excel spreadsheet. Hey presto: easier candidate tracking and maritime recruitment for manning agents with just a few clicks of the mouse!
How to add a new candidate to a job
So you've added your new seafarer to the candidates page, and now you want to make sure their name appears in the list of seafarers when you click on More details on the Find Job page. Here's how to do that.
First, click on Assignments in the main menu on the left hand side of the screen. That will take you to this page:

Either scroll down the page or search for the Assignment (job vacancy) you are looking for using the filters in the boxes at the top.
In our example, we're going to add our new seafarer Perry Matthews that we just added to the Candidates page to the Able Seaman yacht vacancy on our Find Jobs page:

First we need to find that vacancy on the Assignments page. We'll do this by filtering by rank and searching for all AB vacancies: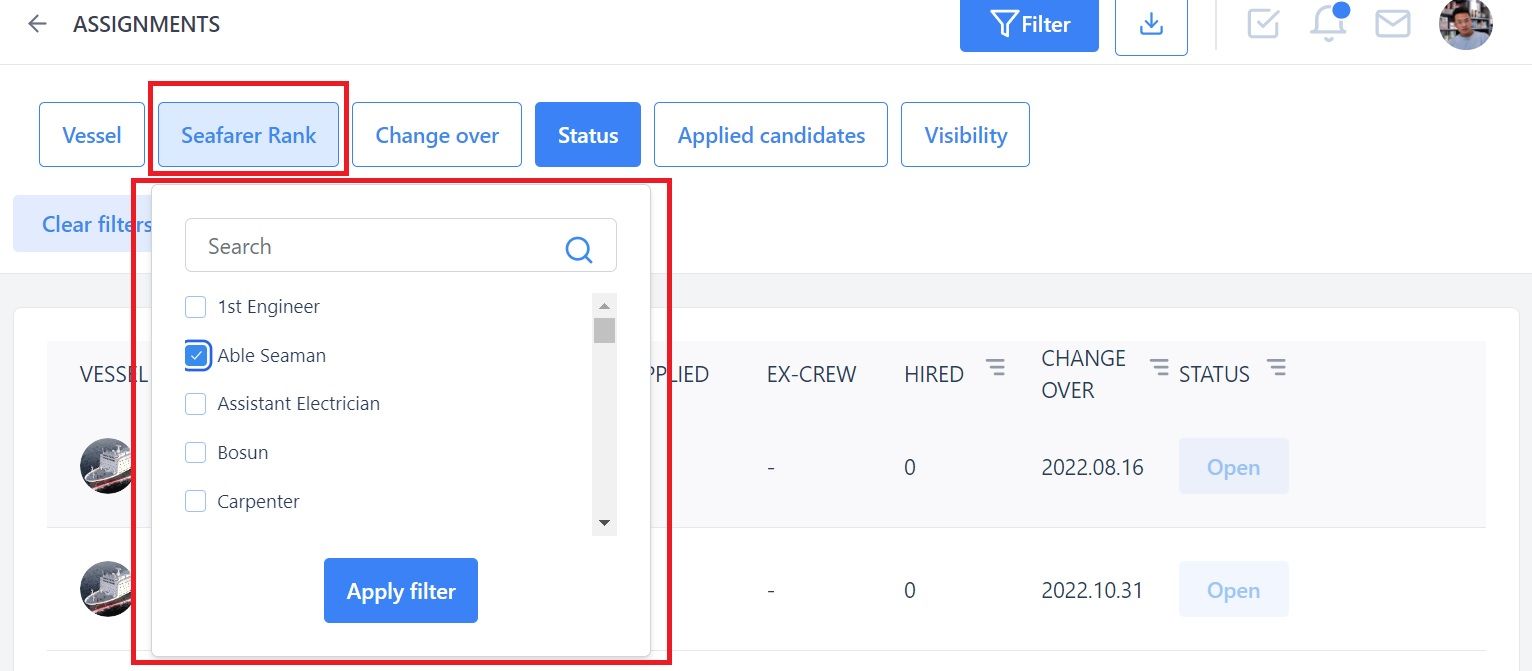 When we click Apply filter we will see all of our Able Seaman jobs: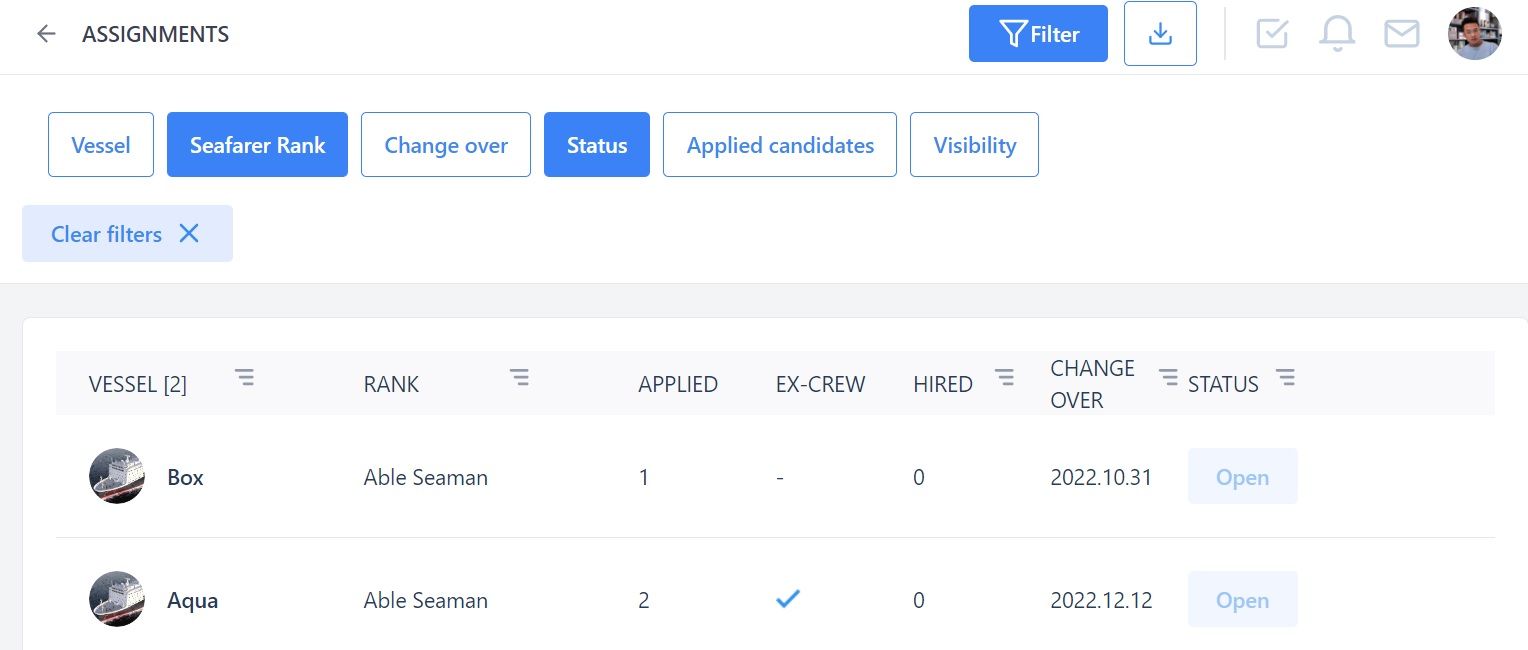 Click on the vessel's name (in our example it is Aqua) and you will be taken to that specific Assignment. Here you can see our other candidate that we dealt with earlier, Konstantin has been applied to this job, as well as a previous candidate called Mykola.
To add our new seafarer, Perry, we need to click the Add candidate button: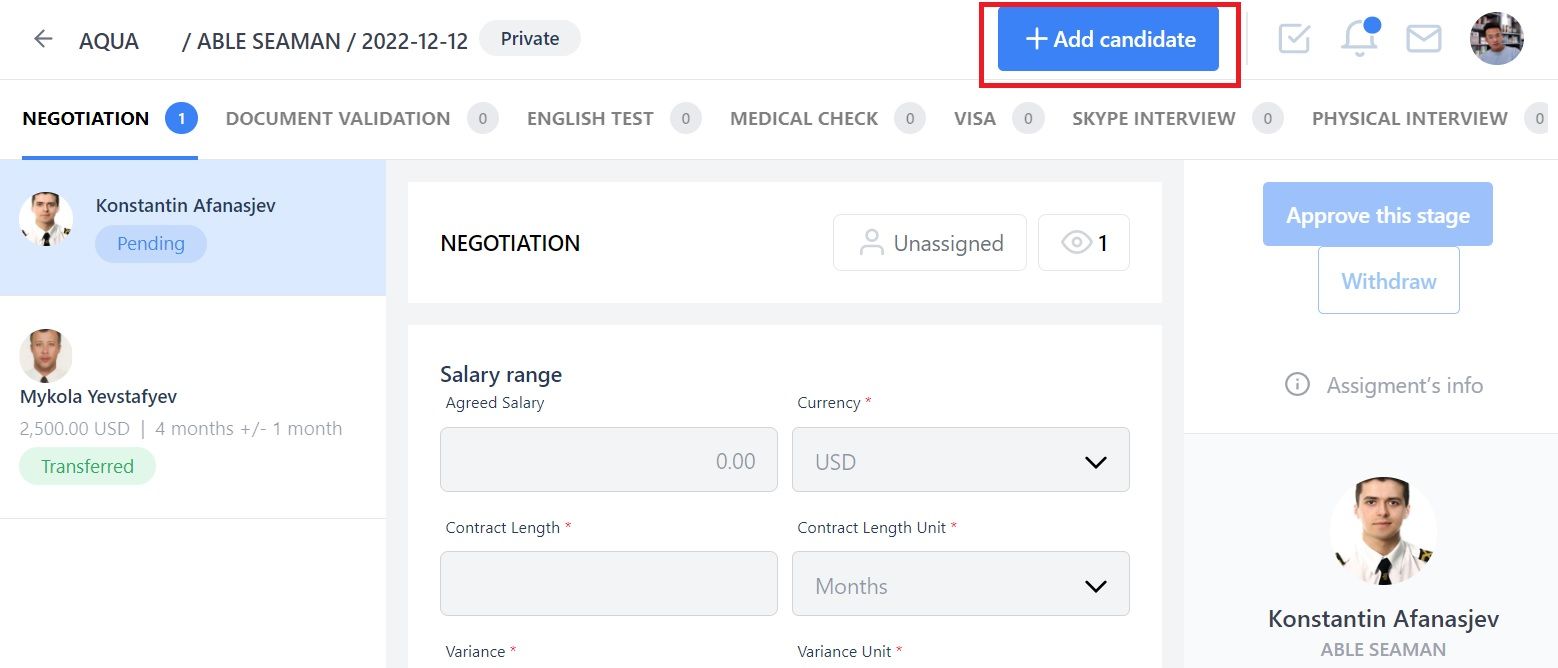 When you click Add candidate you will see this pop-up box:
Click on the Select box and a drop down list of all of your candidates and seafarers will appear. Choose the one(s) you want to add to the Assignment. When you've finished adding candidates/seafarers click Save and you'll be taken back to the Assignment page where you'll see the candidate(s) you've just added.
This blog post is a version of a user how to guide for manning agents which takes you through all the steps of submitting a candidate in a more concise format. The original guide can be found on our dedicated Support website.
(We also have a help section for seafarers on the Support website, so if any of your candidates want to know more about using Martide, feel free to point them in its direction!)
You'll also find some other useful topics for manning agencies such as how to add candidates you want to put forward for seafarer jobs, how to use the messages feature, and how to navigate your Assignments page.
Read more: Manning Agent Guide to the Martide Message Inbox
In fact there are a number of great features in Martide that you should know about as a manning agent and provider of crew management services.
And if you haven't already been selected to join Martide's Approved Partner Network we'd love to hear from you so we can tell you more about how we can help you accelerate your business and impress your shipowner and manager clients even further!
This blog post was originally published on September 12th 2019 and last updated to reflect changes and upgrades to Martide's maritime recruitment and crew management platform on September 27th 2022.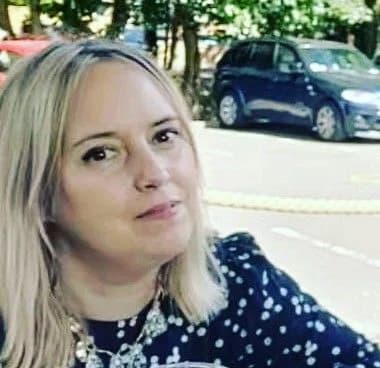 Eve Church
Eve is Martide's content writer and publishes regular posts on everything from our maritime recruitment and crew planning software to life at sea.
UK