Best Crewing System: Martide vs. Crew Inspector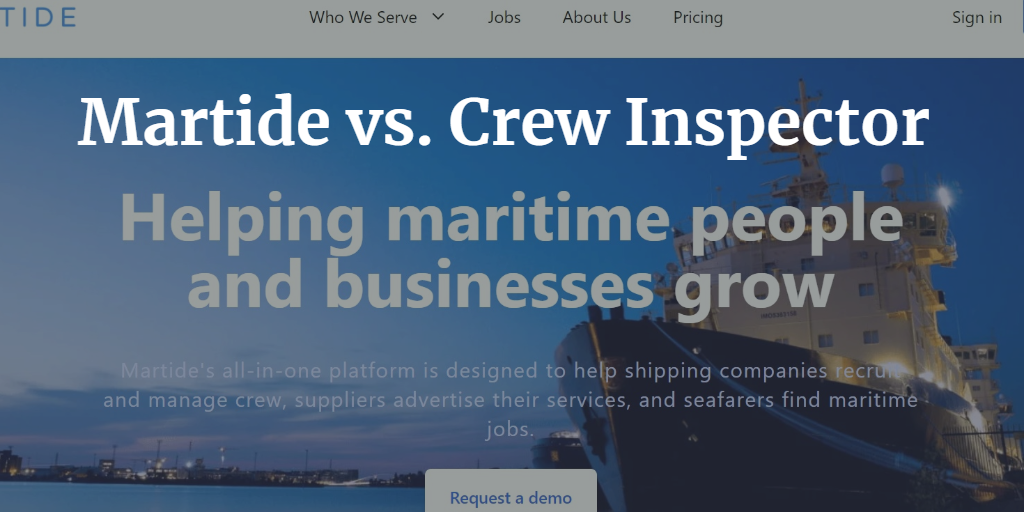 Anyone who's ever had to deal with the intricacies of managing vessels and crew members will know that utilizing maritime recruitment software is vital to efficient, streamlined, and faster processing.
Now, one question remains: what is the best crewing software available to ship owners and manning agents? How do these crewing systems fare when compared and contrasted?
In this post, let's do just that with Martide and CrewInspector.
How to find the best crewing system
Getting to know: CrewInspector
Based in Riga, Latvia, CrewInspector SIA offers technological solutions for many maritime business sectors.
Their goal is to offer the maritime industry a top-notch solution that will cut down on operational risks and the time and effort needed to manage a crew.
The CrewInspector software is an internet-based solution offered for ships' crew management. It was primarily developed to provide users with quick functionality, economical business growth, and reliable protection for highly-sensitive data.
The primary users of the CrewInspector crewing software are crewing agencies, crew manning agents, ship management firms, and vessel owners. However, the platform also benefits other marine sector participants involved in crew manning, scheduling, and planning activities.
Getting to know: Martide
Martide is headquartered in Singapore, but the company boasts an international team across Europe and Asia.
Its early beginnings can be traced back to 2015, in a late-night conversation between the current Managing Director/CTO and his acquaintance from the shipping industry.
They spoke extensively about the lack of a top-notch end-to-end software solution that would assist shipowners and ship managers in finding and hiring seafarers efficiently and managing their crew.
This conversation fueled a lot of blueprints, meetings, and ideas until Martide took hold and flourished.
Today, Martide is a recruitment and crew management solution for forward-thinking shipping companies.
The all-in-one platform is designed to help everyone involved in the industry—from shipping companies who recruit and manage crew, suppliers who advertise their services, to seafarers finding maritime jobs.
CrewInspector Features
CrewInspector offers the following features in a bid to be the best crew planning software:
Crew Data Management
Crew Data Management enables keeping up-to-date with the most crucial information about seafarers.
This data includes their basic biographical information, seagoing experience, certifications, banking information, next of kin information, and most significantly, copies of their certificate files.
CrewInspector makes it simple to add new seafarers to the database, especially when you take advantage of the software's automation capabilities. Any internet website where candidates can submit an online application can be immediately integrated with crewing software.
The Crew Management System includes an integrated online application form, SMS functionality, and an advanced search filter.
2. Fleet and Vessel Management
CrewInpector provides comprehensive information on the crew activity, associated vessel paperwork, necessary positions, and their certificate needs for each vessel for smooth fleet and vessel management.
There is also a dedicated log file and matrix report so documents (crew lists, trip order forms, visa applications, etc.) and the seafarers' overall experiences can be documented and examined.
3. Crew Planning and Scheduling
A planning module enables agents to assign the appropriate sailors to join boats or offshore.
Software facilitates the creation of employment contracts, the printing of crew lists, letters of guarantee, visa applications, and travel order forms throughout the planning phase.
Additionally, comprehensive reporting on crew certificate expirations is accessible to monitor the state of expiration throughout the entire corporate database.
Specific alerts can be tailored depending on the alert type and consumer needs.
4. Crew Payroll Software
Perhaps its winning feature, CrewInspector integrates financial management onto its platform.
This feature allows users to examine current and previous contracts for the chosen crew using extensive search options.
There are also dedicated modules for payslips, payroll, and invoicing to ensure transparent monitoring of expenditures.
Speaking of transparency, users can keep track of their financial data because CrewInspector supports budget reconciliation.
Martide Features
Perhaps the distinction between CrewInspector and Martide is this—Martide's efforts to be the best maritime recruitment software start with recruitment and go all the way until the hired seafarer is due for a crew change.
In short, Martide is capable of supporting the complete journey. It's even capable of getting in touch with vital stakeholders such as seafarers (more about that later) and suppliers.
Martide services the following:
Crew Managers
Manning Agents
Suppliers
Seafarers
How is this possible? Let's break it down below:
Our audited global network of manning agents is available for crew managers, and our specially developed software solution simplifies managing your crew, candidates, manning agents, and data.
With Martide, you can streamline hiring.
You can advertise your job openings for free. Qualified sailors will see your branded job postings with customizable specifications.
You are also free to set the steps you wish to be taken for any specific vacancy and vessel, keep track of actions, check statuses, and receive reminders. This way, you'll never overlook a vital step again.
As for finding the ideal candidates, you can use filters and keywords in our quick and straightforward seafarer sourcing system to locate the best applicant for the position.
Communication is also made easy because you can set up an interview at any point of the hiring process and utilize our streamlined, built-in messaging system to get in touch with applicants directly.
2. Manning agents can tailor their hiring process to meet the particular needs of each of their clients after upgrading to the Martide crewing system.
You may automate time-consuming tasks to increase the effectiveness of your entire maritime hiring process.
You can accept applications from seafarers directly in Martide thanks to our integrated crewing system. Dealing with forms and resumes in various formats and sent to multiple email addresses saves time and effort.
When you need to hire the next available able seaman, master, deck cadet, or chief engineer swiftly, add candidates and seafarers to your database and group them into pools. This will help your recruitment process go more rapidly.
Given the large number of sailors in your database, you need a more effective technique to fill your vacancy. Using our sophisticated search and filter features, you can quickly locate the best candidates for the position.
3. As a maritime industry supplier, your role is crucial because you supply shipping firms with the products and services they require to succeed.
If you are a manning agency, a training provider, a travel agency, or a supplier of working gear for the maritime industry, you can sign up for the Martide directory.
By signing up, you can start boosting your visibility, making connections with new customers, and generating more income.
Consider Martide the central location for all your personnel management and maritime recruitment needs.
Your operations immediately become more efficient, transparent, and manageable. Data on seafarers, credentials, and HR records are all safely kept in the cloud for any time, anywhere access on any device.
You may quickly meet crew change deadlines thanks to the quicker recruiting of fresh and experienced seafarers. You can also centralize interactions with suppliers, candidates, manning agents, and crew.
Added bonus: Seafarers at the forefront
Speaking of centralizing interactions with candidates, Martide is also capable of helping novice or seasoned seafarers find their next assignments.
But besides a job directory where vacancies are posted, Martide takes it up by streamlining the application process.
Seafarers can create a Martide seafarer resume for absolutely no fee. They can then print this resume or use it to apply for jobs via the platform.
There's also a free Martide seafarer mobile application (available for download for Android and iOS users)—here, seafarers can apply for any vacancy with just one click of a button.
To summarize
When it comes to maritime recruitment software, both Martide and CrewInspector offer features that will for sure lighten up the load for crew managers and manning agents.
However, if you're looking for a "holistic" solution that integrates all your interactions with suppliers, candidates, manning agents, and crew—Martide may be the one for you.
Want to learn more about Martide? Contact us today so we can schedule you for a no-strings-attached demo.