A Guide to the Different Ranks in the Merchant Navy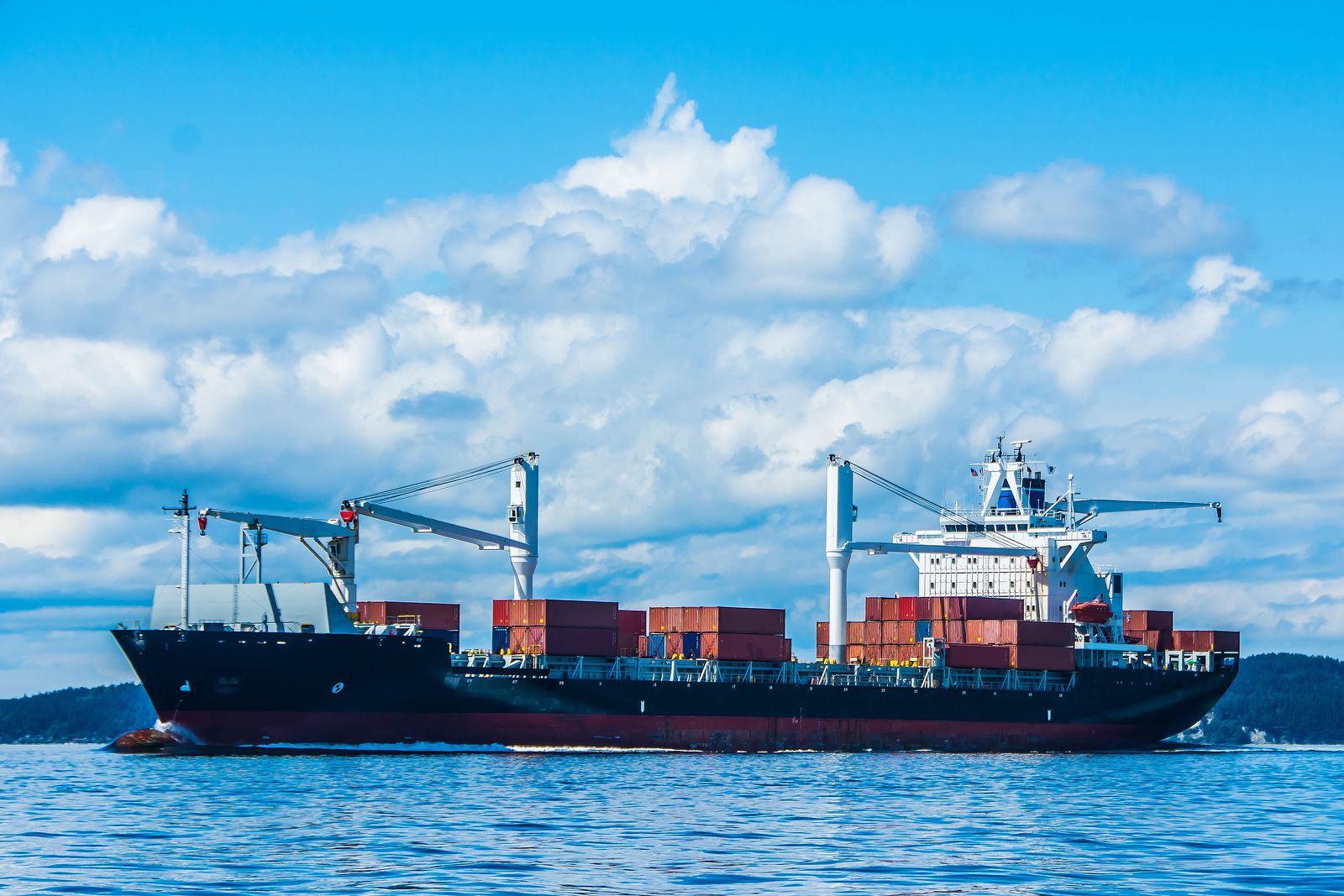 To anyone who isn't already working in a seafarer's job or planning on a maritime career, the list of seafarer ranks can be a little confusing at first. On a merchant navy vessel there are a few different departments and a strict hierarchy of seamen and women who work beneath the heads of those departments. But what are those seafarer ranks? Read on and we will take a look at the jobs on a container ship or tanker.
A list of ranks in the merchant navy
The men and women that work in different country's merchant navies (or merchant marines, depending on where you're from) tirelessly cross the world's oceans delivering goods, produce and parts to companies and consumers across the globe.
It doesn't matter what the weather is like, whether seas are rough, whether pandemics have closed ports, seafarers know they have a job to do and very little will stop them. But who are these people and what are their job titles?
First of all let's break jobs on a cargo ship down into the departments they fall under.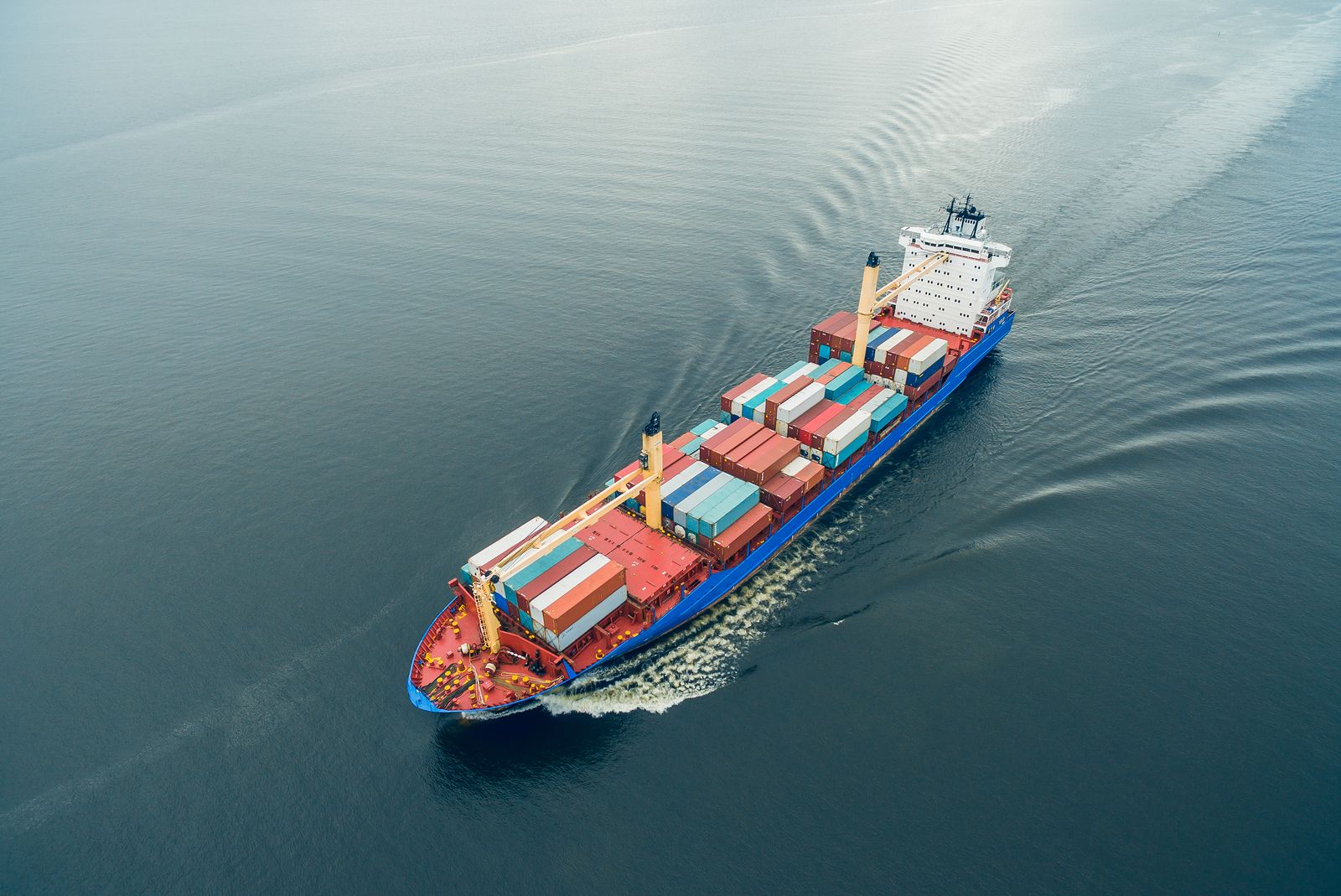 Generally speaking most types of merchant ship, from container ship to chemical tanker and from ferry to cruise ship, have the following departments onboard:
Deck Department
Engine Department
Catering Department (also called Steward Department)
The deck and engine departments are responsible for ensuring that the vessel operates safely and efficiently.
Both of these departments are staffed by various officers and ratings who are ranked from low to high (or high to low) depending on which stage of their maritime career they are at.
Different officers are assigned different duties so that the ship can run smoothly and nobody is under any confusion as to what they are supposed to do. Something that is especially important in such a high-stress environment where safety is paramount at all times.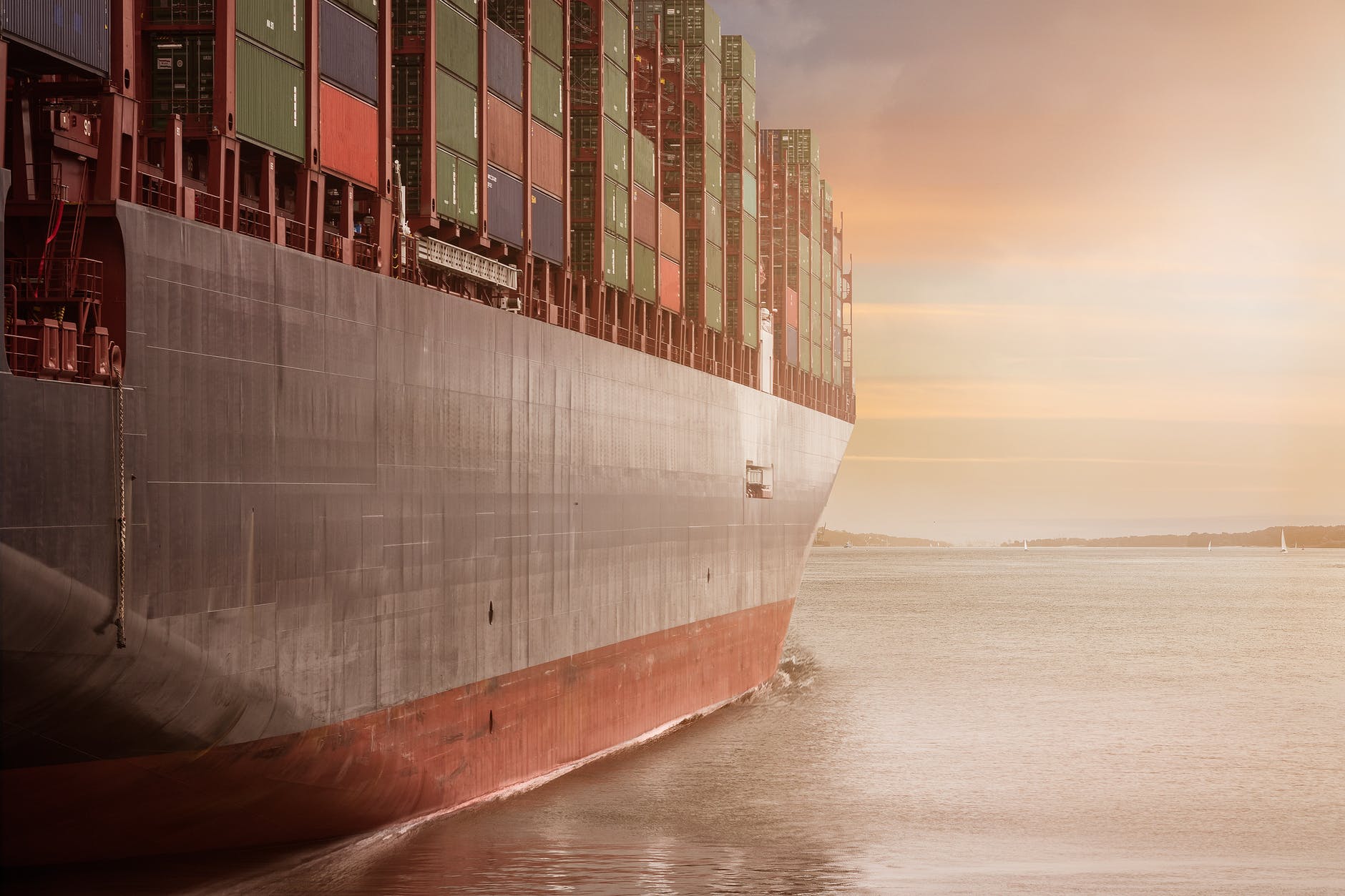 Seafarers are also categorized as licensed or unlicensed. A licensed seafarer holds a license from a maritime authority that enables them to work in a senior officer-level position onboard a vessel.
Let's look at the departments one by one.
What does the deck department do on a merchant ship
The deck department is responsible for handling the vessel's navigation, managing communications, cargo operations, and the overall running of the ship.
If the vessel is a passenger ship such as a ferry, yacht or a cruise liner they will also look after the passengers and may even take part in social events onboard.
Who works in the deck department on a ship
The overall head of the department, and indeed of the entire ship is the Captain. In merchant navy speak, the Captain is called the Master.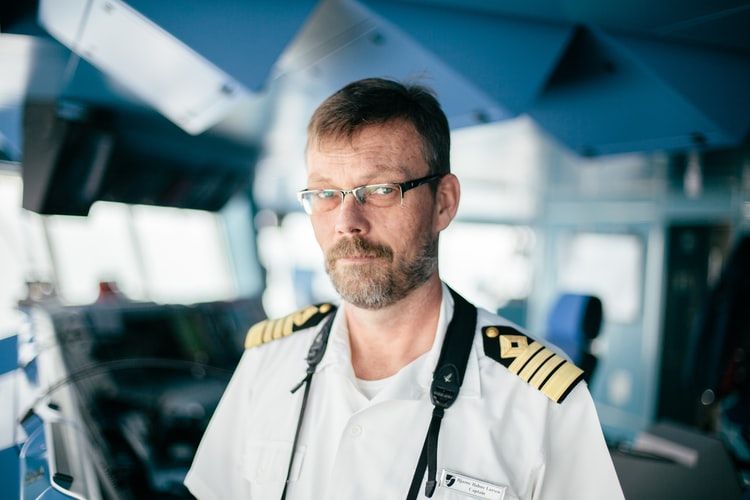 These are the crew members who work in the deck department:
Officers
Master
Chief Officer (also called Chief Mate)
Second Officer (also called Second Mate)
Third Officer (also called Third Mate)
Cadet or Deck Cadet (Trainee officer)
Ratings
Bosun
Able Bodied Seaman (AB)
Ordinary Seaman (OS)
Pumpman (on a tanker)
Deck Fitter (on a bulk carrier)
You may also find seafarer ranks such as Assistant AB and Assistant OS on some ships. Also keep in mind that different companies name their seafarer job titles slightly differently and it will depend on the company and the vessel exactly which ranks are onboard.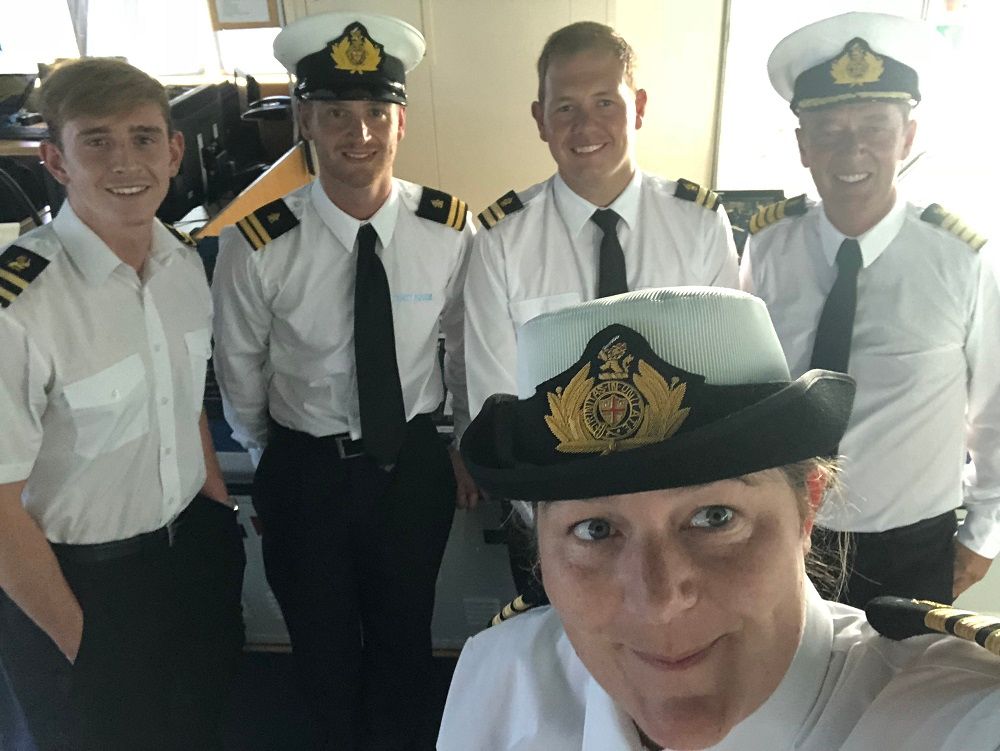 Courtesy of the IMO #MaritimeWomenPhotoShare Campaign
One thing to note, however, is that there is always a minimum safe manning number which stipulates which rank and how many of each must be onboard for the vessel to be allowed to sail.
Now let's take a look at the engine department on a cargo ship, heavy load carrier, cruise ship or tanker.
What does the engine department do on a merchant ship
The engine department is responsible for operating, maintaining, fixing, replacing and cleaning all of the vessel's mechanical and electrical machinery, instruments and equipment.
Who works in the engine department on a ship
While the Master is still the overall head of the vessel, the head of the engine department is the Chief Engineer.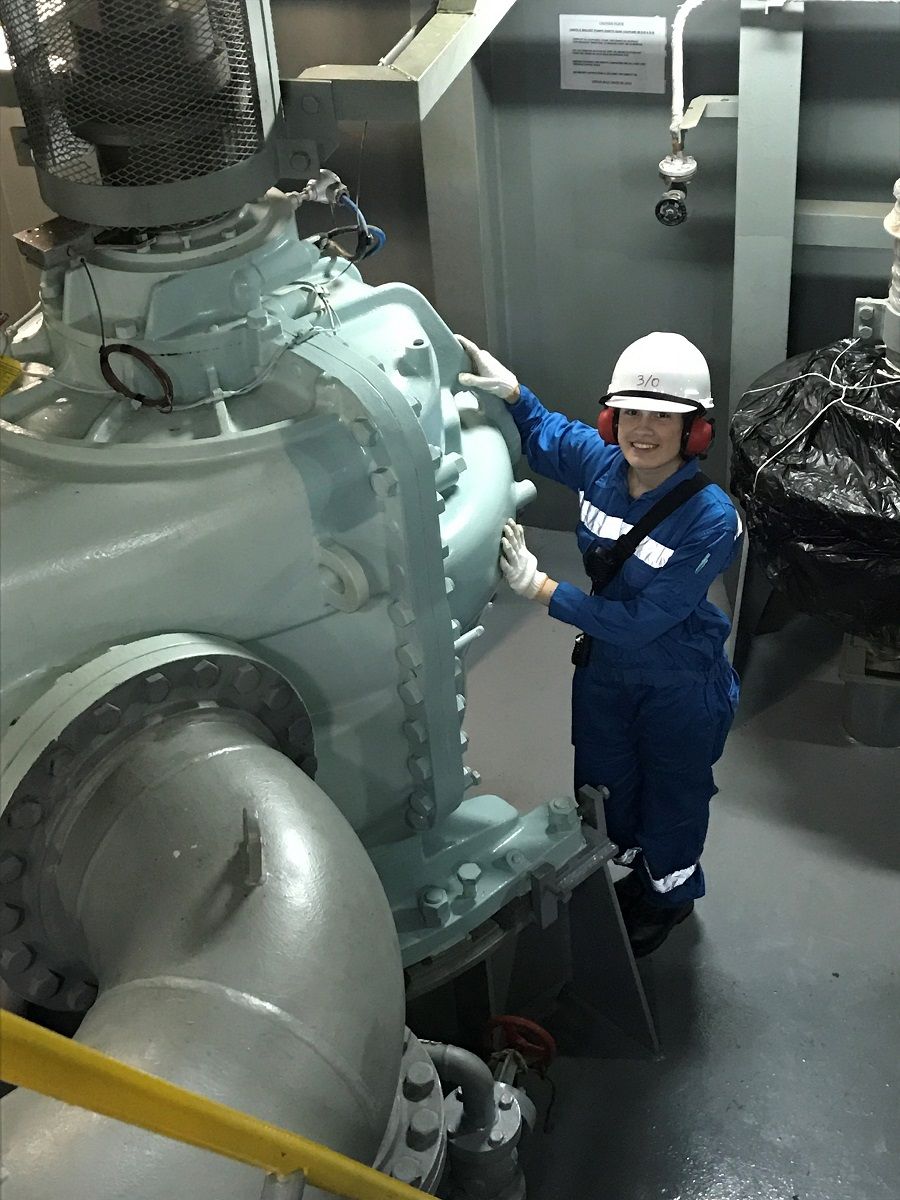 Courtesy of the IMO #MaritimeWomenPhotoShare Campaign
A Chief Engineer's duties and responsibilities include planning, supervising, managing and performing all technical and electrical work related to the safe operation of the ship and its equipment. This equipment includes everything from the vessel's engines to navigational equipment such as RADAR and from propulsion systems to pumplines.
These are the crew members who work in the engine department:
Officers
Chief Engineer
Second Engineer
Third Engineer
Fourth Engineer
Engine Cadet (Trainee Engineer)
Electro-Technical Officer (ETO)
Electrical Cadet
Ratings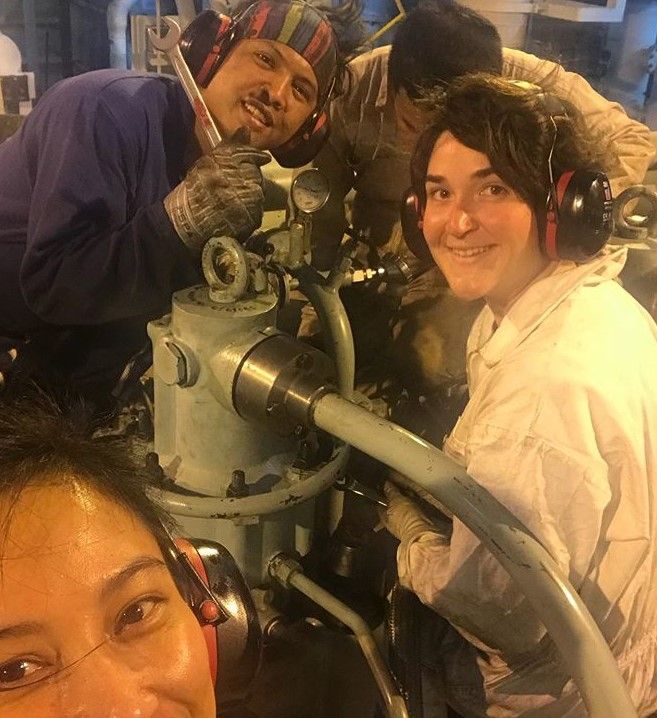 Courtesy of the IMO #MaritimeWomenPhotoShare Campaign
Finally, let's take a look at the catering or steward department on a container ship, heavy lift carrier, superyacht or chemical tanker.
What does the catering (or steward) department do on a merchant ship
It probably goes without saying that the catering department is responsible for making sure the crew are kept fed and watered. On a cruise ship, yacht or ferry their duties and responsibilities will obviously also extend to taking care of the guests or passengers.
Who works in the catering department on a ship
The catering department reports directly to the Master but it is headed up by the Chief Cook.
A Chief Cook's duties and responsibilities include planning and catering crew and passenger meals. Depending on the size of the vessel, he or she will have a team of staff to help with these tasks. The Chief Cook is also the most senior unlicensed member of the crew.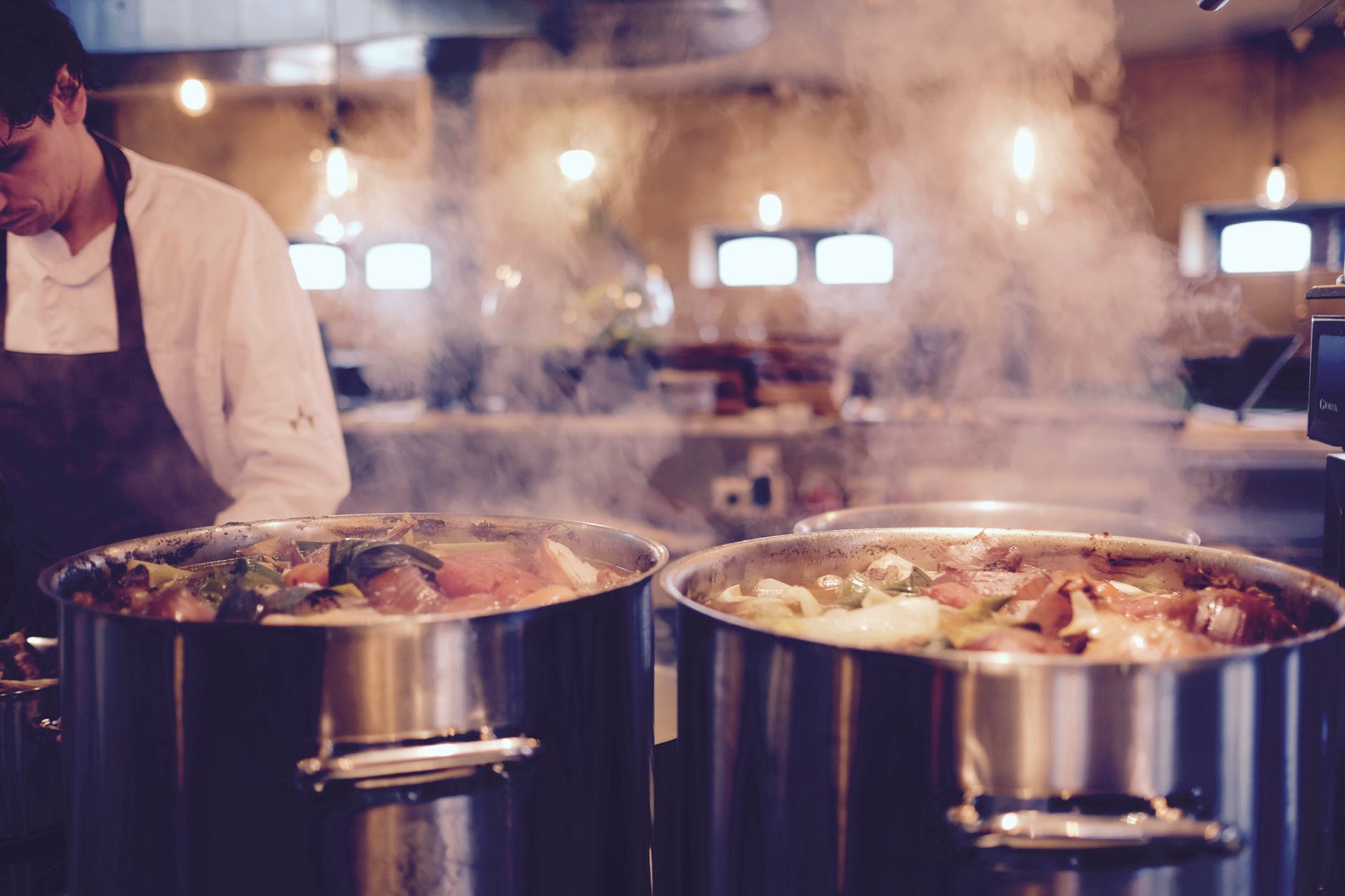 These are the crew members who work in the catering department:
Chief Cook
Assistant Cook
Chief Steward
Second Steward
Third Steward (Or Junior Steward)
Messman
Again bear in mind that all vessels are different and while a container ship will probably only have one cook onboard (and possibly a messman, whose job it is to help wash dishes, serve meals to crew and keep the crew mess AKA the dining and relaxation areas clean) needless to say a cruise ship will have many more members in their catering department including sous chefs and pastry chefs.
Stewards, too, are normally only found on passenger ships and would not be required on the average cargo ship or container.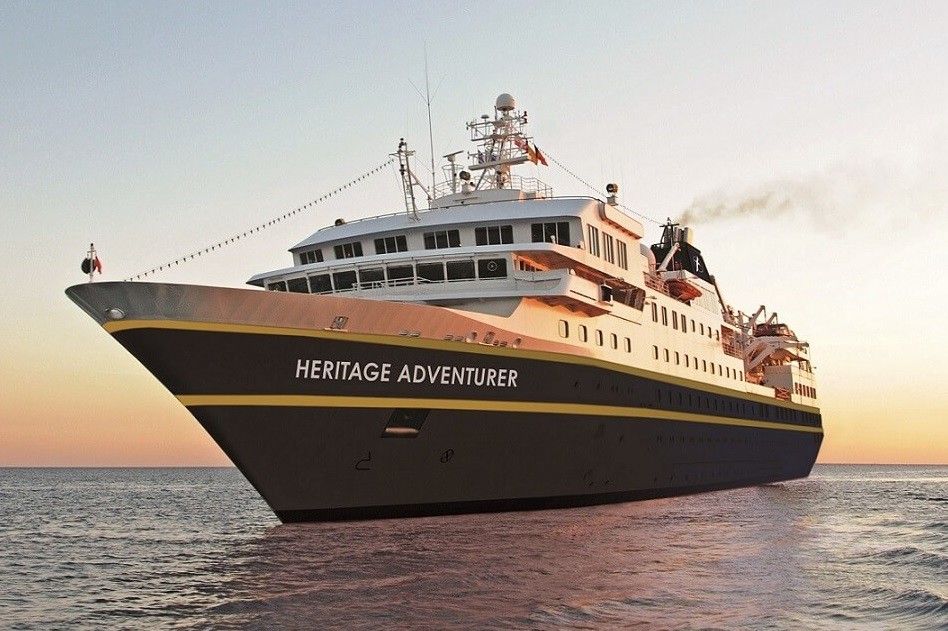 This list is in no way a complete rundown of all the different jobs on cargo and container ships. For example, on a cruise ship you will also find carpenters and plumbers, among many more professions. But this should give you an overview of the different ranks in the merchant navy.
Would you like to pursue a career in the merchant navy?
If so, take a look at some of our other blog posts which will help point you in the right direction:
And who knows, we might even see you onboard one day in the not too distant future!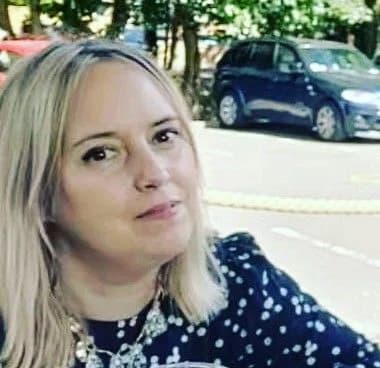 Eve Church
Eve is Martide's content writer and publishes regular posts on everything from our maritime recruitment and crew planning software to life at sea.
UK