Shipowner & Crew Manager Guide to the Martide Message Inbox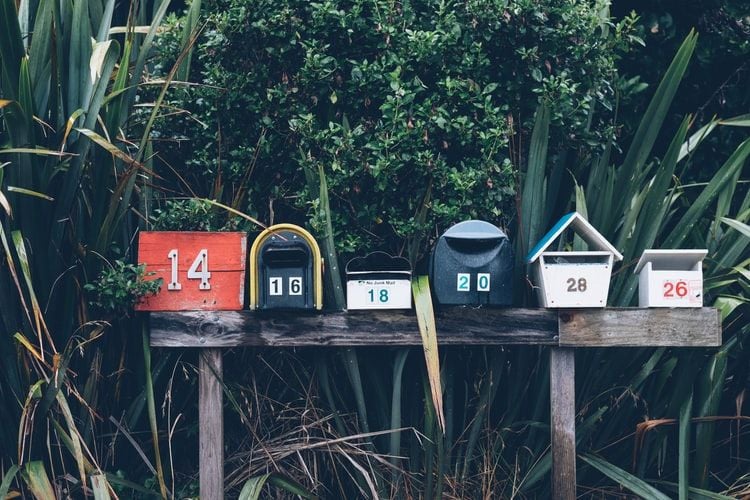 Have you taken a look at your Martide message inbox lately? If so, you'll have noticed that we've recently made a few fairly big changes to it. The aim, as always with any aspects of our maritime recruitment and crew planning software solution, is to keep on evolving and making our platform easier for you to use, as well as more useful.
By the way, if you haven't checked your inbox out recently, please do so as soon as you've finished reading this blog post!
So not only do we want to tell you that we've launched our new look inbox, we also wanted to write this blog post as a guide for shipowners, crew planners and maritime recruiters so that you can get the most from the message feature.
By the way, if you're a manning agent, you an find your own guide to your Martide inbox here.
You might remember that the old inbox and messaging system, although functional and a great way for you as a shipowner or crew manager to stay in touch with your manning agents and seafarer candidates, was a little bit complicated in its look and layout.
The all new, all-singing, all-dancing inbox however, is not only a lot nicer to look at, it is also a lot more streamlined and intuitive to use.
Let's take a closer look.
Shipowner & crew manager guide to your Martide message inbox
To get to your message inbox, when you've logged into your Martide account, scroll down the menu on the left hand side of the screen until you see Messages: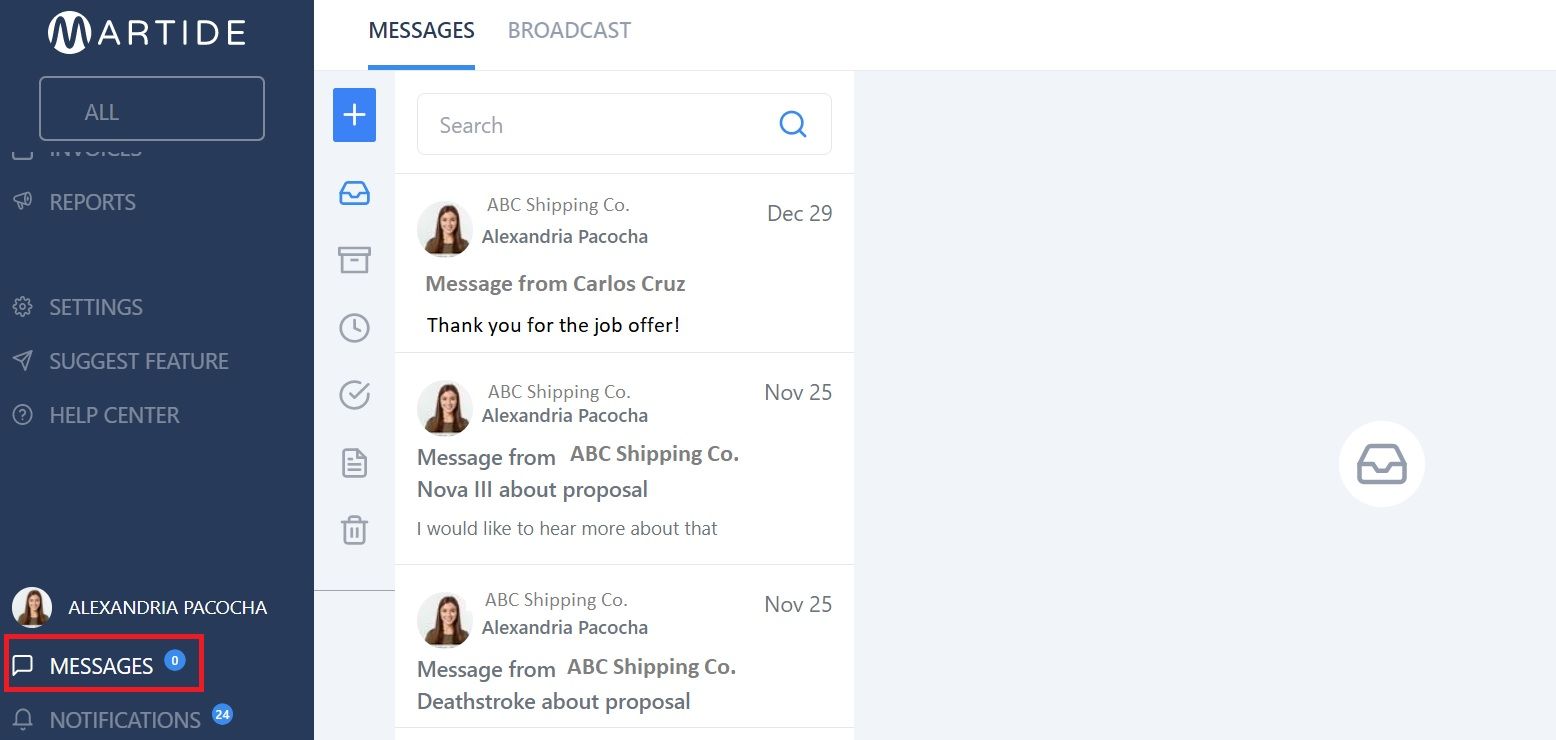 You will be taken to your inbox where you'll see your messages and a number of icons in the column to the left of the messages. This is how your messages are stored and organized in the system: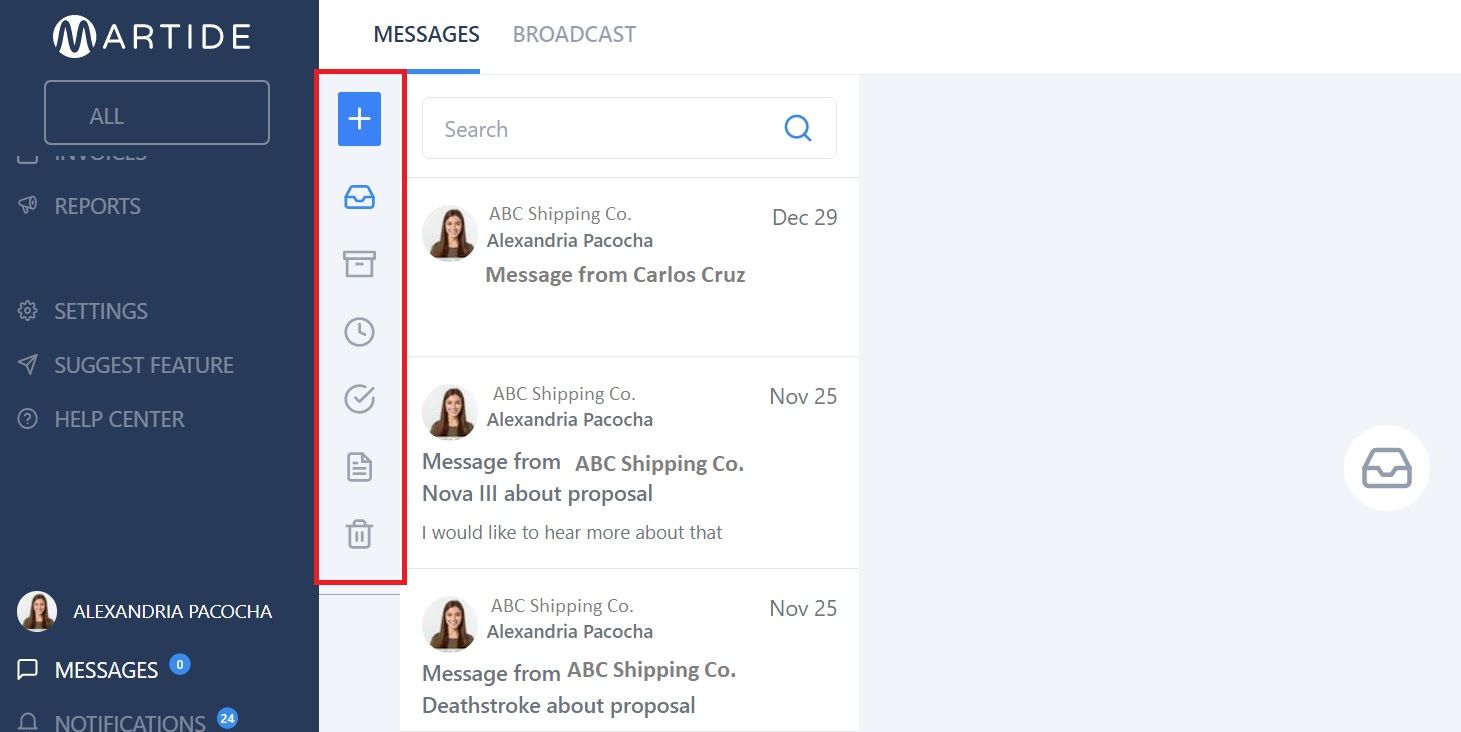 Here's what the icons mean:
The + plus sign: Click this to open and write a new message.
The document tray: This is the default view as seen above - you will see all the messages in your inbox.
The storage box: Click this to see your archived messages.
The clock: Click this to see messages you have 'snoozed' to deal with later.
The circle and checkmark: Click this to see your sent messages.
The document: Click this to see your draft messages.
The trash can: Click this to see your deleted messages.
You can also click the arrows at the bottom of the screen to expand the icon column and see descriptions of what the icons are: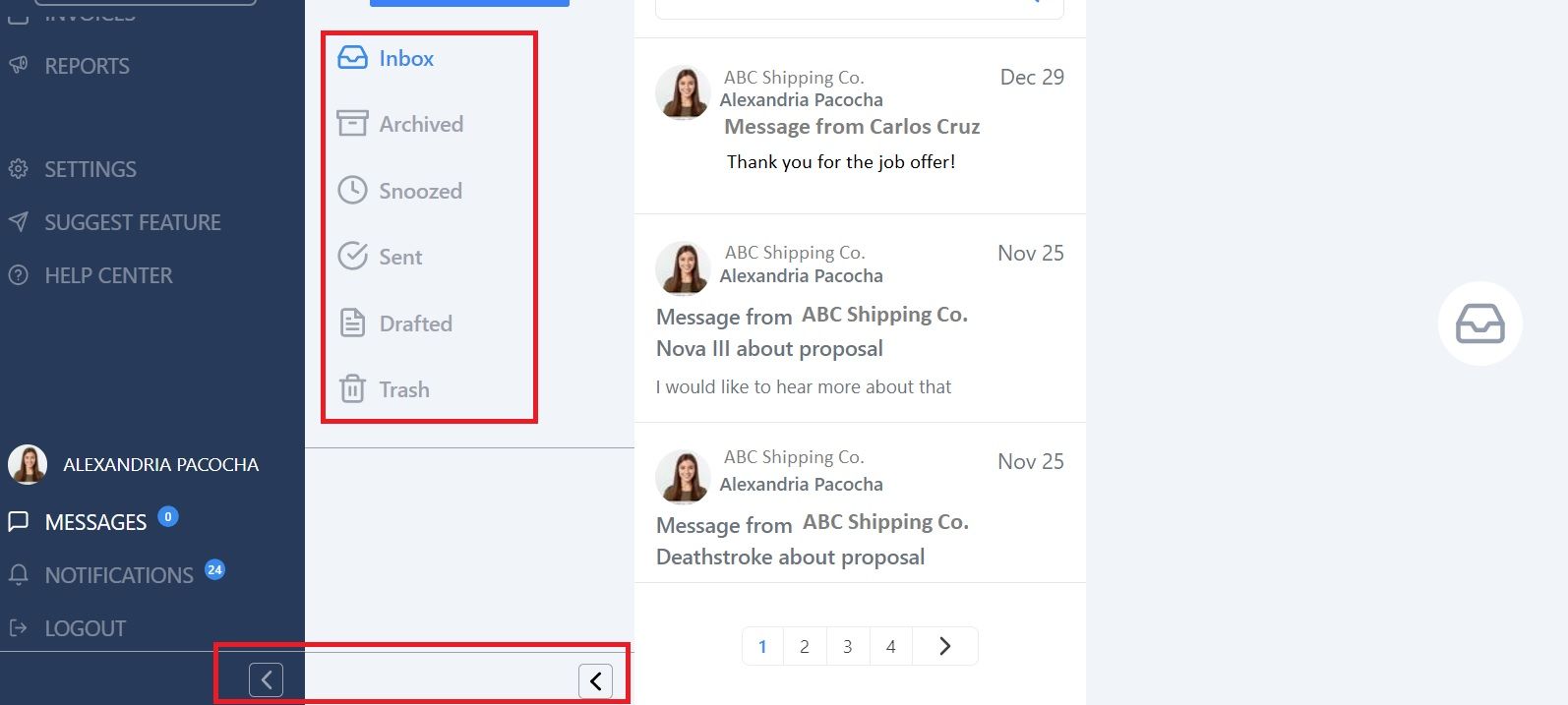 If you want to archive, snooze or delete a message you can easily do this by clicking on the relevant icon that appears at the top when you open a message:

How to read your messages
When you click on a message in the left hand column you will see this:

This is how to read and use this page:
The message you are looking at is highlighted in blue on the left.
In the middle column are the messages you have sent and received in this email thread.
Above the middle column are icons to archive, snooze, tag or delete the message thread. Click the icon to take the relevant action. We will go into more detail about using tags further on in this post.
To the right of the icons is the message status. Click the down arrow to choose from pending, in progress or done.
On the top right of the middle column is the person this vacancy is assigned to. In our example it is the Crew Manager.
You can also see how many people are 'watching' this vacancy. In our example there are 2 watchers.
Below the middle column are two buttons: Add internal note and Reply. Click Reply to write a new message in this thread. We will go into more detail about using internal notes below.
The column on the right shows the person you are talking to. In our example it is a seafarer candidate called Will Braun.
Click on the candidate's name to go to their seafarer profile.
You can see Will's User info under his profile picture. If you click on Work history you will see who created his profile, who the manning agent is and his last 5 positions.
How to add a tag to a message
We know how important it is for anyone working in maritime recruitment or crew planning to stay organized and efficient. Our tags feature helps you organize your inbox by sorting your messages into different groups or categories.
For example, you might want to add a blue tag to all messages that you're waiting for a reply to, an orange tag to any messages related to travel, or a black tag to messages that need to be dealt with urgently.
Here's how to add tags to messages. When you have a message thread open, click the tag icon at the top of the page: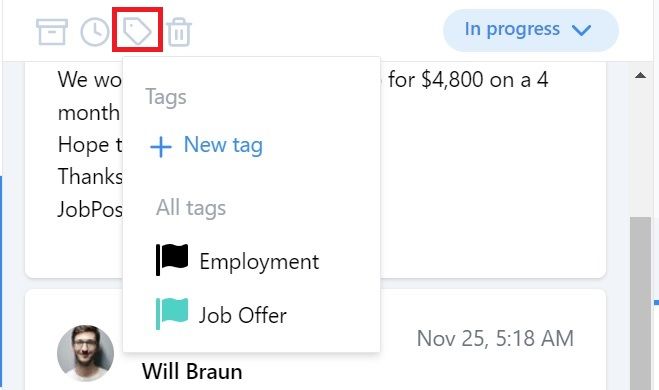 Here you can:
Add a new tag by clicking on +New tag.
Choose a tag that you have already created - in our example we have 2 existing tags: Employment and Job Offer.
Now we're going to add a new tag:

Click on +New tag and type the name of your tag into the box. Our new tag is called Documents Pending.
Choose a color for that tag. We have chosen green.
Click Save when you're done.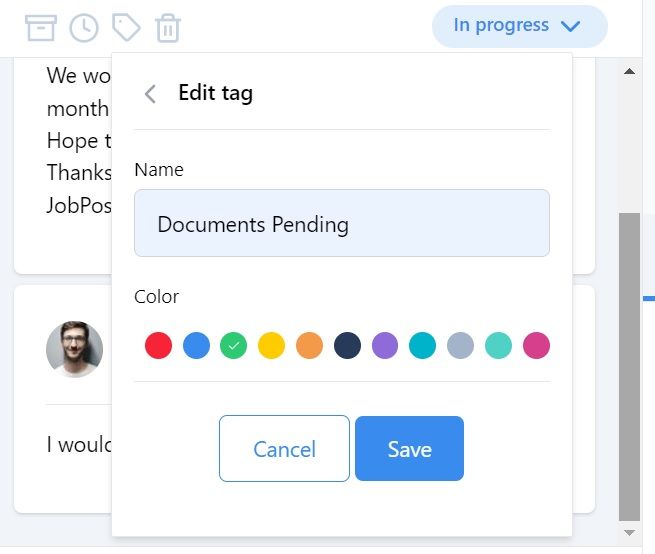 Your tag will now appear in the icons column: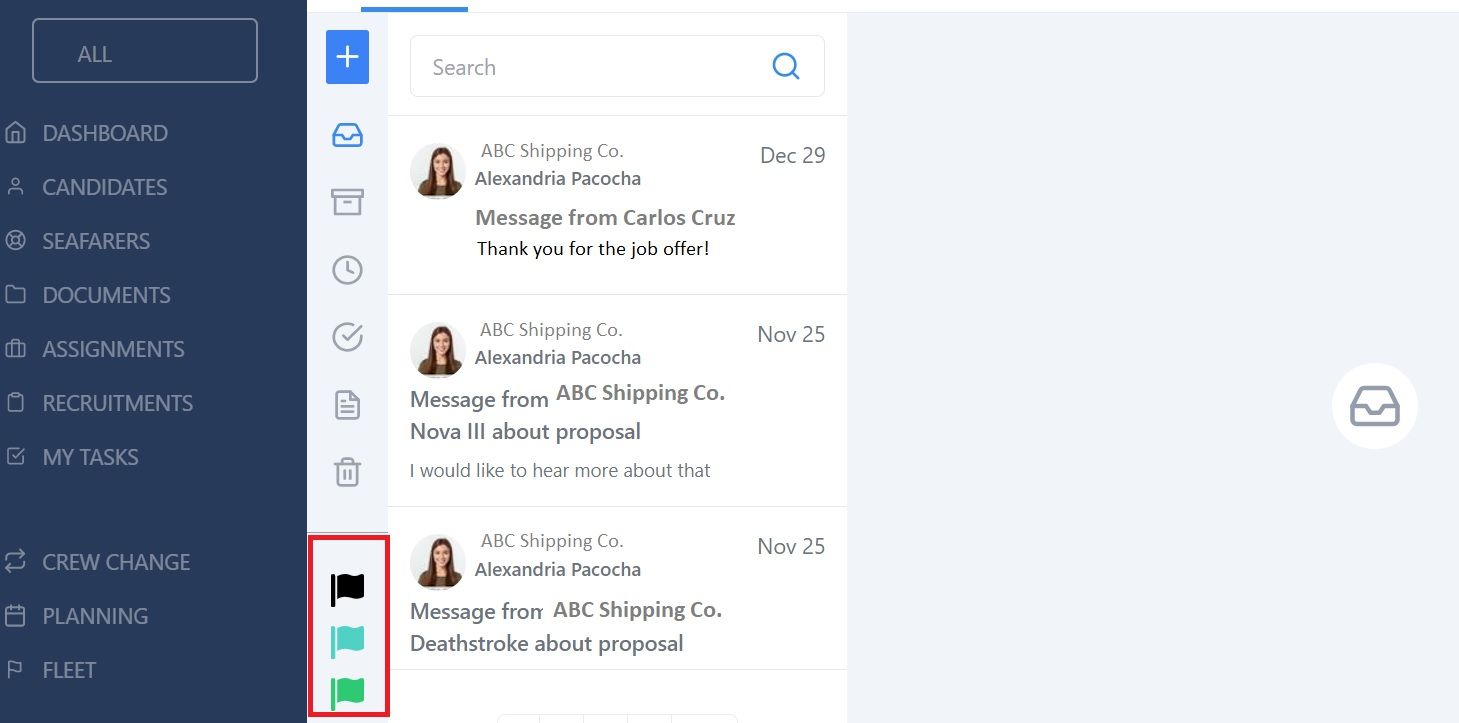 When you add a tag to an email thread it will also appear in the email preview and at the top of the middle column next to the other icons:

How to add an internal note to a message thread
Internal notes allow you to leave useful notes and reminders - just one more way in which Martide helps you to stay one step ahead!
You can write whatever you like (and in whatever language is most helpful) as the person you are sending the message to will not see the note. It's for your eyes only!
Here's how to add a note. Click on a message. The Add internal note button is underneath the message thread:

When you click the button you will then see this: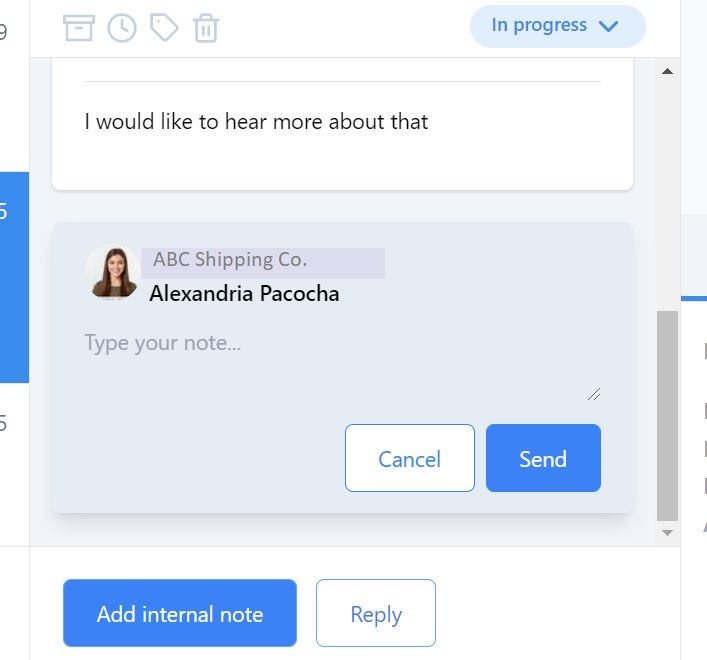 When you've written your note, click Send and it will appear in the message thread.
What are Broadcasts and how do you send them?
The Broadcast feature lets you send a message to multiple recipients. This is a huge benefit to anyone who always feels like they have 101 things to do and not enough hours in the day to do them!
The feature is also easily configurable so you can send your Broadcasts to any combination of seafarers and/or manning agents depending on a number of factors, including whether they are onboard or ashore, their rank, their nationality and more.
When you are in Messages, at the top of the page you will see two options: Messages and Broadcast. The default page is Messages i.e. your inbox:

When you click on Broadcast you will go to this view. In our example we have already sent some Broadcasts:
Here you can:
Click on the blue + New button to write and send a new Broadcast.
See your Sent, Draft and Trash Broadcasts (the default view is Sent.)
See who has been Assigned to a Broadcast and who is Watching.
See any color coded tags you've created.
Search for Broadcasts using the Search box at the top.
How to send a Broadcast
Click on the blue + New button. That will open a blank message:
Click on the To box and you will see a pop-up box that looks like this: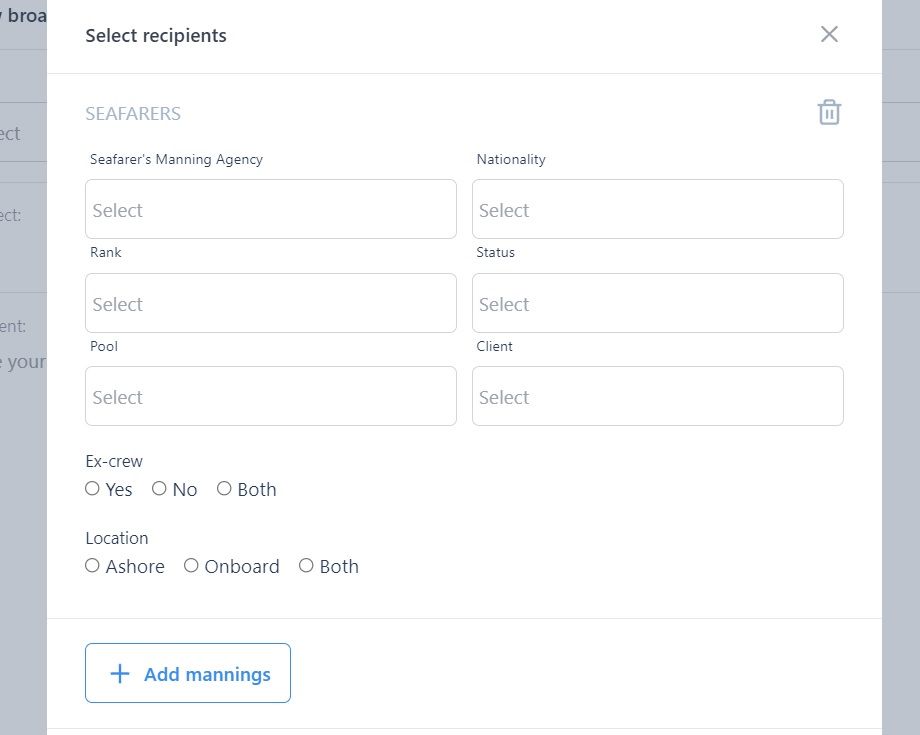 Here you can:
Select the manning agent or agents who represent the seafarers you want to send a Broadcast to.
Select the nationality or nationalities of the seafarers you want to send a Broadcast to.
Select the rank or ranks of the seafarers you want to send a Broadcast to.
Select the status or statuses of the seafarers you want to send a Broadcast to. Statuses are Active, Unavailable, Left, Retired, NFR (Not For Rehire.)
Select the Seafarer Pool or Pools of the seafarers you want to send a Broadcast to.
Select the Client or Clients for the seafarers you want to send a Broadcast to.
Select whether the seafarers that you want to send a Broadcast to are ex-crew, not ex-crew or both.
Select if the seafarers that you want to send a Broadcast to are ashore, onboard, or both.
Select the manning agent or agents that you want to include in the Broadcast.
For example: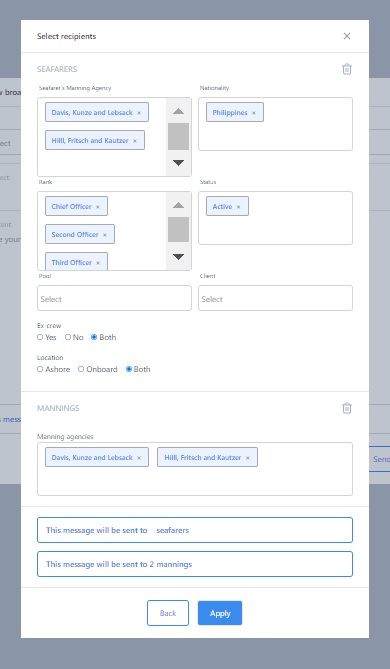 The boxes at the bottom tell you how many seafarers and manning agents you are sending the Broadcast message to.
When you're finished, click the Apply button and you will be taken to this screen. In our example we're sending a message about contract updates to seafarers from the manning agent Davis, Kunze and Lebsack and to the manning agent themselves: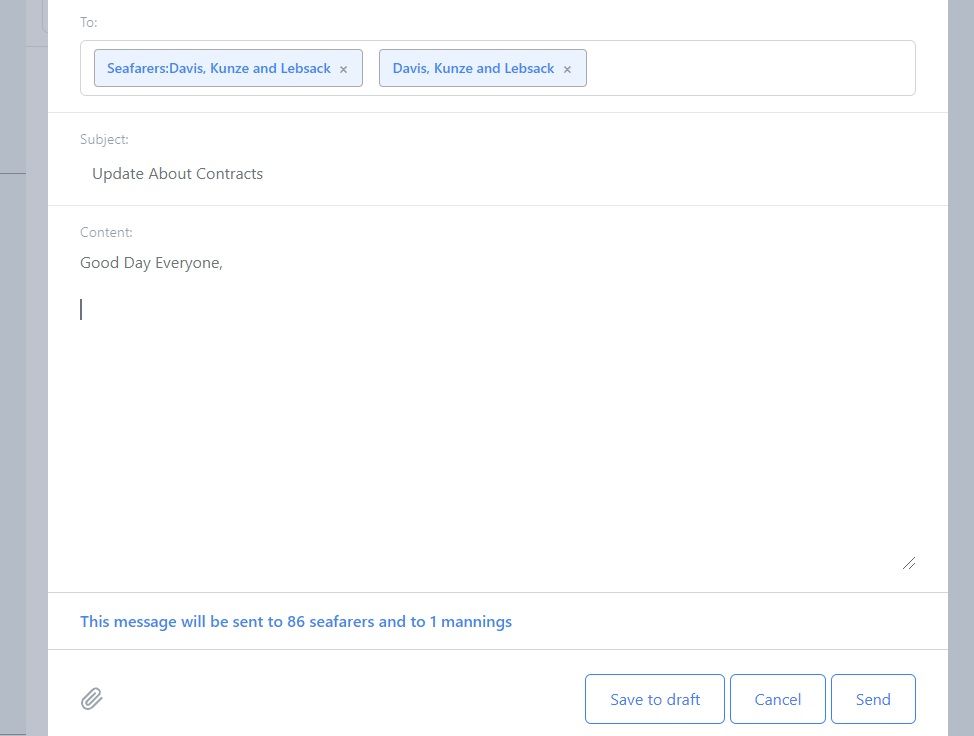 Here you can:
Type your subject.
Type your message.
Add an attachment by clicking the paperclip icon in the bottom left.
Click Save to draft to save the Broadcast and finish it later.
Click Cancel to cancel the Broadcast.
Click Send to send the Broadcast.
When you have sent the Broadcast, if you click on it in your Sent page you can see a list of seafarers who received the message underneath it:

You can also add tags to Broadcasts in the same way as you can to normal messages.
If you would like to read more about the Broadcast feature you can visit its stand alone page here. This page goes into more detail about writing draft Broadcasts and adding tags.
And there you have it. We hope that's given you some insight into your Martide inbox, although the best way to get a feel for it is to log in and go and have a click around, if you haven't already done so!
This blog post was originally published on February 17th 2020 and updated to reflect changes to the design and functionality of the inbox on February 18th 2022.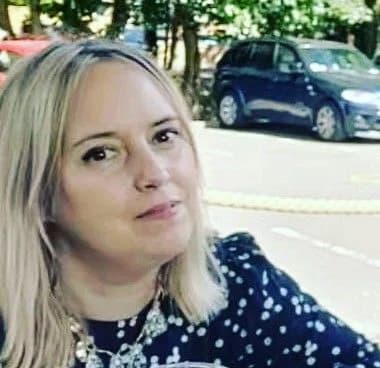 Eve Church
Eve is Martide's content writer and publishes regular posts on everything from our maritime recruitment and crew planning software to life at sea.
UK