How Crewing Software Can Increase Retention Rates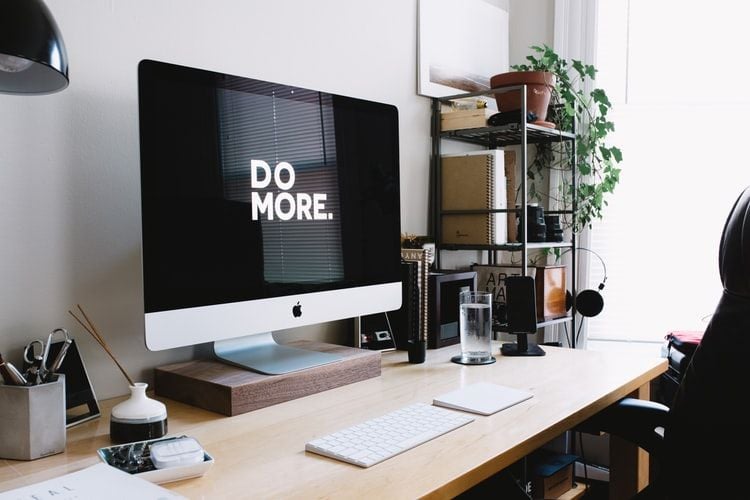 Is crew retention an issue in your small to medium sized shipping company or manning agency? Do you face a constant struggle to fill your seafarer job vacancies and then hold on to those seamen once their contract is over?
If the crew you hire are failing to stick around and defecting to your competitors, you have a problem.
And one way of solving that problem is by implementing a crewing software solution that helps you work smarter, instead of harder.
Read more: The Pros and Cons of Software as a Service in Maritime Recruitment
Whether you're usually one of the first to adopt the latest tech among your friends and coworkers or you struggle to use a smartphone, let alone marine technology, the fact is, becoming more streamlined in the workplace by using technology will help your company on so many different levels.
And implementing software that really works might just be your secret weapon in the fight to win the battle of crew retention. In particular when it comes to attracting, engaging with, and retaining younger seafarers.
Why is this? Read on and we'll explain.
How crewing software can increase retention rates
As someone working in or connected with maritime recruitment within your shipping company, you know full well how arduous the sourcing and hiring process can be.
And surprise, surprise, it's not only you that feels this way: Your candidates do too.
Read this: The Ultimate Guide to Growing Your Maritime Candidate Database
If you're using old fashioned techniques to attract applicants to your maritime jobs, you're missing out on a whole demographic of younger seafarers that are raring to get out there and find work in the maritime industry.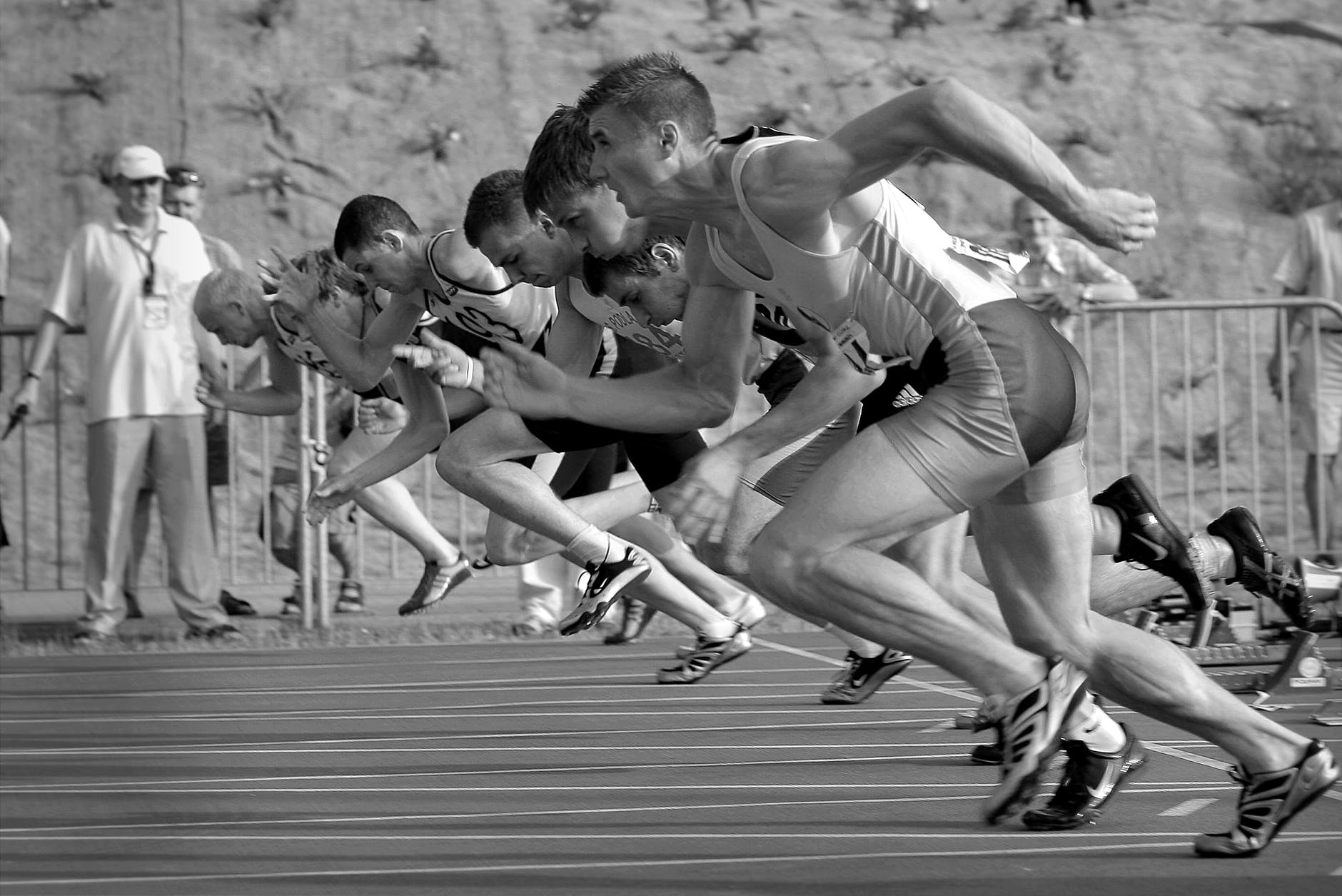 Why is this? It's because Millennials and Generations Y and Z expect different things from you as an employer to the seafarers that have gone before them.
They want you to not only recruit them using technology, but also use it to engage with them during the hiring and interview process.
If you're not using modern techniques and streamlined strategies when recruiting for vacancies, these newly licensed seafarers will look elsewhere for work in the first place. Or if you do receive an application from them, chances are they'll get fed up at some point during the hiring process and ghost you.
Read more: Why Listening is Vital for Crew Retention
Let's face it - this is a generation who have grown up connected since they were old enough to hold an iPad.
They can't imagine a life without technology and they simply can't understand why, as an employer or manning agent, you wouldn't be harnessing technology to make your life easier and your company more attractive to work for.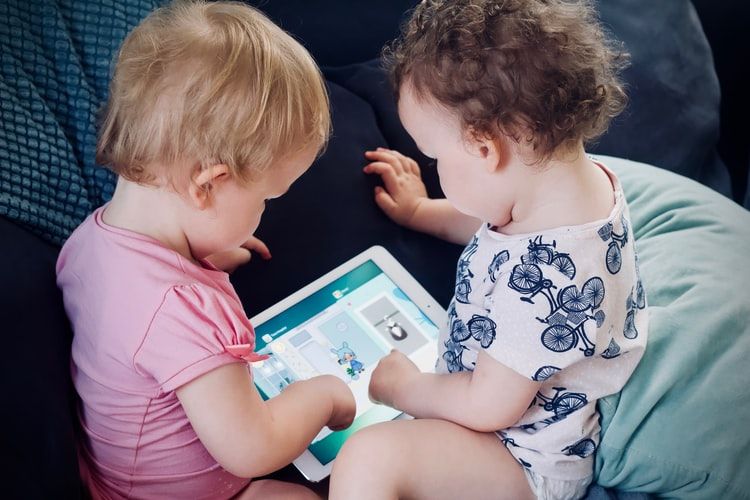 So that explains a little more about why you need to use technology in maritime recruitment to attract top talent - but how can you use it as part of your crew retention strategy too?
How important is technology though, really?
Research released in an executive summary by the company review and job listing website Glassdoor showed that 58 percent of their users used their cell phones to look for jobs.
Read more: 6 Questions to Ask Your Seafarers to Increase Retention
Furthermore, the report also found that blue-collar workers seeking opportunities are more likely to use their smartphones to look for employment. To quote Glassdoor:
"Another common mistaken stereotype is that mobile users tend to be workers employed in technical or high-income occupations—such as software engineers…or financial professionals...In fact, data from Glassdoor shows that the users who rely most on mobile devices for their job search are from industries, occupations and regions where the nature of their work requires time away from a computer. These types of jobs tend to be blue-collar jobs."
Crewing systems and the fight for crew retention
The younger seamen on your seafarer database will also expect you to be using crewing software to manage them and your vessels on an ongoing basis. In fact the idea that you might still be using manual systems is very likely to be mind-boggling to them!
And if you're using a crewing system to effectively plan and manage your seafarers while they're onboard your vessels, you'll be more likely to retain their services, leading to greater stability of personnel.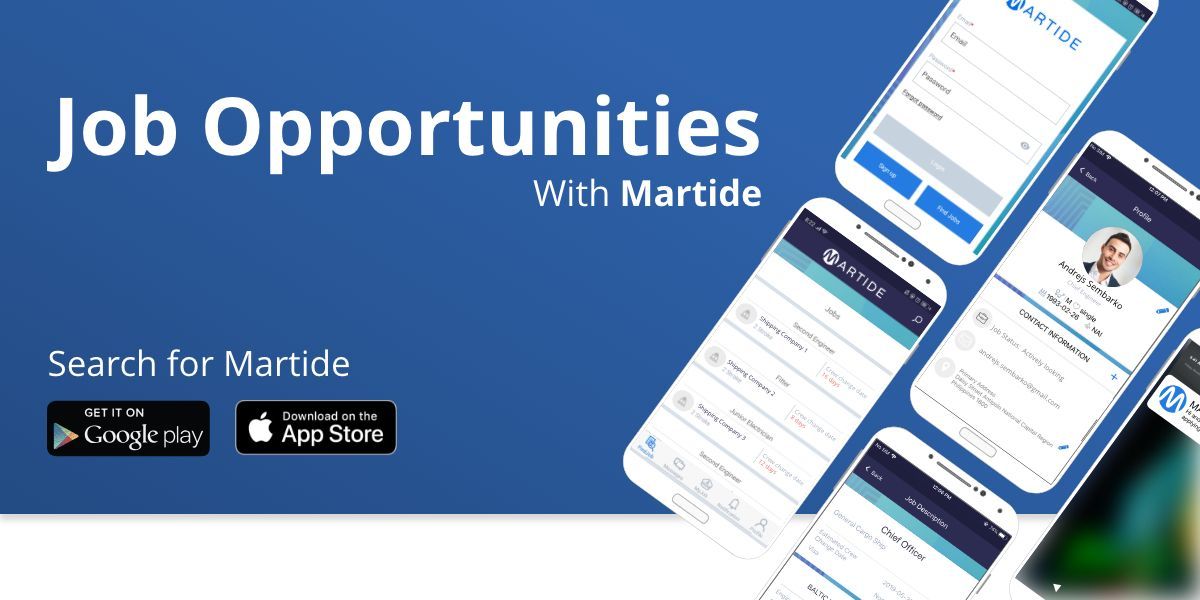 That's because when you use crewing software that's been created to deal with the very specific demands of maritime recruitment and the shipping industry, you'll be able to more efficiently:
Line seafarers up for their next contract
Stay in contact with seafarers so they know what's happening
Manage your crew change overs
Replace crew that need to leave a vessel due to personal reasons or injury
All of the above reasons (and more) will let your seafarers know that you're on the ball, have their best interests at heart, and are proactively working to line them up for their next contract.
Read more: The Beginner's Guide to Crewing System Software
What that also means for you is your time-to-hire is shorter, your jobs are filled, and you're increasing your crew retention rates. As well as removing the headache of dealing with sluggish systems and procedures.
It's a win for you and your shipping company and it's a big plus for the seamen on your seafarer database too!
Other crew retention strategies for the shipping industry
If you really want to get serious about the stability of personnel, whether they're working in seafarer jobs or shore based maritime jobs, you need a fully rounded crew retention strategy that attacks the issue from all angles.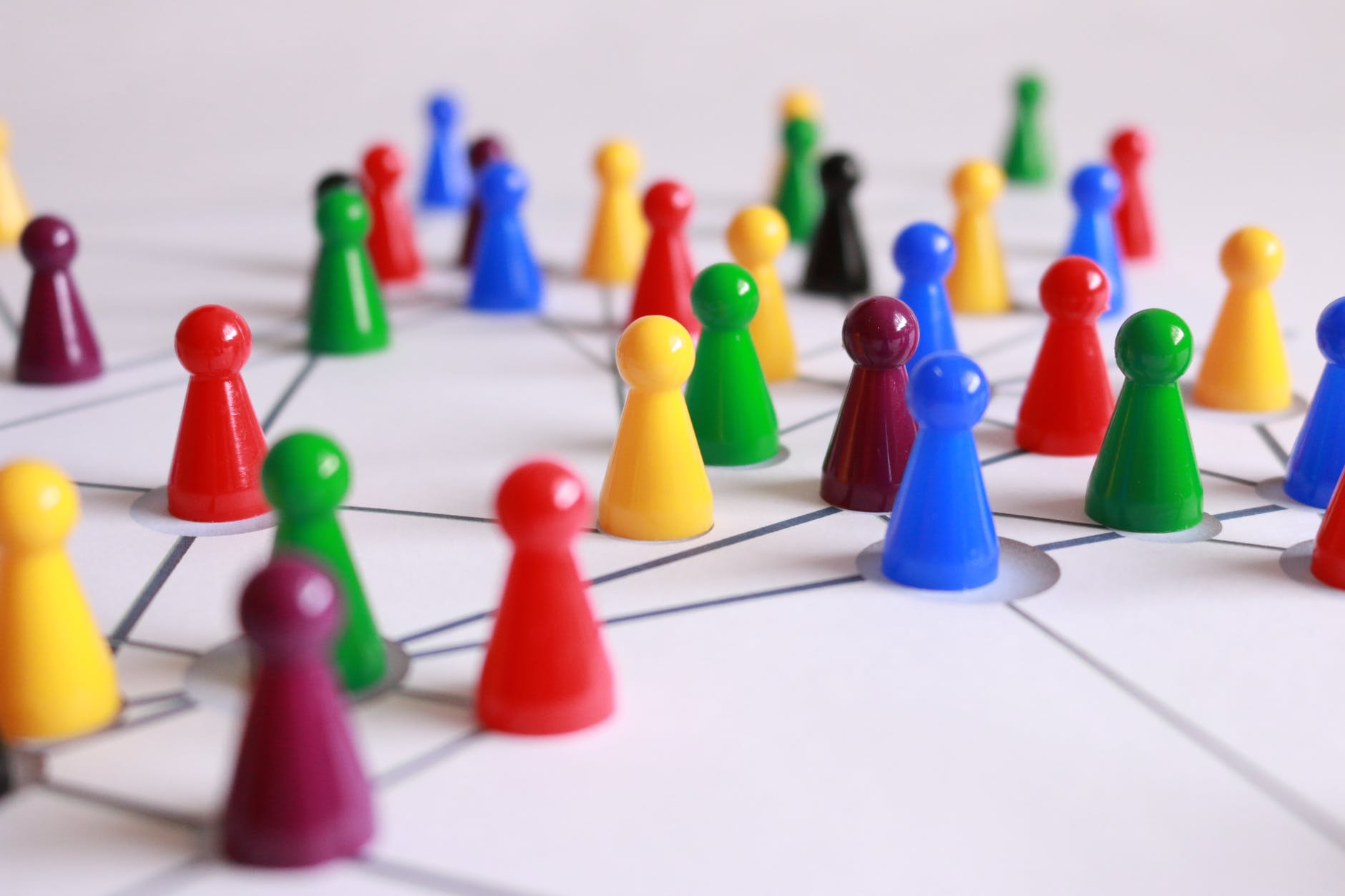 Using crewing software to manage the people on your vessels is just one part of this but there are other things you can do too to try and stop your seafarers from jumping ship, so to speak!
We've covered using technology such as crewing software in this article, but you could also try:
Asking your crew and employees for feedback
Making sure your communication is on point
Fostering a culture of diversity and tolerance
So to return to technology, where can you find a crewing system that will boost your crew retention rates and make maritime recruitment and crew management a breeze?
Martide helps you increase your stability of personnel
At Martide we're serious about the benefits that integrated recruitment can bring to small and medium sized shipping companies like yours.
Using crewing software to attract candidates in the first place will give them greater confidence in your shipping company and your brand.
At Martide we advertise your shipping job vacancies on our website and also on our mobile app which we've created especially for seafarers who are looking for jobs.
The app makes it easier for them to find and apply for your open positions, streamlines the maritime recruitment process, and makes it easier for you to stay in touch with them while their application is being considered and then while they're under contract.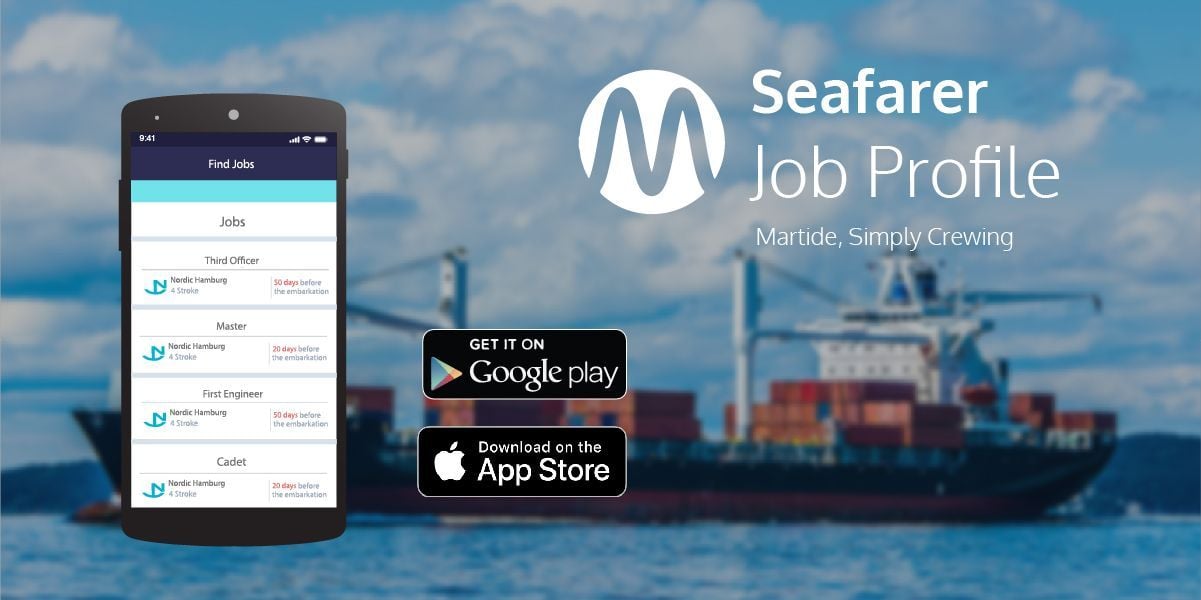 You're demonstrating to your crew that once they're on board your vessel, they're not "out of sight, out of mind" but that you care about them and are actively working to find them their next job at sea.
When you work with Martide you'll be harnessing the power of technology and using it to make your seafarers' lives more efficient and more secure.
Best of all, as an employer, you can be as hands on or as hands off as you like - if you prefer to, just leave the day to day work to Martide and/or any of your designated manning agents.
Using the Birthday's feature in Martide's crewing system
We've also incorporated a feature called Birthdays into our platform. This enables both manning agents and shipowners or ship managers to get in touch with a seafarer (through the in-built Martide messaging system, of course!) to wish them many happy returns on their special day.
This is another great way to show the seafarers who work for you, whether they're ashore or at sea, that they are more than just another number to you. You can find the Birthdays feature on the Seafarers page when you're logged into your Martide account. It looks like this: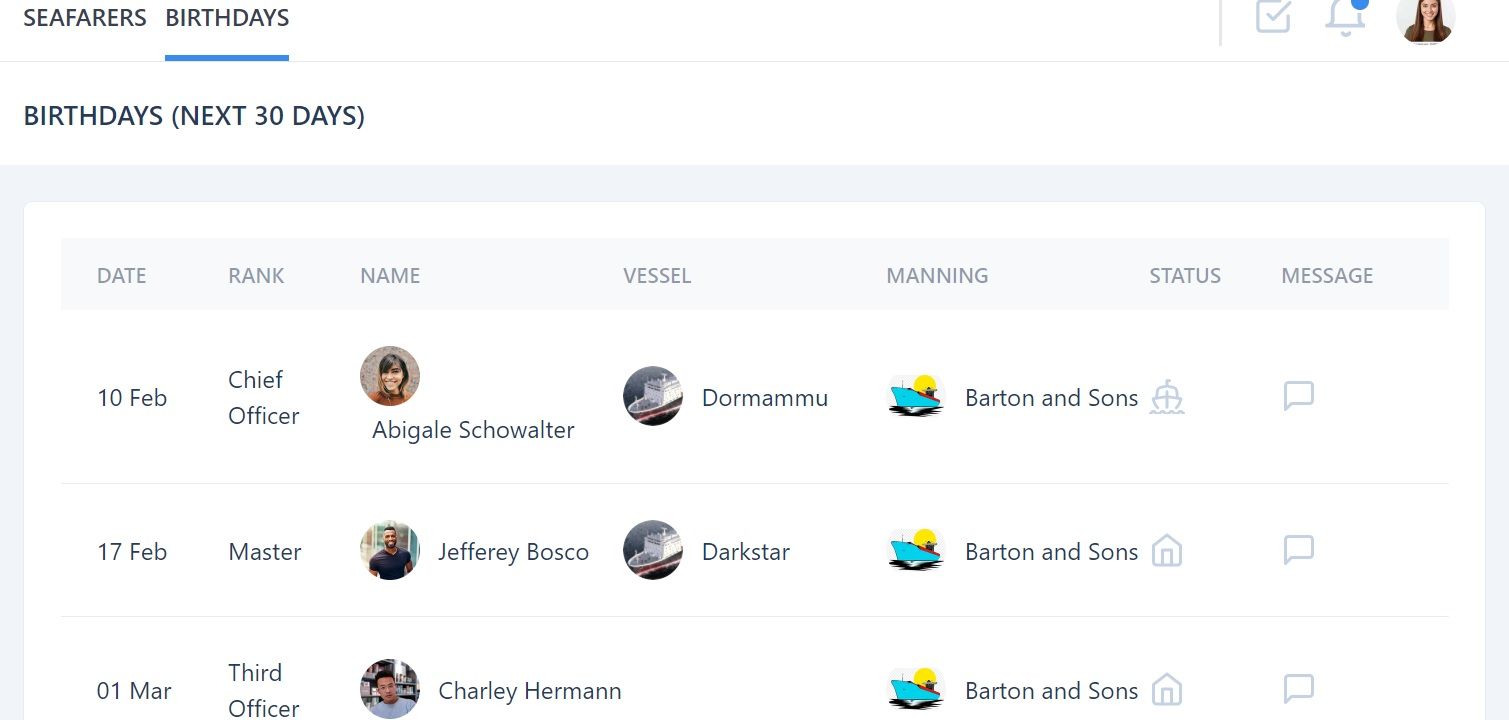 What to do next?
If you're not already using Martide's crewing system SaaS and you're a small to medium sized shipowner or a manning agency who would like to see how we can solve your maritime recruitment, crew planning and crew retention issues, get in touch with us today.
We'll be happy to answer any questions you might have and we'll be more than happy to schedule a free, no-strings attached demo at a time that is convenient to you so you can really see what we're all about.
We look forward to talking to you soon!
This blog post was originally published on February 3rd 2020 and updated on May 24th 2022.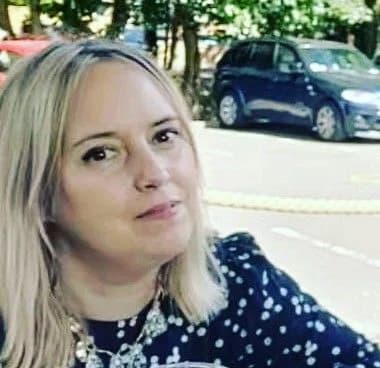 Eve Church
Eve is Martide's content writer and publishes regular posts on everything from our maritime recruitment and crew planning software to life at sea.
UK
Apply for seafarer jobs now!