Your Guide to Creating a Seafarer Resume Online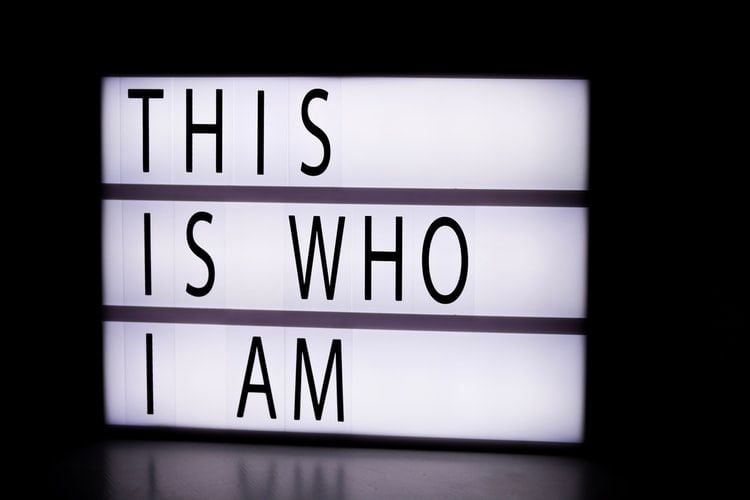 Do you dread the thought of sitting down and writing your seafarer resume when you're looking for jobs at sea? If so, you've come to the right place.
At Martide we make it easier than ever before to search and apply for seafarer jobs, and then keep track of the jobs you've applied for with our user-friendly website and mobile app.
To apply for any of our seafarer jobs all you need to do is follow these two easy steps:
Register an account with Martide.
Create your User Profile - this is where your online resume for a seaman is stored.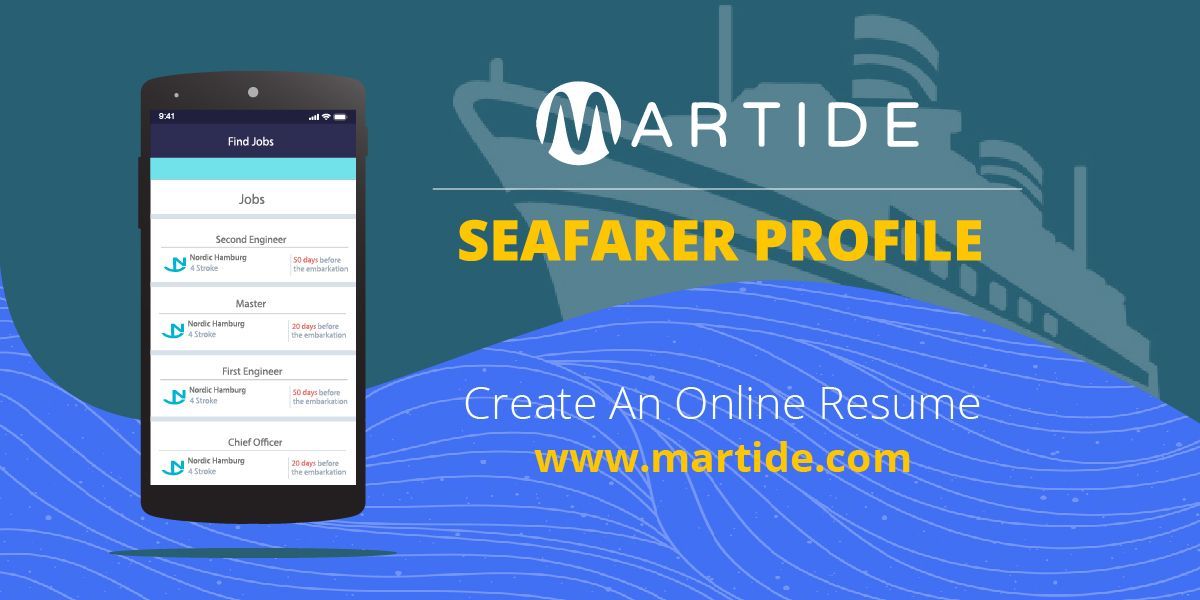 The best thing about this is that when you've created your seafarer profile and filled in all your personal information, that's the one and only time you'll ever have to do it.
That means it will be quick and easy to apply for as many jobs at sea as you like through the Martide platform. So let's get started!
Your guide to creating a seafarer resume online
First of all you need to log in to your account at martide.com. The first page you see will be your User Profile and it will look something like this: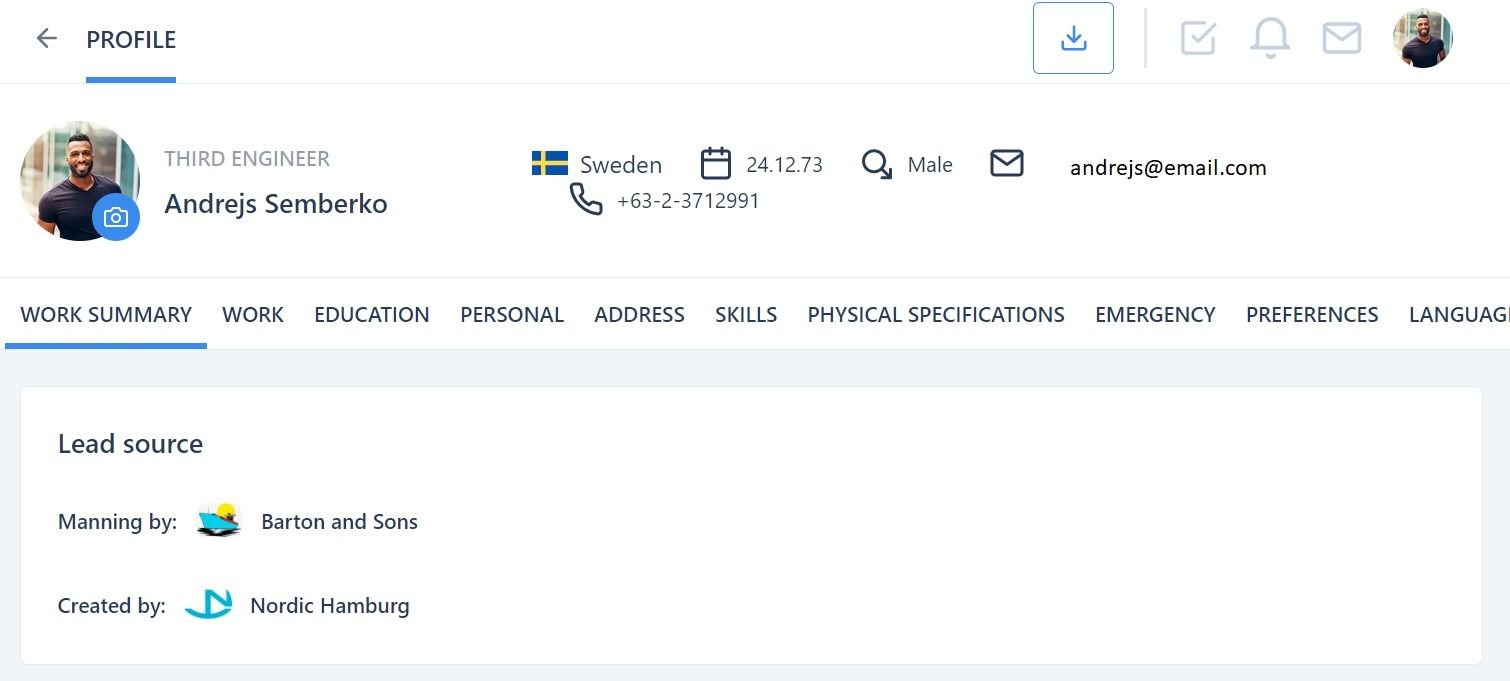 When you first log in, your profile will be empty - all of our images show a made-up seafarer who we are calling Andrejs.
The first thing you will probably want to do is add your profile picture. This is important so that employers and manning agents can see who you are - it's always good to have a face to put to a name!
And like any seafarer CV or resume, we suggest using a photo that shows you in a professional light. You could be in uniform or working gear, or it could be a headshot. We also recommend getting someone else to take the photo for you if you don't already have a suitable picture - selfies don't look very professional!
Now, on to the rest of your seafarer profile and online resume.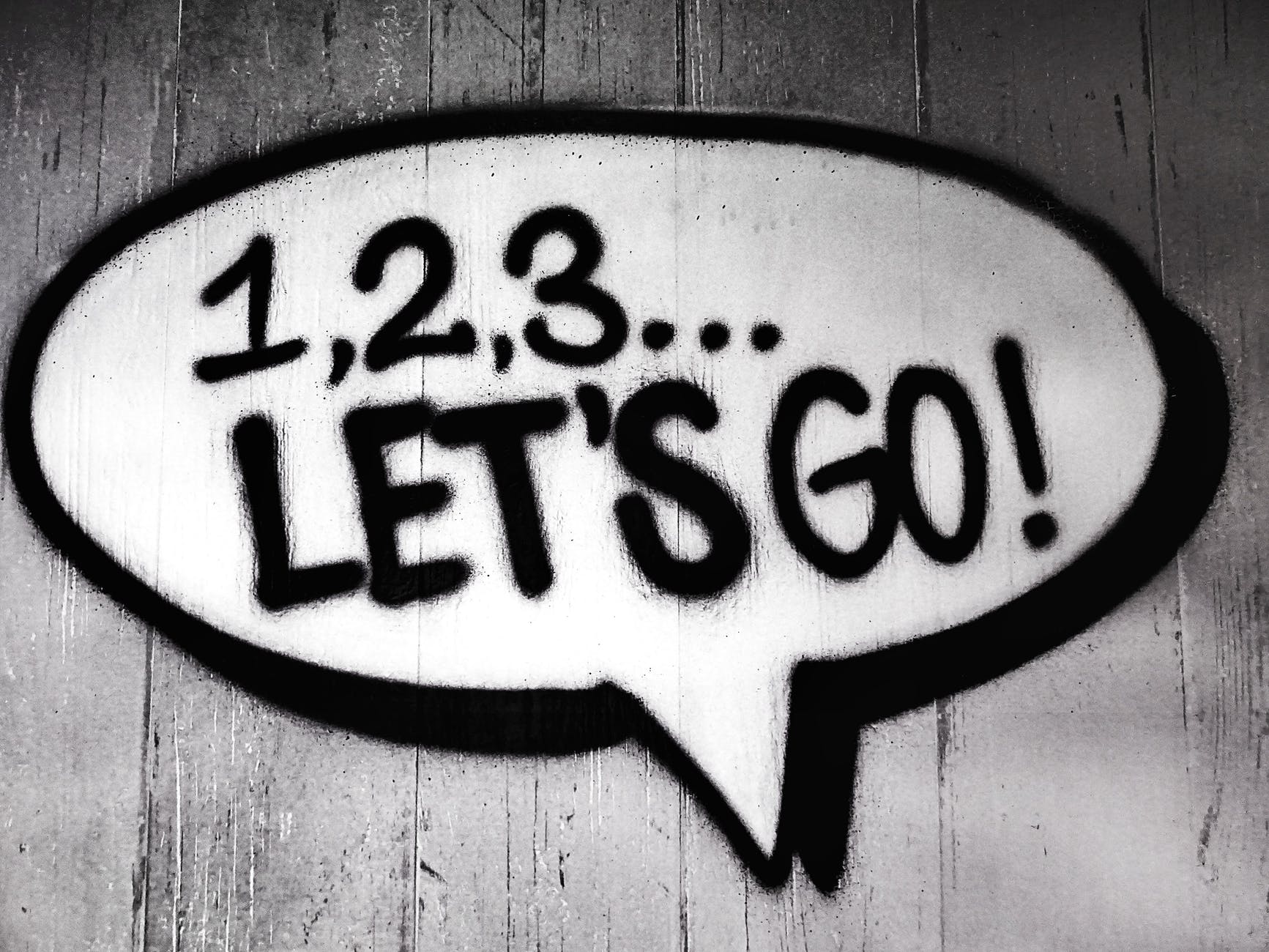 The sections in your seafarer profile
Your profile page is broken down into sections. It's a long list and it might seem like it will take some time to fill in, but trust us, it will be worth it!
We will explain what each section means below.
These sections are your:
Lead Source
Work Summary
Employment
Work Experience
Education
Personal Info
Address
Special Skills
Physical Specifications
Emergency Contacts
Preferences
Languages
Social Media
Bank Account
Medical Documents
Visas
Licenses
Travel
Certificates
Endorsements / Flag State
Training
Some of these sections are automatically filled in so you don't have to do anything.
It's really easy to fill in or edit any of the other sections - just click the little pen icons on the right of any of the sections or the +Add link at the bottom of the sections - see the picture below: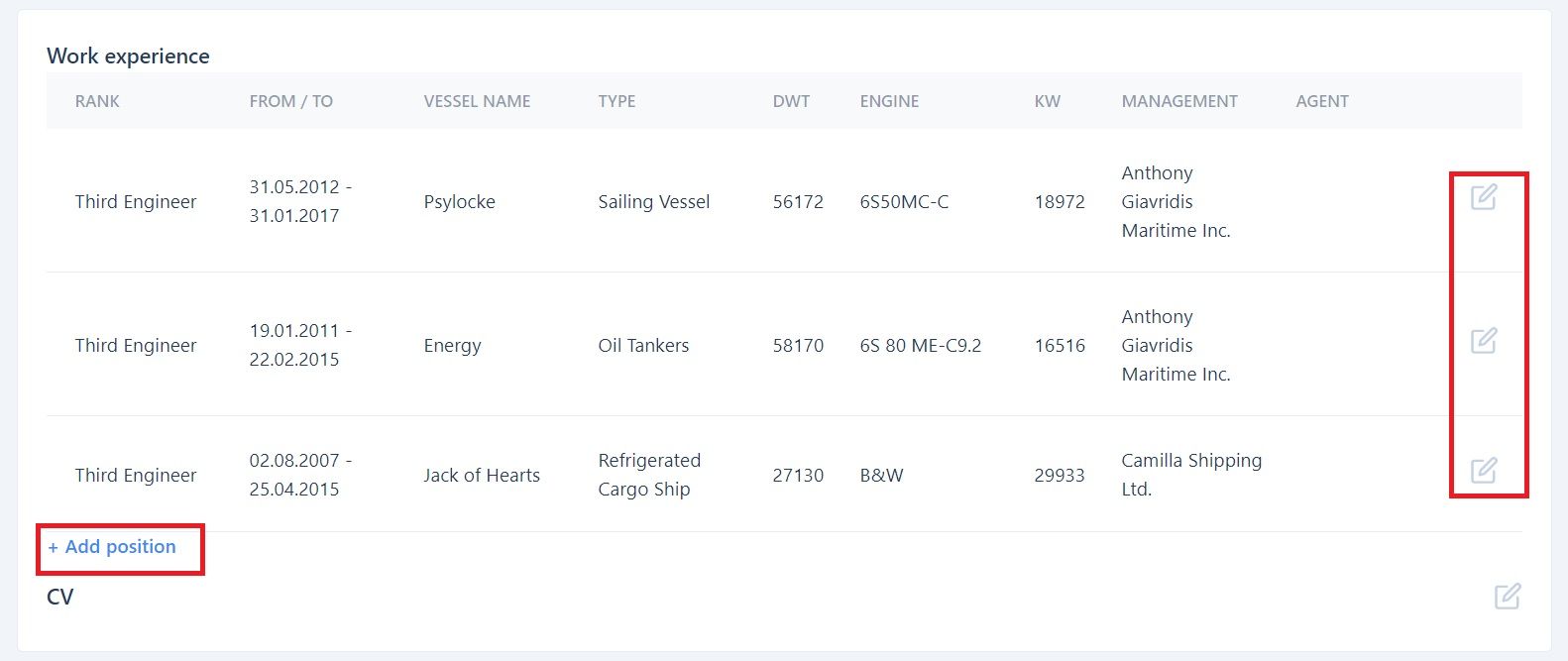 The sections should all be self-explanatory but below is a run through of each, including some of their highlights and what they mean for you.
Lead Source This section is automatically filled in and you do not need to do anything. The Lead Source is who created your account (if you did not do it yourself) - sometimes an employer will create an account for you if they want to hire you through Martide. It also includes the name of your manning agency.
Work SummaryThe Work Summary is also filled in for you. It's an overview of your rank(s), the type of vessels you have worked on and what engines you have experience with (if any.)
EmploymentThis section is automatically filled in as well, so you don't have to do anything. It shows the ranks you have held, the vessel types you have worked on, the dates of the contract, the employer, and the current status.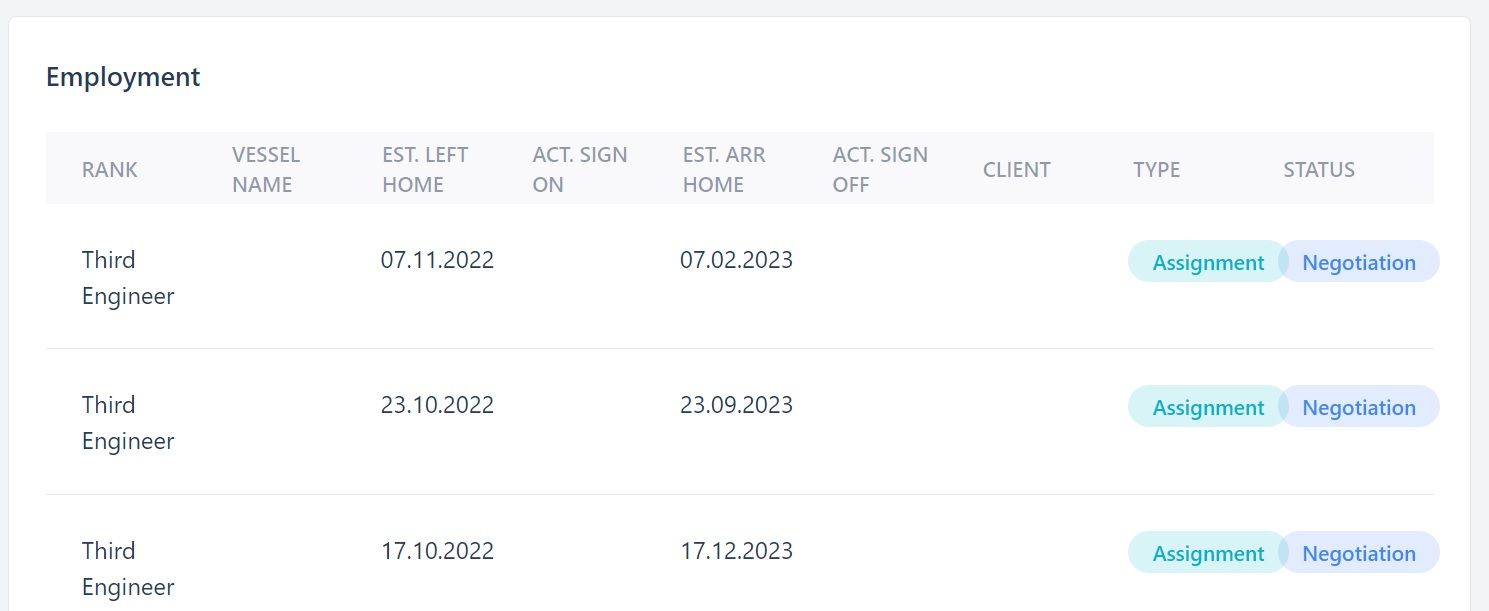 Work ExperienceProbably the most important part of any seafarer resume. Make sure prospective employers can see your experience in the shipping industry by adding your previous seafarer jobs.
Information here includes your current or previous ranks, the ship management company and agent, vessel names, vessel types and the vessels' specifications such as DWT and engine.
You can also add the start and end dates of contracts. If you want to edit info at a later date, or delete it, you can also do this here. In addition, you can also upload a copy of your CV to this section.
Read more: How to Build a Resume for a Seaman Online with Martide
EducationLet the shipowners and managers or manning agents who might be considering hiring you for their jobs at sea see how qualified you are by entering your education and qualifications.
Information in this section includes your school or maritime academy, area of study, degree type and start and graduation dates. Again, if you need to edit or delete any of this info at a later date, you can.
Personal InformationEnter and edit basic information such as your name, date and place of birth, gender, rank, phone number, email address and nearest airport.
You can also set your status to say whether you are actively looking for a job, if you're open to offers but not actively looking, or if you're not currently interested in finding a vacancy.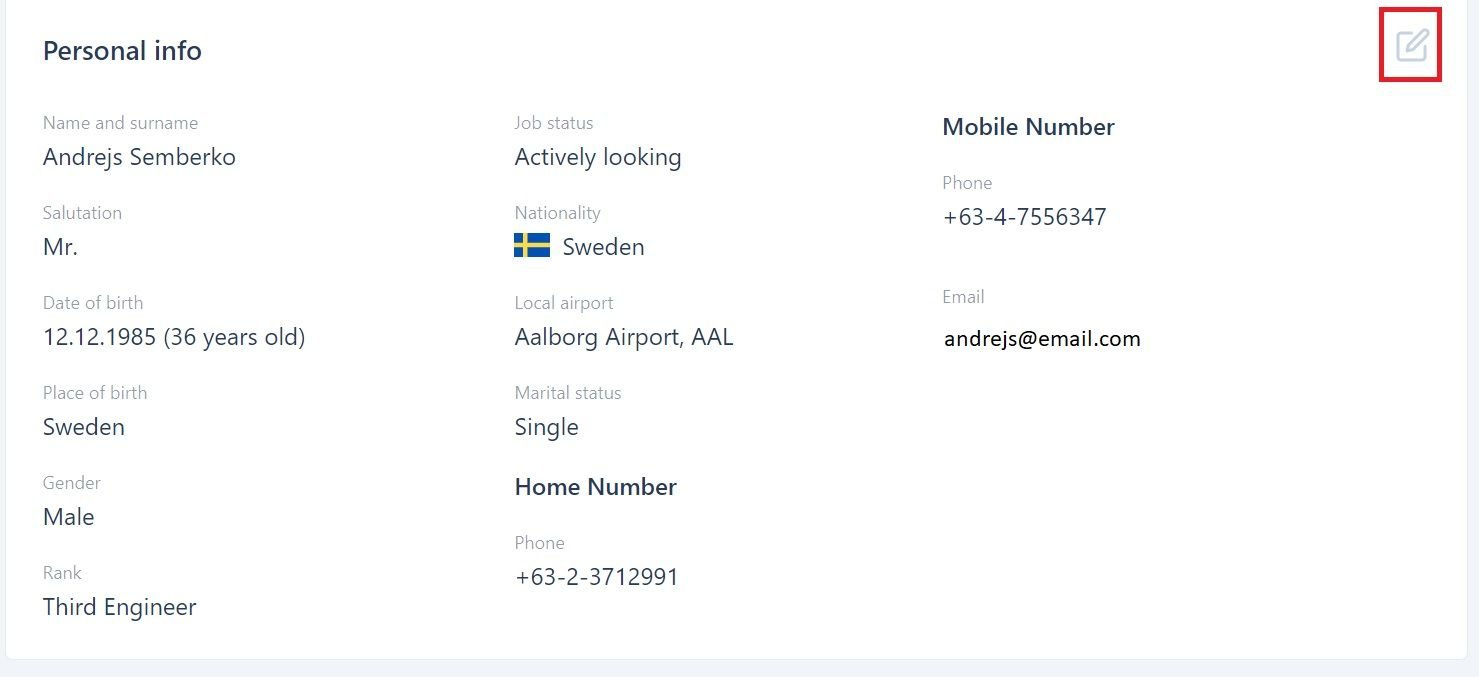 AddressCrucial information on any resume for a seaman - but we know you might have more than one residence or contact address so here you can add (or edit and delete) as many addresses you need.
Special SkillsThis is where you can shine in your resume for a seaman! Add any special skills or talents that set you apart from other seafarers in this section.
It's completely up to you what you say here - maybe you have experience in handling specialist machinery such as excavators or with LNG fuel, or perhaps you want to let everyone know about something you were singled out for being exceptional at in a previous role.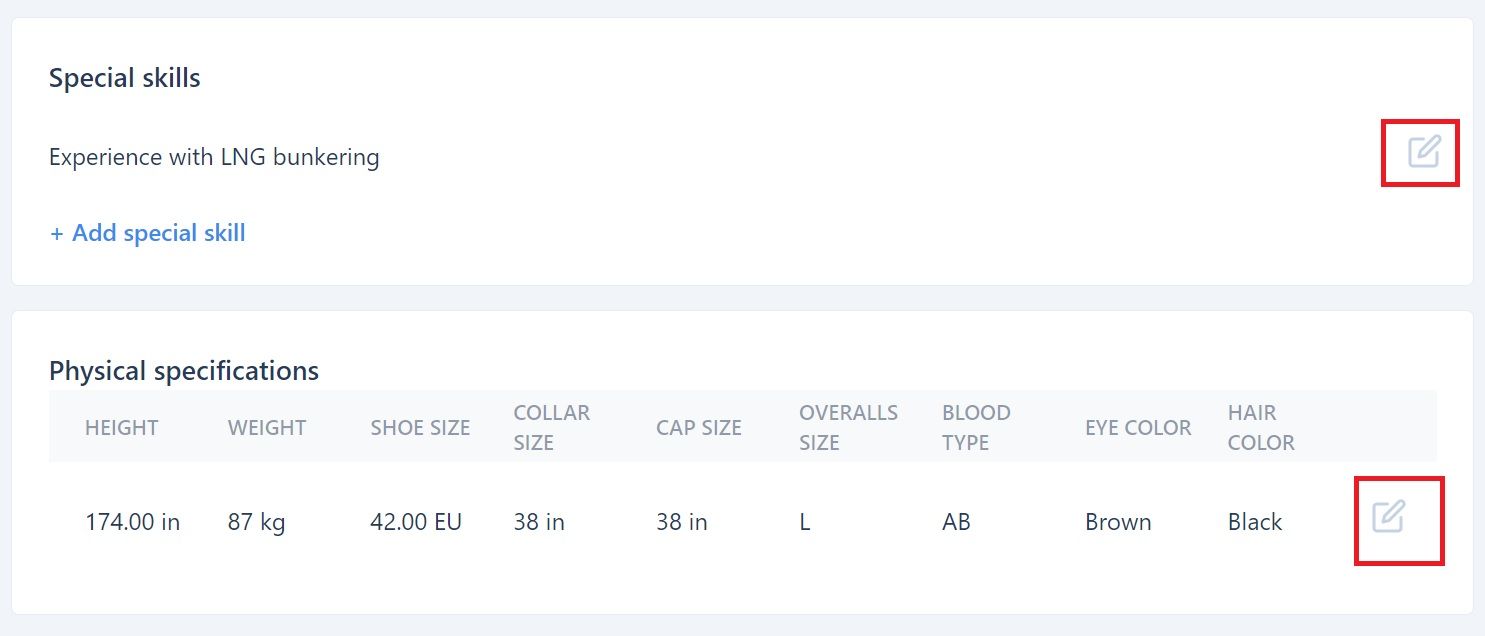 Physical SpecificationsObviously you'll need to be kitted out with work gear when you land a seafarer job and the all-important physical attributes segment requires you to enter information about your height and weight, and your shoe, collar, cap and overalls sizes.
You also need to enter your blood type, and your hair and eye color. You can edit any of this information if it changes at a later date.
Emergency Contact and Next of KinWe need to know who to get in touch with in the unlikely event that anything happens to you while you're away working at sea so we ask you to enter the name, contact number, address and relationship status of your chosen emergency contact and next of kin.
These can be the same person or two different people. You can also edit the information if it changes.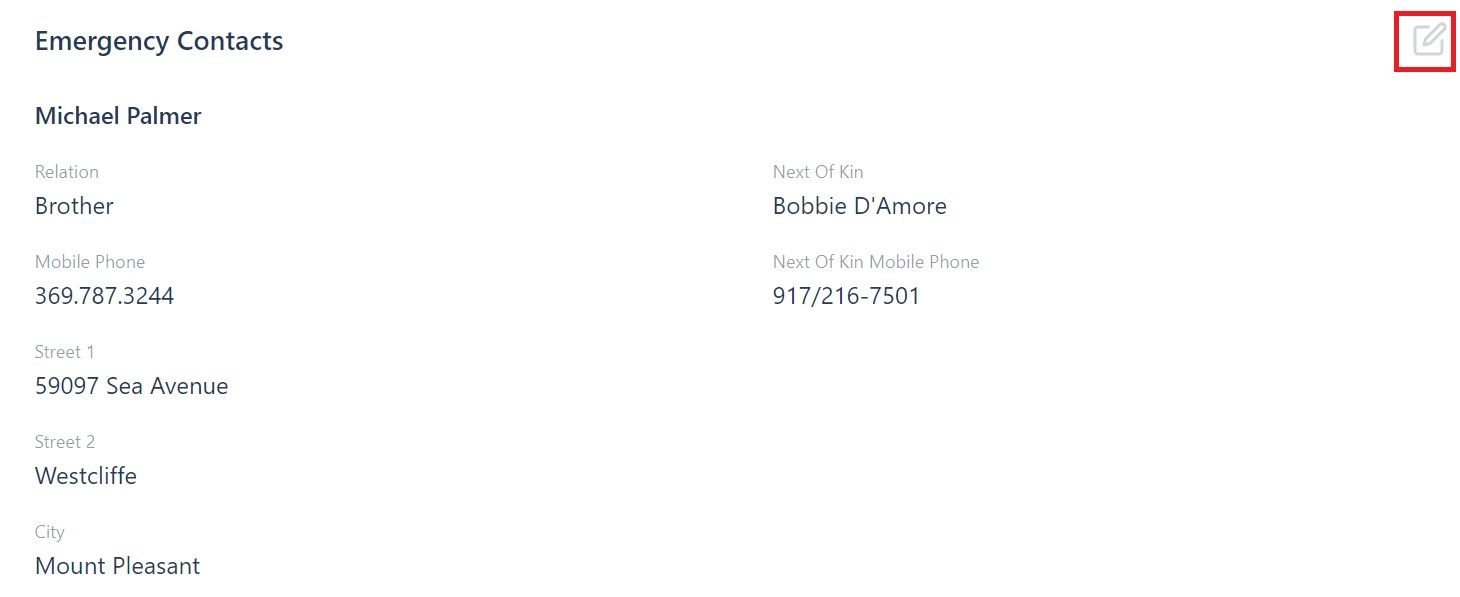 PreferencesBecause we want to help you find the seafarer jobs that are right for you, we also let you enter and edit information about your preferred vessel type and contract length.
You can include your preferred minimum and maximum DWT and engine, minimum and maximum salary, preferred contract length and your availability date in this section of your online seafarer resume.
Languages SpokenBeing proficient in English is important in seafarer jobs and this is your chance to impress an employer by showing them how many languages you can speak and your proficiency in them.

In your Martide seafarer resume online you can add the languages you speak and select whether you're a beginner, elementary, intermediate, upper intermediate, advanced, proficient, or native speaker.
You can add more languages if you learn them, edit them if your level of skill has changed or even delete one if you've forgotten how to speak it!
Social MediaWant to stay connected and let future employers in the maritime industry see who you are in your downtime?
If you want to, you can add a link to your social media accounts to your seafarer resume online including Facebook, Google, Twitter, LinkedIn, VK, Xing and Instagram.
Read more: Come and Hang Out with Martide on Social Media!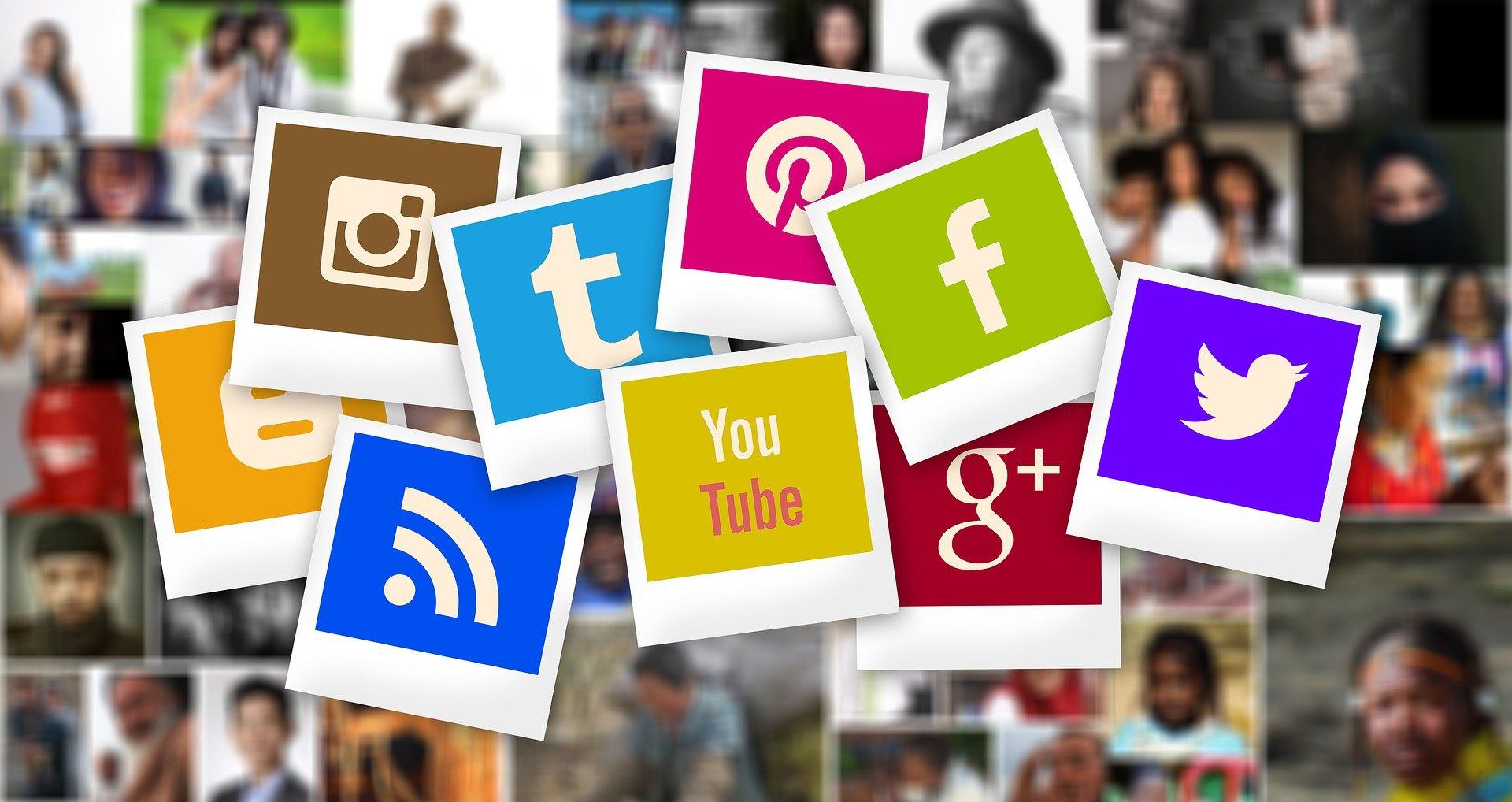 Bank AccountAt Martide we understand that you may not want all of your salary paying into one bank account.
That's why when you add your banking details to your seafarer resume, we've created a handy feature that allows you to include a percentage figure if you wish your salary to be split between accounts. You can state what % you want to be paid to each account and you can enter as many bank accounts as you like.
Medical DocumentsThe medical documents and certifications you have contain vital information for shipowners and managers. The Martide platform lets you securely store them online, all in one place in your online resume for a seaman.
Enter details about the documents you hold and upload a copy of them to your profile. You can edit the details if needed, and remove any that you no longer have. You can also add as many attachments to a single entry as you need.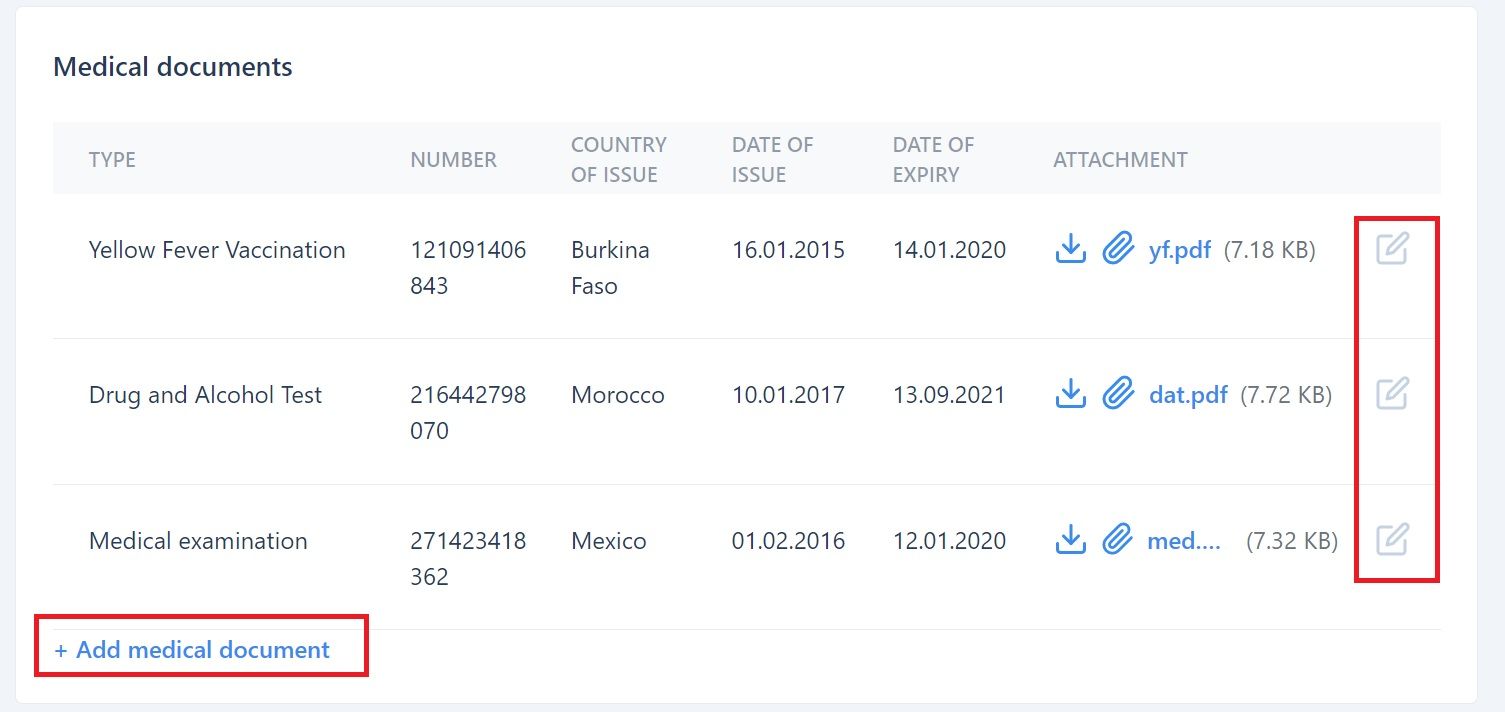 VisasSeafarer jobs usually require you to have visas for travel and you probably won't be going far without one! So don't forget to enter details about the visas you hold and upload a copy of them to your seafarer resume and profile.
You can edit the details if needed, and remove any that have expired. You can add as many attachments to an entry as you need.
LicensesYour licenses also appear in your online seafarer resume and Martide user profile. Employers and manning agents will need to check these and you can add and upload copies of as many as you hold.
Travel DocumentsJust as you need visas for traveling for jobs at sea, you'll also need to upload copies of your seaman's book and passport.

Copies of these will go in the Travel section, and they make it quick and easy for employers to check that you have the right paperwork in order to be hired for one of their vacancies.
CertificatesThere's a lot of documentation that goes with working in a seafarer's job, we know! The good news is that once you've uploaded copies of all of your certificates, visas, medical documents etc. you won't have to do it again. They'll all be stored safely in your online seafarer resume.
In this section you can upload copies of the certificates you hold, such as your Personnel with Designated Security Duties, Fire Prevention and Fire Fighting, and Elementary First Aid certificates.
Endorsements / Flag StateNearly finished! Now you need to upload copies of your endorsements in this section, as well as the country of issue and the dates of issue and expiry.

Flag state information is also stored in your seafarer profile in Martide. This includes information about your seaman's book (flag state) and flag state endorsement. Add the document numbers, dates of issue and expiry, the country of issue, and upload copies.
TrainingFinally you'll want to add details of the training you've received to your online seafarer profile so that employers and manning agents can see how suitable you are for their jobs on ships.
Had risk assessment training? Know how to navigate in ice? Attended a lathe machine course? Know the fundamentals of LNG fuel? Here's where you can display your knowledge to give you a great chance of being hired for cargo ship jobs.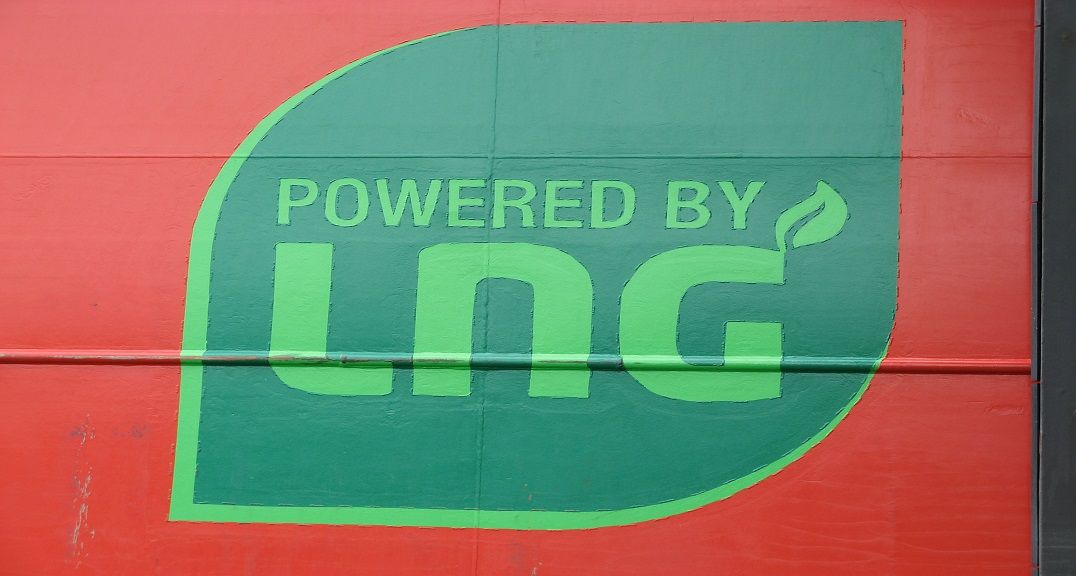 A few notes about your seafarer profile
Entering much of the above information into your resume for a seaman is mandatory because employers and manning agents will need to see it to be able to consider you for their seafarer jobs. However you can choose not to enter certain information such as your social media accounts if you would prefer to keep those private.
The information you enter in your profile is used to help you apply for jobs quickly and easily - once completed you won't have to fill out all your details every time you apply for a vacancy. It makes applying for jobs at sea much easier!
You can add to and edit your User Profile at any time by clicking on any of the little pen icons or the plus signs (+) in any of the sections. That's great for updating your new skills and latest work experience and helping your online seafarer resume stand out from the crowd!
How to print out your seafarer resume
We've also made it really easy for you to download a copy of your Martide resume for a seaman in case you want to print a copy out to hand to an employer or manning agent.
To do that, go to the down pointing arrow icon at the top of your seafarer profile:
Click on the icon and you will see a drop down box saying Full CV. Click on that it will download your CV in a Word document onto your computer or laptop which you can then download and print out.

You can even give it to other employers who aren't connected to Martide.
How to change your password and email address
We know, we know - it happens. You forget your password or you change your email address and suddenly you can't access your seafarer profile or resume for a seaman.
The good news is, it's easy to reset your password and change your email address in Martide if you need to.
To reset your password or the email address linked to your account, click on your profile picture in the top right corner. In the drop down box click on Settings and you will see Change Email or Change Password:

Click on either Change Password or Change Email and you will be taken to the relevant page where you can easily change your password or link a new email address to your account.
We hope you've found this post useful but if you'd like to read a longer version with more screenshots and step-by-step instructions you can check out our support guide to creating a seafarer resume and user profile on Martide right here on our support website
You can also read a quick and easy guide to changing your password or email here:
How to change your email
How to change your password
On our support site you'll also find some other handy information such as how to find a seafarer job with Martide and how to use your inbuilt messages feature.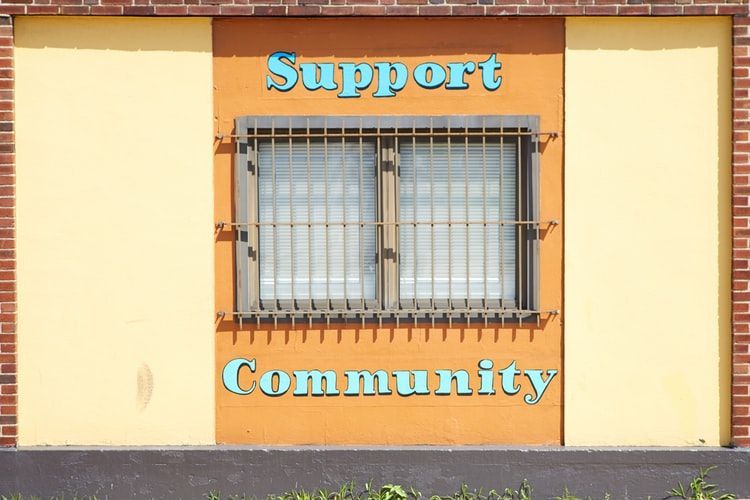 If you're done completing your user profile and online resume of a seaman and you're ready to start applying for jobs at sea, why not head on over to our seafarer jobs list and see for yourself just how quick and easy it is to apply for seafarer jobs with Martide!
You can also apply for jobs at sea through Martide when you're on the go with our free mobile app which we've developed especially for seafarers.
Android users can download the app through Google Play and anyone with an iPhone or iPad can get it from the Apple App Store.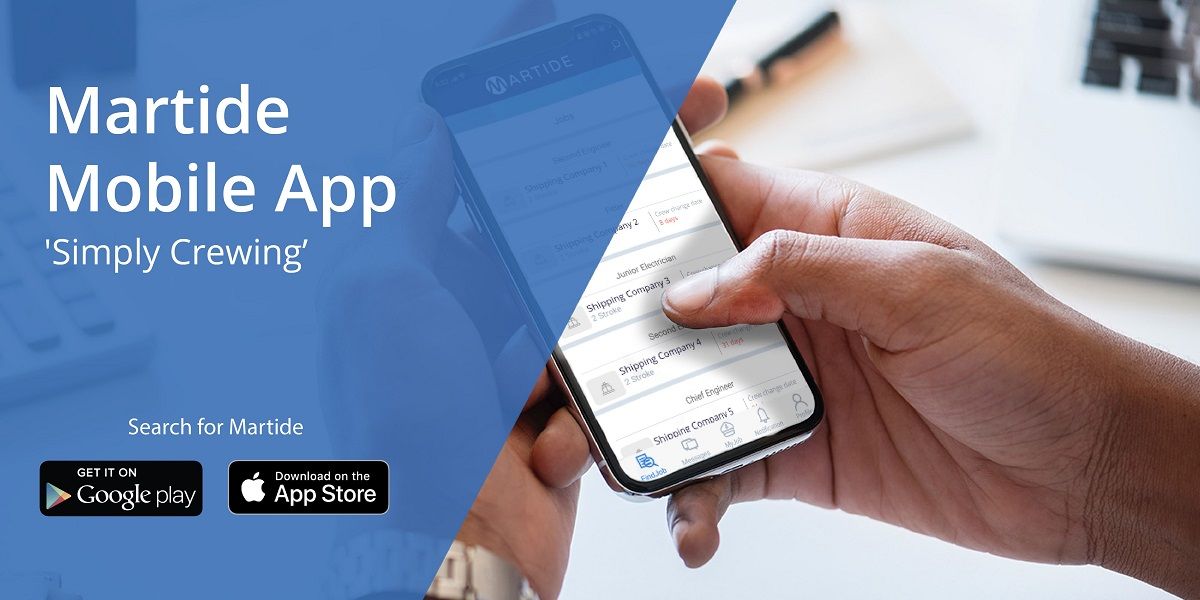 Good luck with creating your seafarer online resume with Martide and we look forward to seeing you onboard soon!
This post was originally published on July 29th 2019 and last updated to reflect changes in the design of the seafarer user profile page on September 29th 2022.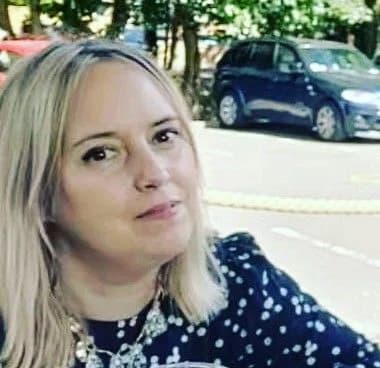 Eve Church
Eve is Martide's content writer and publishes regular posts on everything from our maritime recruitment and crew planning software to life at sea.
UK