What are User Groups?
The User Groups function lets you delegate tasks by adding teams and setting permissions so you can customize what your people can do when they are logged into Martide.
Note that the User Group should be selected when you create the Interview Stage or Approval Step in a Recruitment Pipeline.
To get started log in to your Martide account. Click on Settings in the drop down menu under your profile picture and then on User Groups:

You will then see a page that looks like this. Your page will be empty if you haven't created any User Groups yet but you can see from our example we already have 3 groups; Accountants, Crew Managers and Recruitment Officers: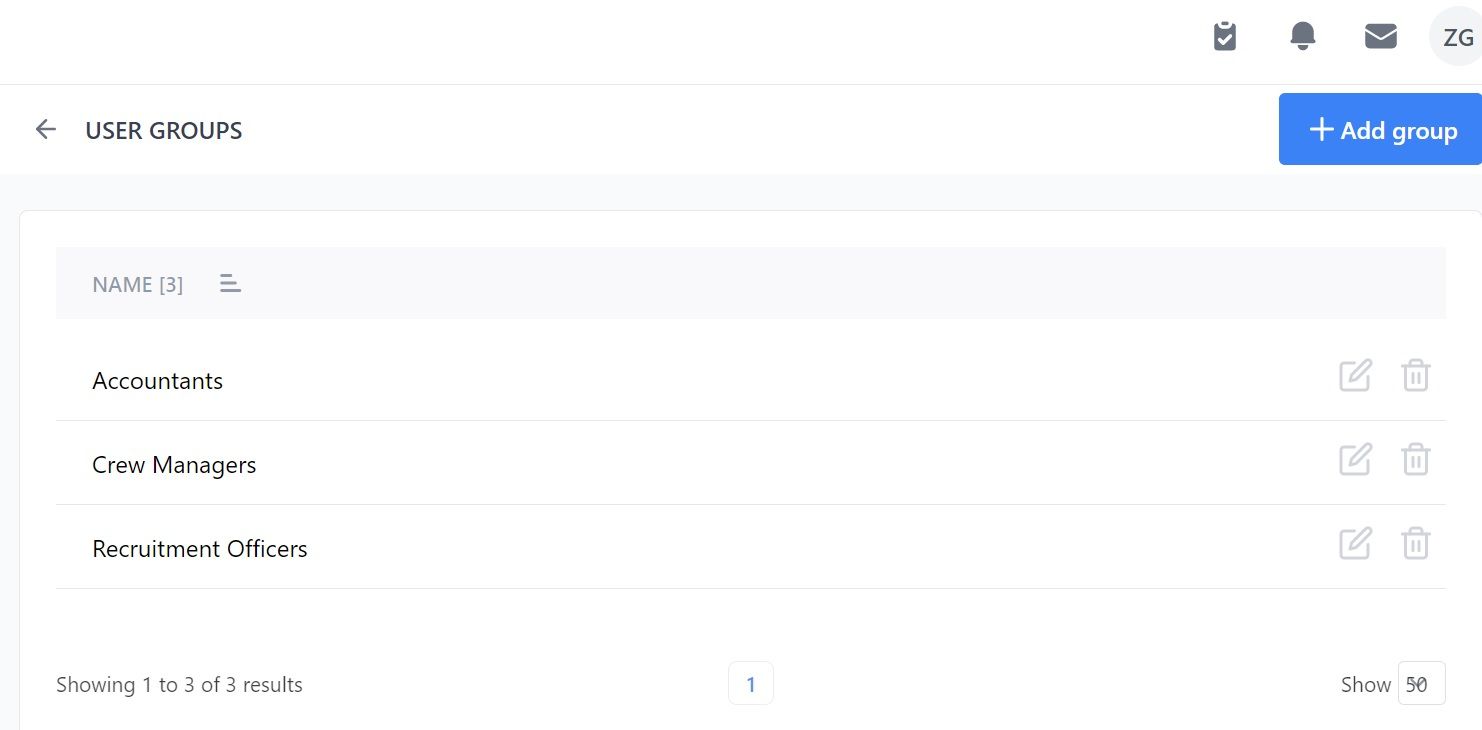 Here you can:
Add a new User Group.
Edit and delete current User Groups.
Filter your groups alphabetically or numerically by clicking the 3 lines next to Name.
How to add a new User Group
To add a new User Group click the blue +Add group button at the top of the page. You will be taken to this page: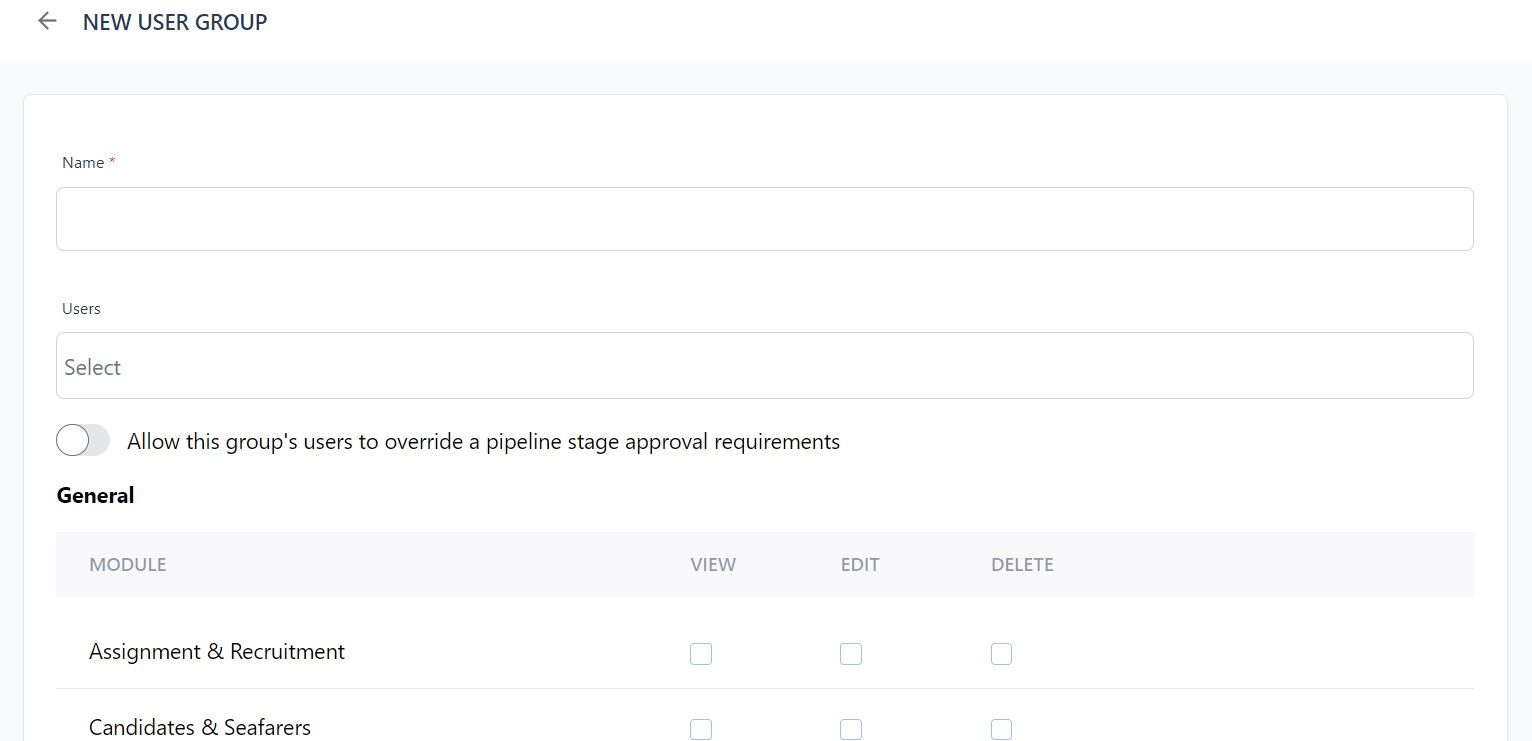 Here you can:
Name your user group, for example Recruitment Officers.
Add your coworkers to the group by clicking in the Users box. This will show the names of everyone in your company who has a Martide account.
Choose if you want the group to be able to override approval requirements in a pipeline. (Explained in more detail below.)
Set permissions for the group to give them the rights to View, Edit or Delete features and functions in Martide. To do this, check the boxes beside each function to add rights.
For example, we're going to create a new User Group for the Tanker Recruitment Team: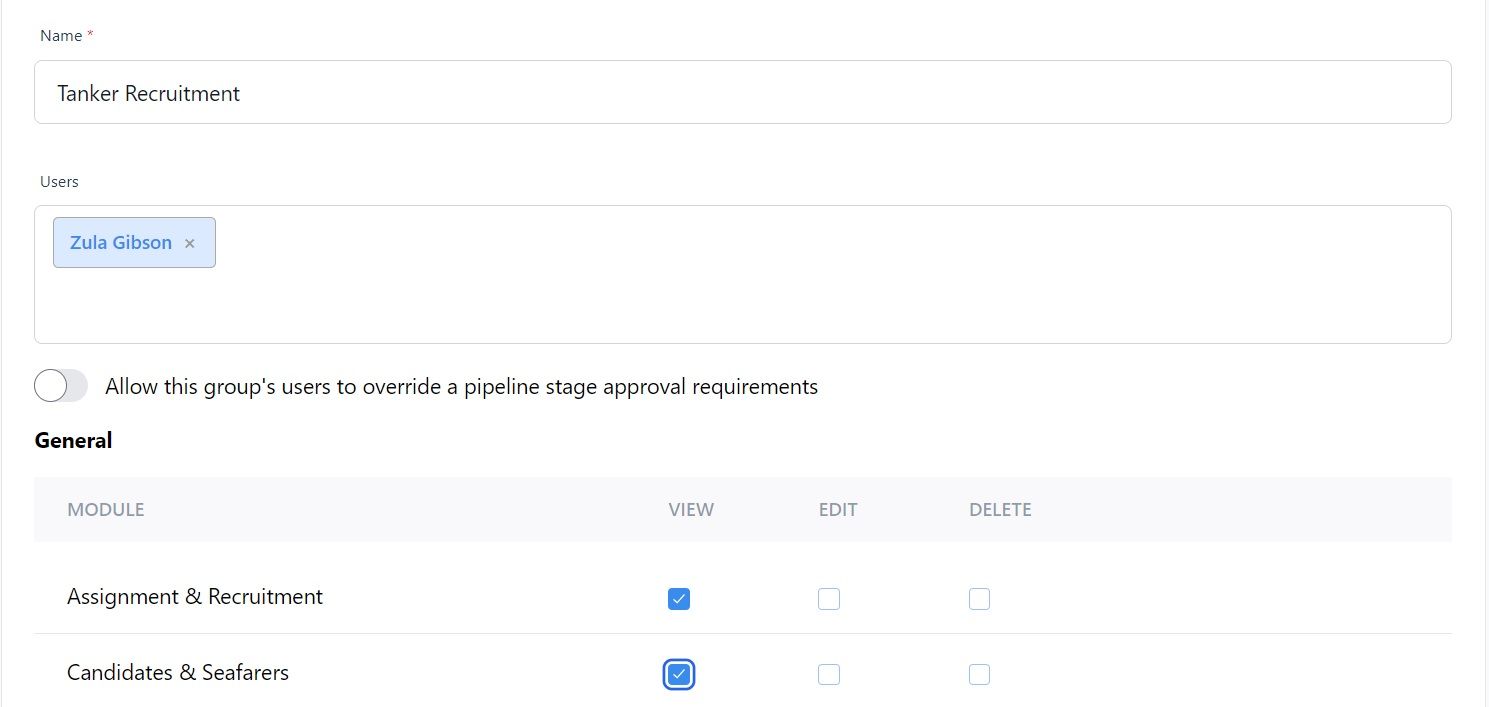 Click Save when you're done. The new User Group will appear on the main page: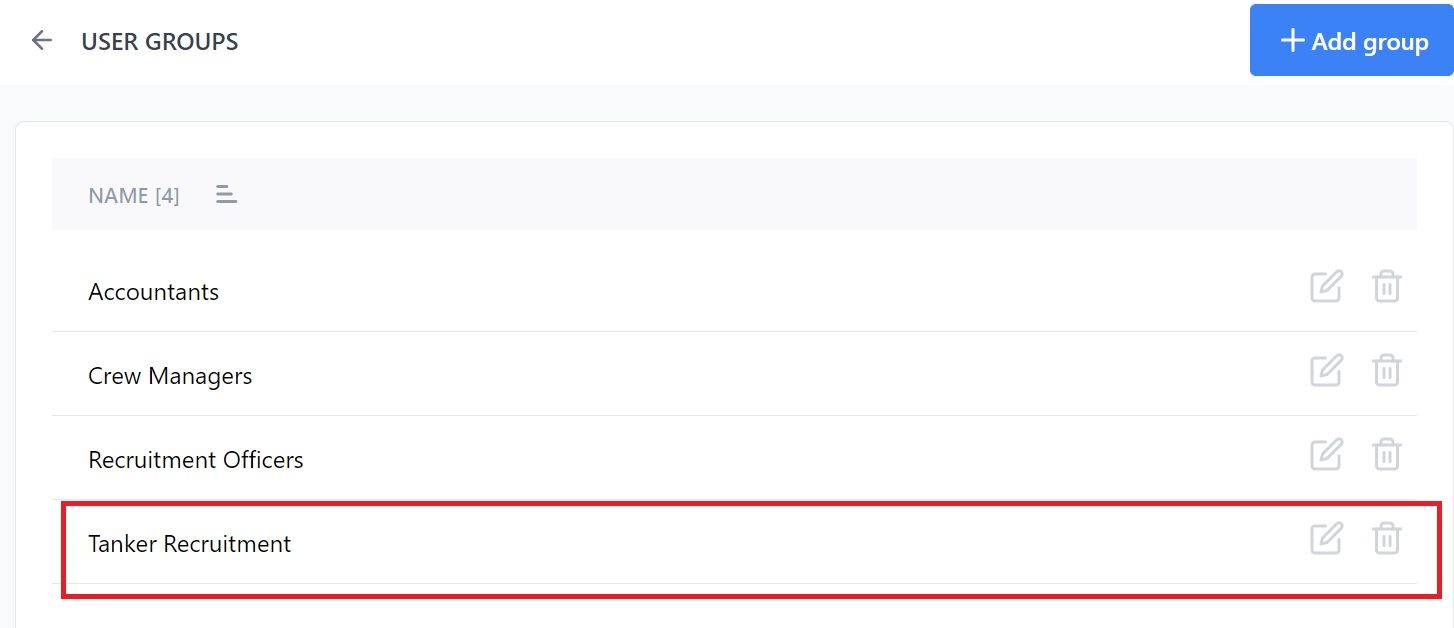 Understanding the Pipeline Approval button
Where it says Allow this group's users to override a pipeline stage approval requirements, slide the button across so it shows blue - this means it is activated:

This will allow users in that group to Override an Approval stage in a Pipeline to let a candidate move to the next stage even if all the required information hasn't been entered.
How to edit or delete a User Group
On the main User Groups page go to the User Group you want to edit or delete. To edit a group, click the pen icon next to the entry you want to change. To delete a group click the trash can icon:

If you're editing a group, the next page you'll see is basically the same page as when you created a new entry. There you can:
Change the User Group's name.
Add or delete users.
Use the sliding button to turn off / on the Pipeline Override settings.
Change the permissions for that group.
Click the blue Save button when you're done.
When deleting a User Group, when you click on the trash can icon next to the group you want to remove (see image above) you will be shown a warning asking you if you really want to delete the Group. Click OK to delete or Cancel to return to the page.
We hope you've found this guide to using User Groups useful but if you need any other help, please don't hesitate to contact us here.