Vessel Groups
To make it easier for shipowners crew managers and manning agents to keep track of their vessels we created the Vessel Groups feature. This works as a filtering system and lets you group together certain vessels by any criteria. Here's how to use it.
How to use the Vessel Groups feature
Log into your Martide account and click on Settings in the drop down menu under your profile picture. Then click Vessel Groups: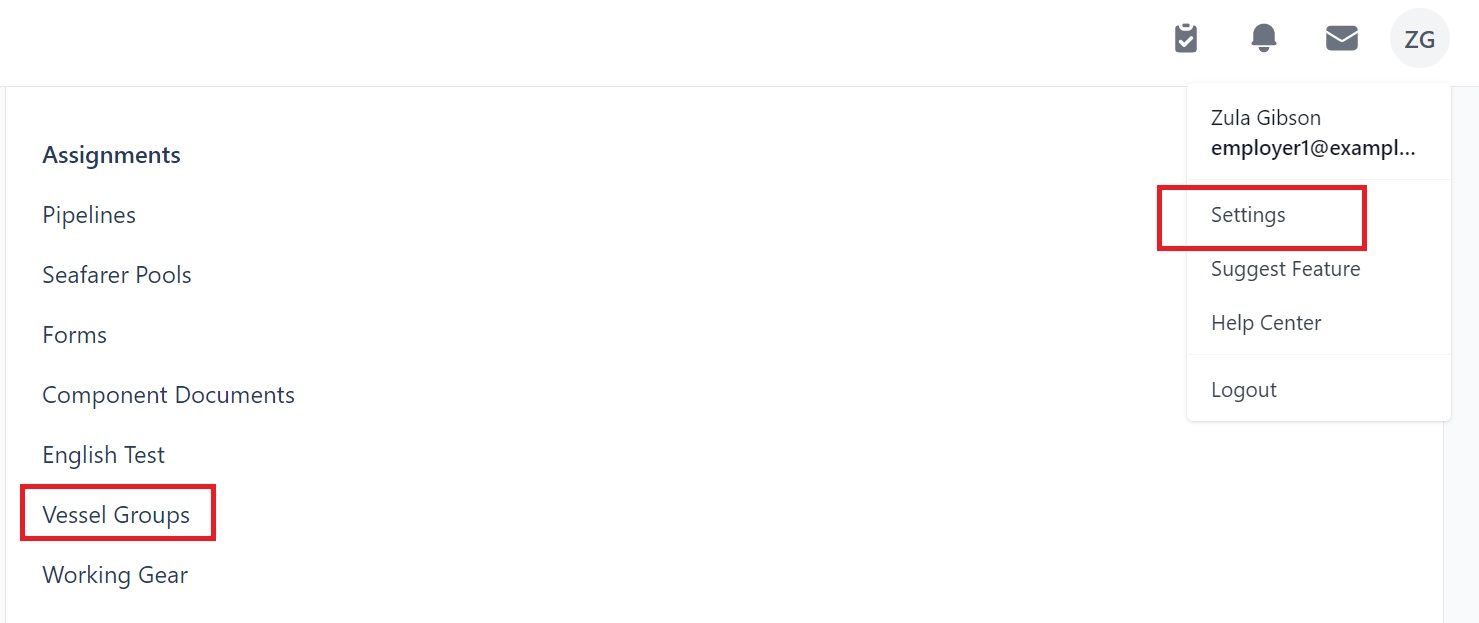 That will take you to a page that looks like this:

On this page you can:
Look for a Vessel Group.
Add a new Vessel Group.
Edit a Vessel Group.
Delete a Vessel Group.
Sort your Vessel Groups so they appear alphabetically or numerically.
You can see from our example above that we currently have 2 Vessel Groups.
You can name your groups and sort them into whatever makes sense for you. For example by vessel type or by company.
How to add a new Vessel Group
Click on the blue +Add vessel group button on the top right of the page (see image above):
That will show you this pop-up box: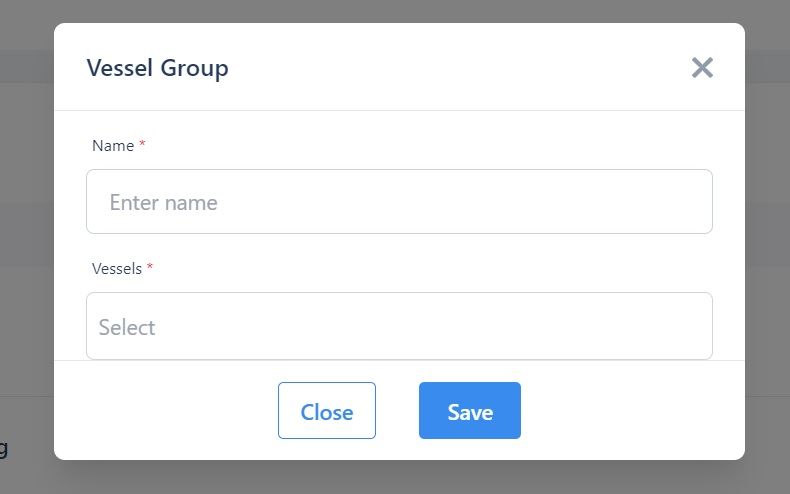 Here you can:
Enter the name of your Vessel Group.
Add your vessels to the Group. When you click on the Vessels Box a drop down list will appear with the names of all your vessels.
Click Save when you're done.
In our example below we're calling our new Group 'Container Ships' and are going to add all relevant vessels to it. You can add as many vessels as you like.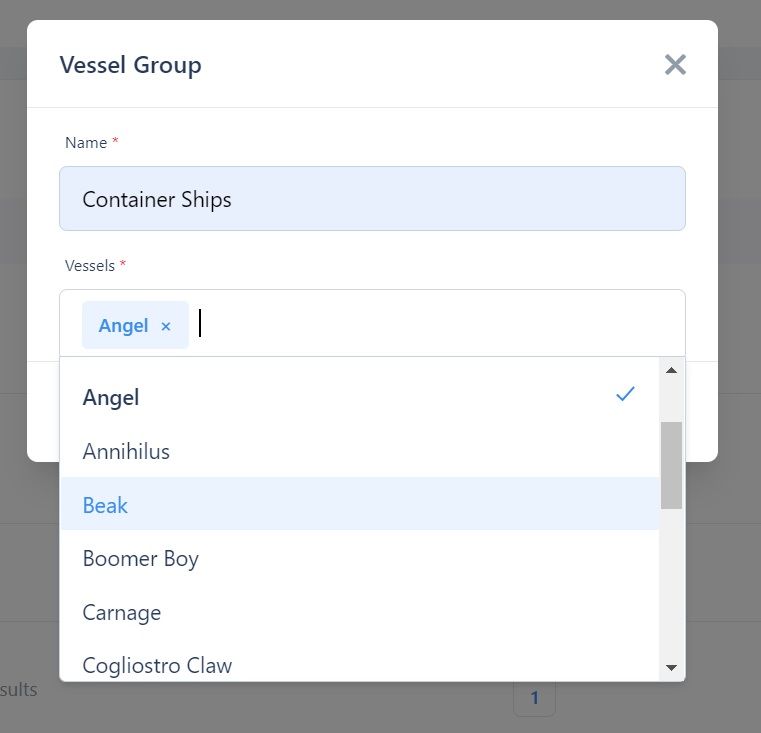 We clicked Save and our new Group is now on the main Vessels Group page:

How to edit or delete a Vessel Group
To edit a Vessel Group on the main Vessel Group page go to the Group you want to edit and click the pen icon.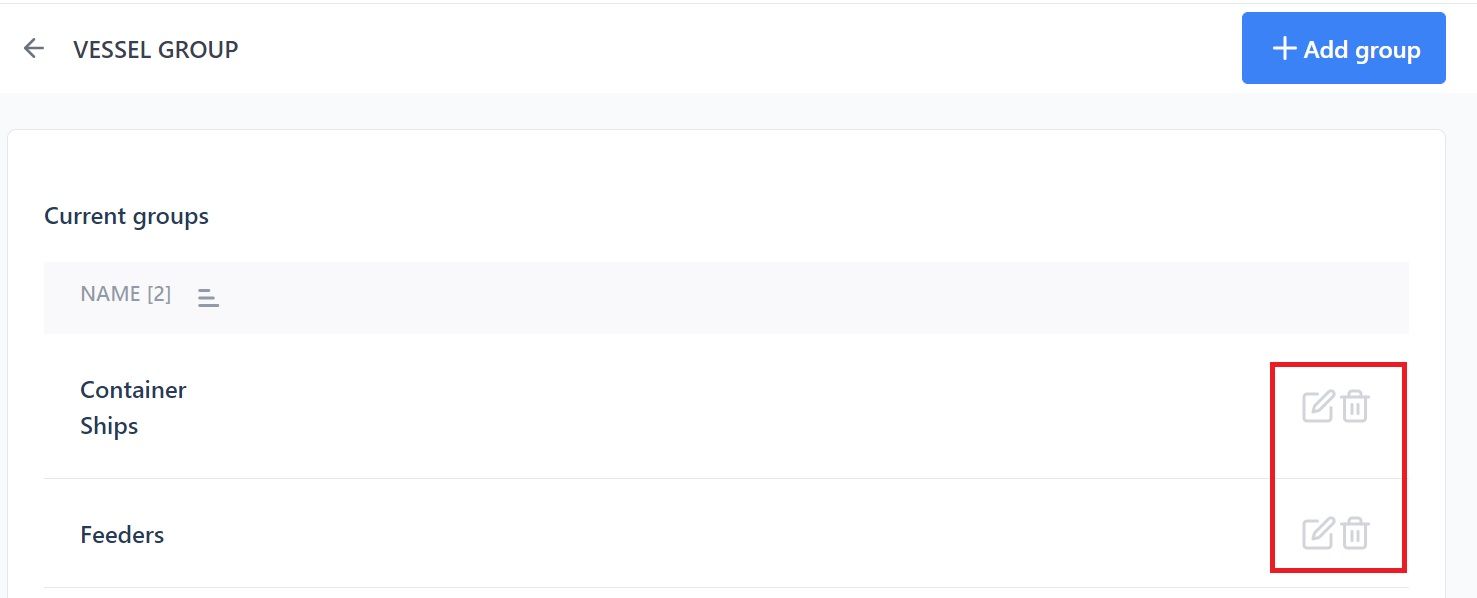 That will take you back to that Group's pop-up box where you can change the name of the group and add or remove vessels.
To delete a Vessel Group click the trash can icon.
How to sort your Vessel Groups alphabetically or numerically
On the main Vessel Groups page click the arrow next to Name:
The default is 1-9 and A-Z. if you click the arrow the list of Vessel Groups will be reversed. This makes it easier to search if you have a lot of groups.
We hope this guide to Vessel Groups is helpful but if you have any other questions please don't hesitate to get in touch with us at support@martide.com