Working Gear
In Martide you are able to manage the working gear that you need to provide your crew onboard your vessels. Here's how to do that.
The Working Gear feature in Martide
Log in to your Martide account and click your profile picture in the top right corner. Then click on Settings in the drop down menu and then on Working Gear:
That will take you to this page:
At first the page will be blank but on this page you can:
Add a new set of working gear by clicking the Add set button.
Sort your sets alphabetically or numerically by clicking the 3 lines next to SET.
Edit your sets by clicking the pen icon.
Delete your sets by clicking the trash can icon.
How to add a new set of working gear
Click the Add set button at the top of the page:
That will take you to this page:
Here you can:
Enter the name of the set - e.g. Container Deck - meaning this set of working gear will be for deck crew who work on your container ships.
Select the ranks that you want this gear to be for - e.g. AB, OS and Bosun.
Select your vessels.
Add the gear type and the quantity you need.
For example:
Once you've added your set name, ranks and vessel(s) you can select the type of gear and quantities:
Click the Save changes button when you're done and you will be taken back to the main page where you will see your new working gear set:
How to edit and delete a working gear set
To edit a set, click the pen icon to the right of the set you want to edit. It will take you back to the page we've just seen above and you can make and save your changes.
To delete a set, click the trash can icon and the set will be removed.
How to see a vessel's sets
To see what working gear each of your vessels has been allocated, click on Vessels in the menu on the left hand side of the page and you'll go to the Fleet page: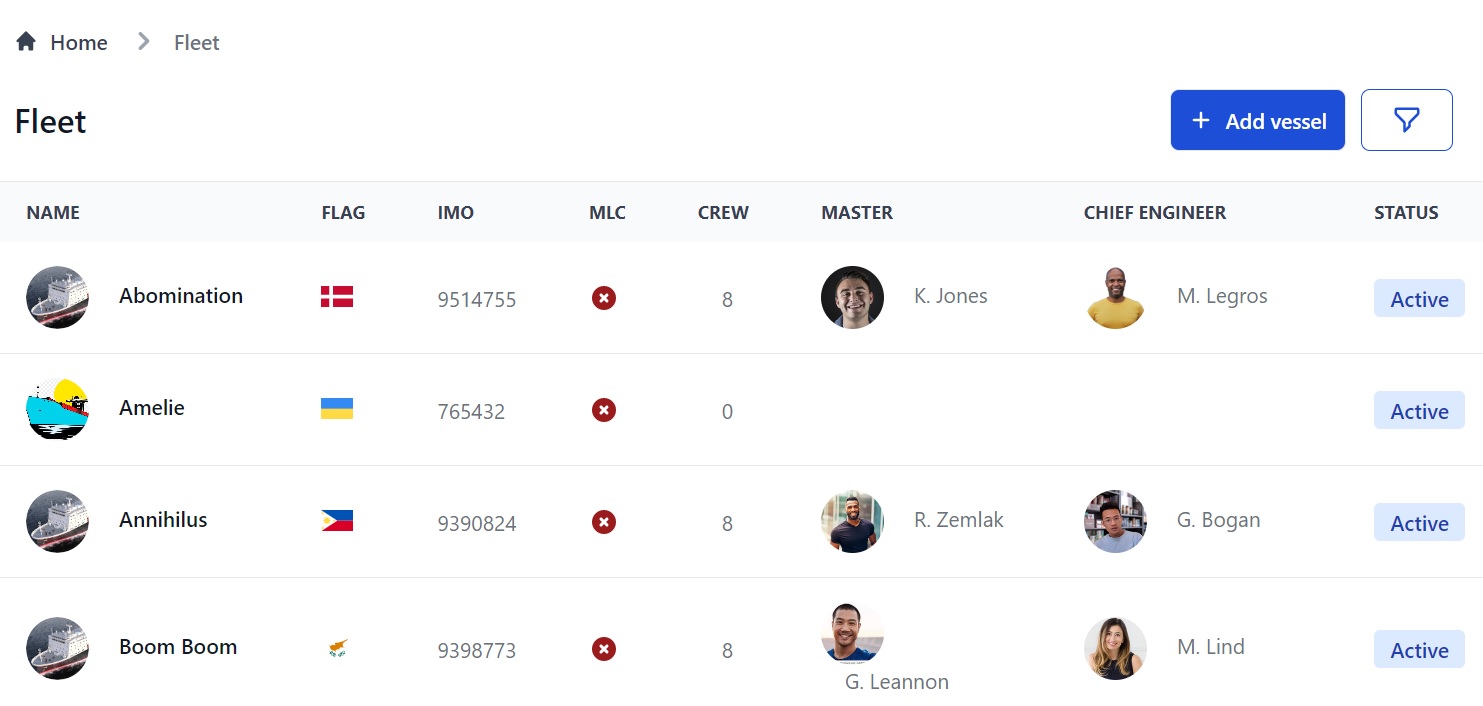 Click on any vessel to see its information. At the top you will see a tab called Working Gear:
Click on the Working Gear tab and you will see a page that looks like this:
Here you can:
See the vessel's details at the top.
See the name, ranks and gear type and quantity for that vessel - just as we added earlier.
Edit any of the set's details by clicking the pen icon on the right.
When you add more working gear sets these will appear under the Working Gear tab on the Vessel's page too:
And that's it. We hope you've found this guide useful but if you have any questions, please don't hesitate to get in touch at support@martide.com