Find Job
As a manning agent, Martide encourages you to submit your candidates to our job vacancies. You can do this on the Find Job page when you log into your Martide account. Here's how.
Please note that only seafarers can be applied, not candidates.
Your Find Job page
Log into your Martide account. The first page you see is your Find Job page. It looks like this: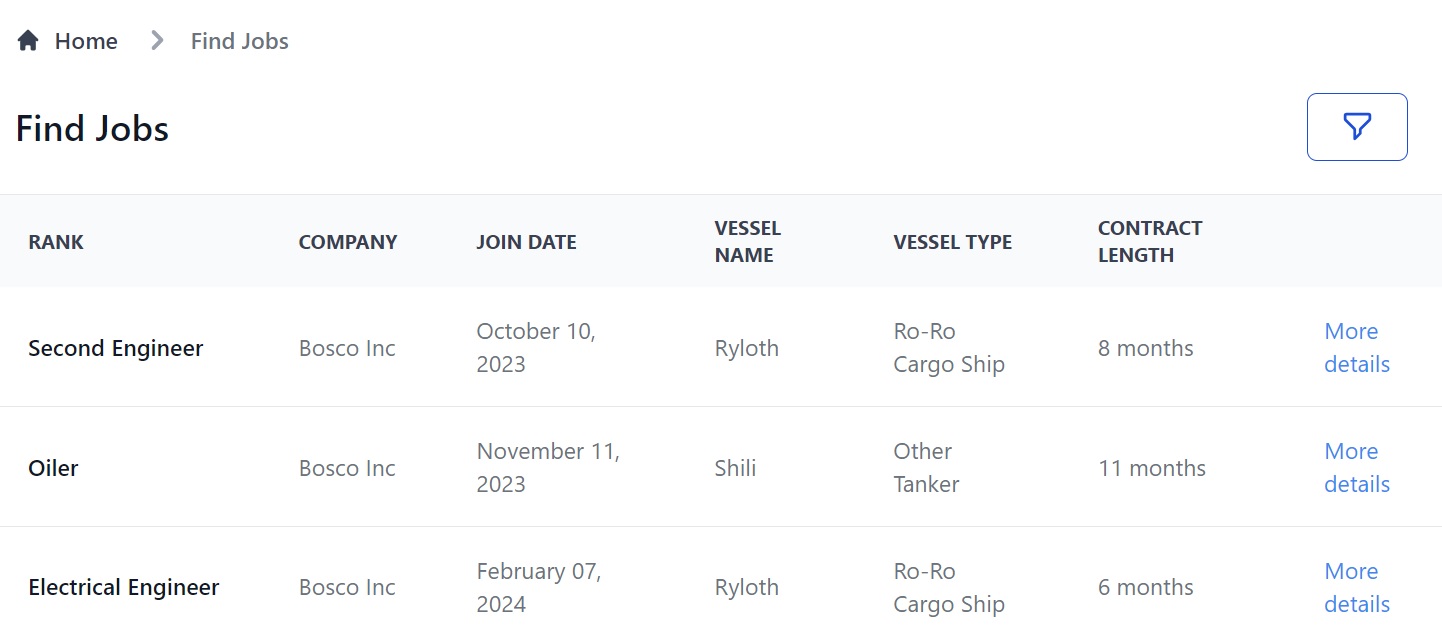 Here you can:
See the vacancies that have been shared by a crew manager with your manning agency by rank, company, join date, vessel name, vessel type and contract length.
See the vacancy in detail by clicking More Details to the right of the vacancy. You can also see if any candidates have applied here.
Filter the vacancies by clicking the funnel icon at the top right of the page.
How to find out more about a job vacancy
Go to a job you want to find out more about and click More Details:

That will open this screen: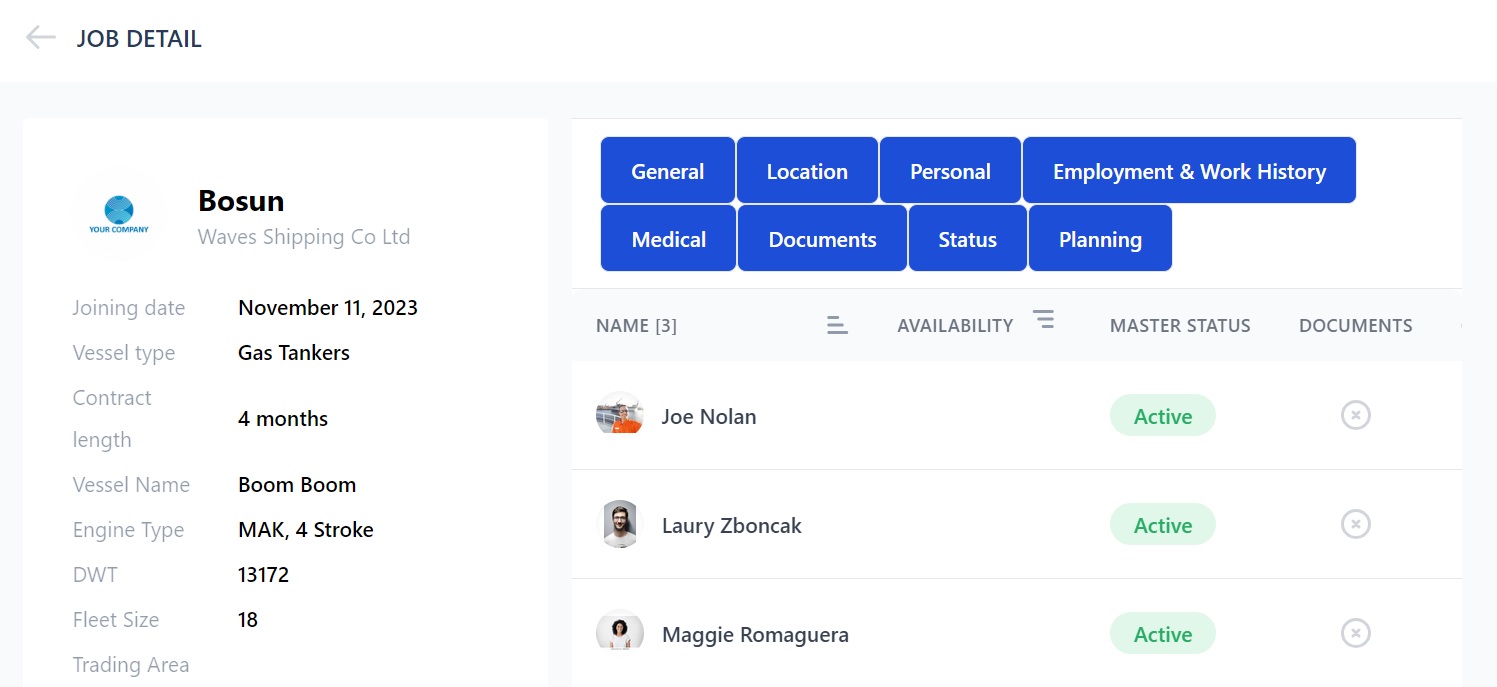 Here you can:
See more details about the job, the vessel and the contract on the left.
See the names of candidates, their availability date, master status, whether or not they have their documents, and client status on the right.
Filter candidates by General Info (name, seafarer pool, rank, availability etc.), Location (onboard or ashore), Personal Info (age, nationality, language etc.), Employment & Work History (vessel and engine types etc.), Medical (certificate or exam etc.), Documents (number, validity and type), Status (active, retired etc.) and Planning (dates) by clicking the blue buttons at the top.
Apply a candidate to the job vacancy by clicking the Apply button to the right of their name. (See below.)
Go to a candidate's profile by clicking on their name.
Sort candidates by A-Z or Z-A by clicking the 3 lines next to Name and Availability.
How to add a candidate to an Assignment
In Martide a job vacancy is also called an Assignment. If you have no candidates currently applying for a vacancy and you want to add someone, click the text that says To add a candidate click here: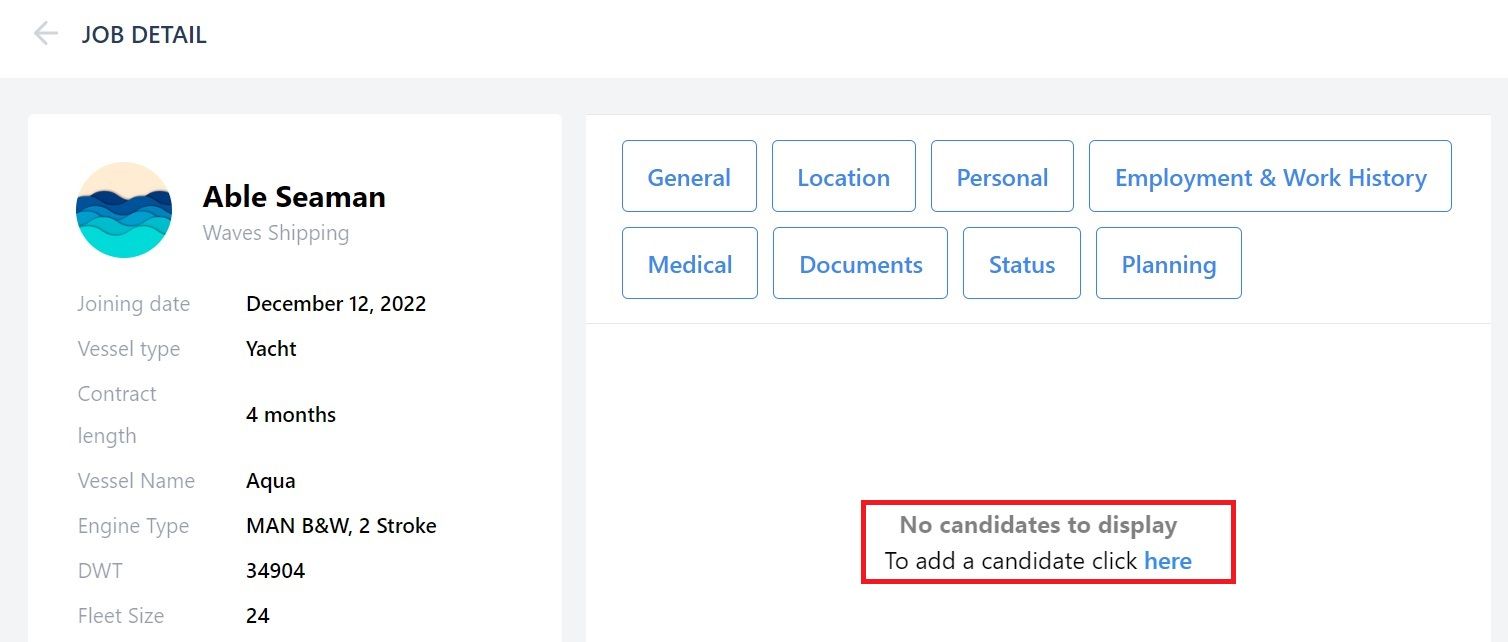 That will open up a pop-up box like this: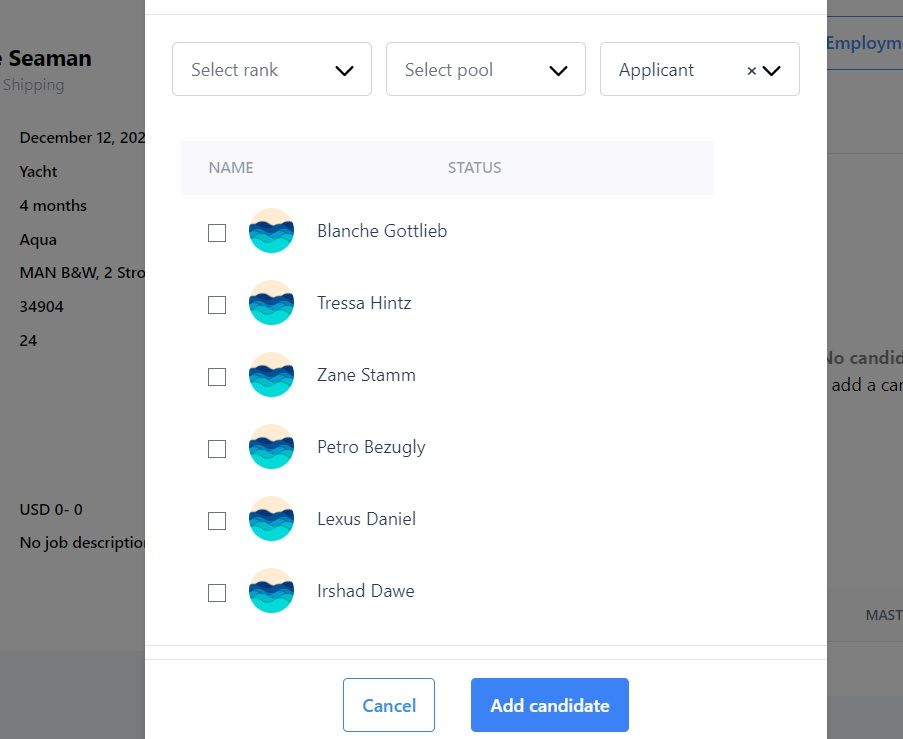 Here you can:
Filter candidates by their rank, seafarer pool or status (applicant or rejected.)
Check the box next to any candidates you want to apply to the job and click the Add candidate button at the bottom of the pop-up box.
They will now appear on the job details page. Click the Apply button to the right of the candidate to apply them to that job/Assignment:

That will take you to this page: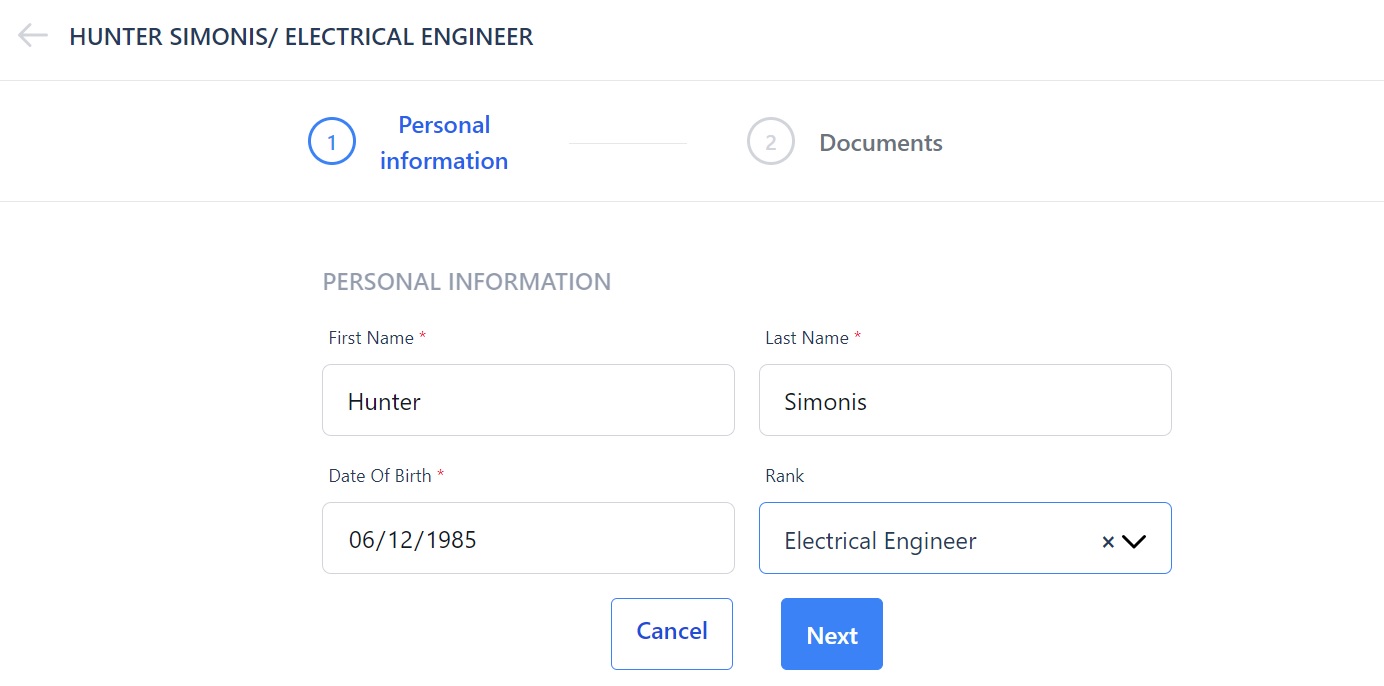 Here you can:
See the candidate's personal information including their name, rank, and date of birth.
Select their rank from the drop down menu if it's different.
Click the Next button and you will see this: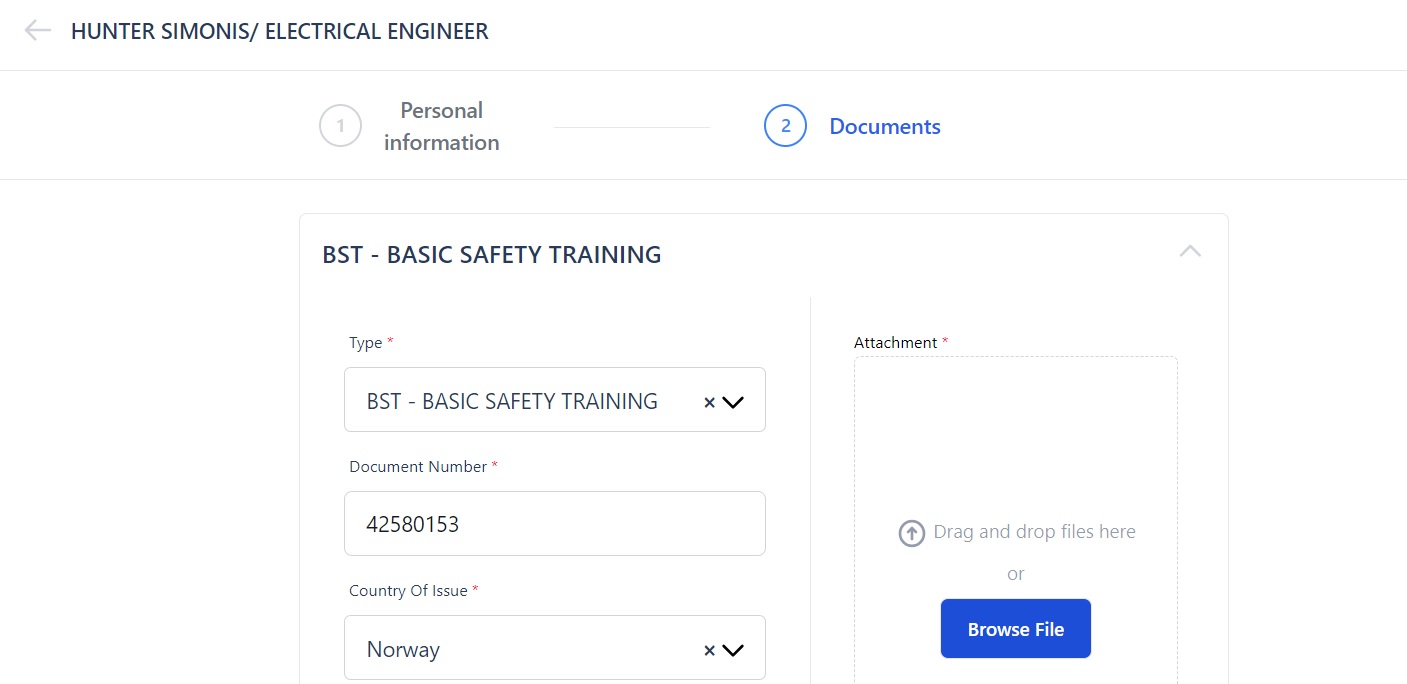 Here you can:
Scroll down the page to see the documents that the candidate holds.
Add, change and update any information if you need to.
Upload copies of the documents.
When everything is in order, click the Apply Seafarer button at the bottom of the page and you will see this pop-up box: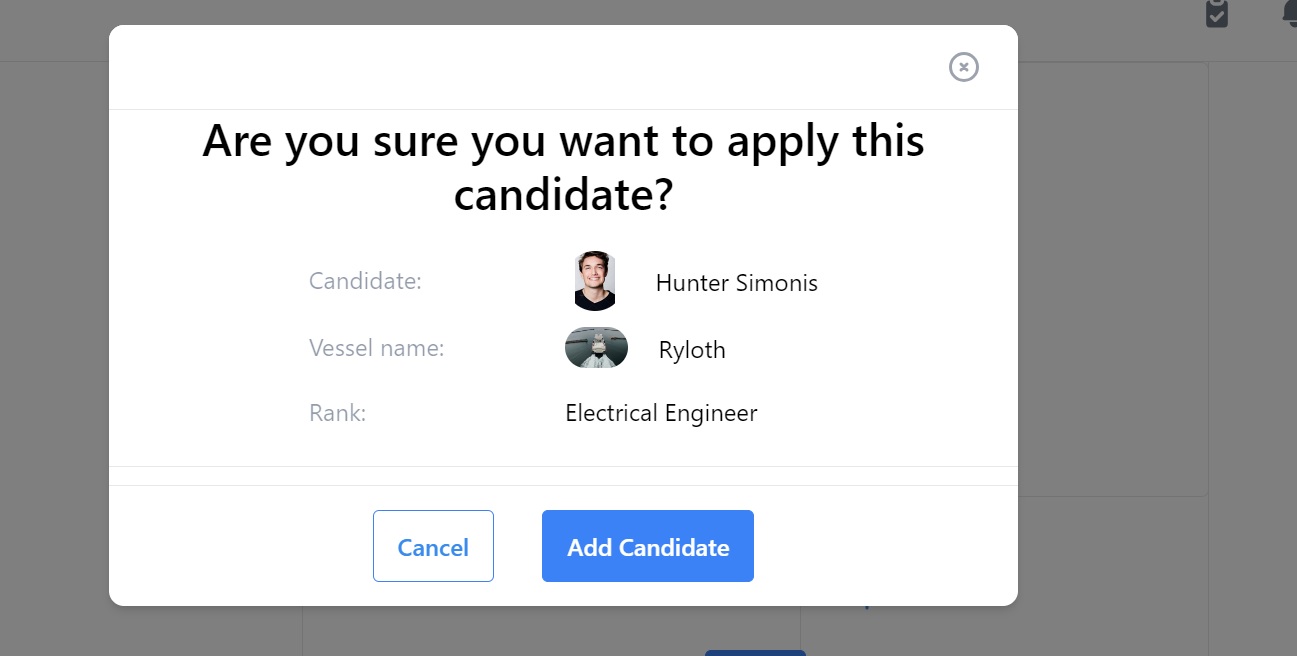 To apply the candidate to that job, click the Add Candidate button. You will go back to the job details page where you will now see that candidate has been applied to the job:

A couple of notes about submitting seafarers to jobs
Please note that as a manning agent, you are only able to submit 'seafarers' for positions, and not 'candidates'.
Candidates are people who have applied for a job with an employer. Seafarers are people who have previously worked for you or for an employer. To read more about the difference between candidates and seafarers, please click here.
We hope this helps you find candidates more quickly for seafarer job vacancies - and thank you for using Martide.